( in the spring of 2019, Virginia canceled striped bass fishing because they were concerned about the low population of striped bass over the last few years. Hopefully this will help in the restoration of the population of striped bass so that these fisheries will become busy and bustling with That sounds of game fisherman again soon. There are many other species to catching these rivers and tributaries but for now the striped bass are having a break. Spring 2019).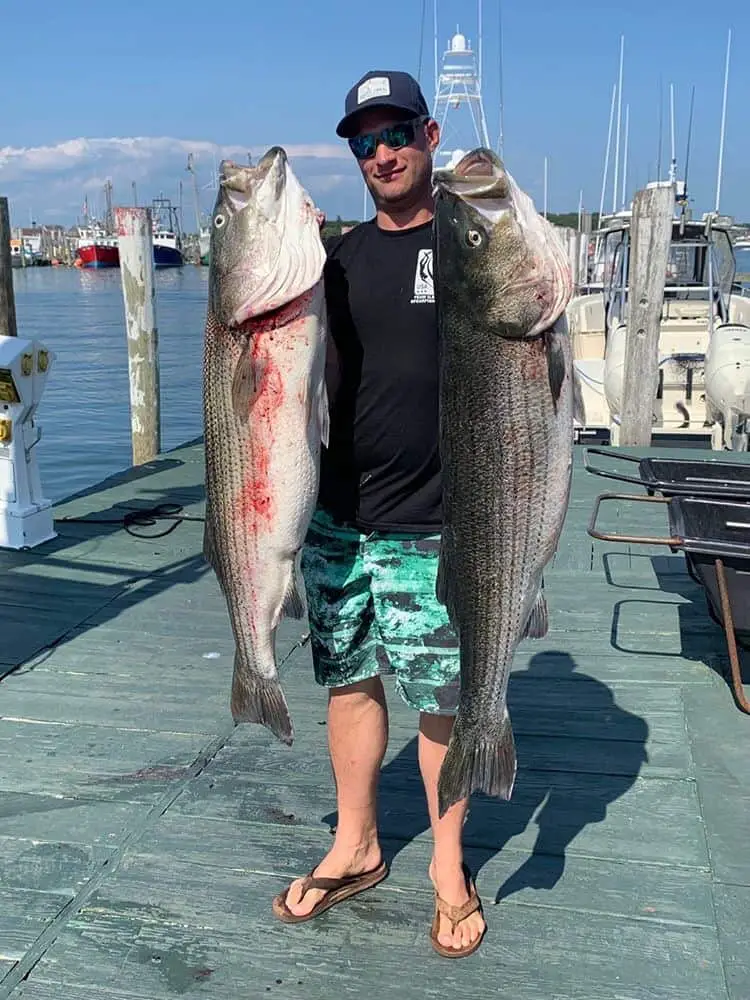 There are many lakes and rivers in the state of Virginia where striped bass can be found and cought.
In this article we are going to delve into many places where you can find and catch stripers either personally getting away by yourself or together with friends or family, striper fishing has taken over our nation as one of the Premier sport fishing activities. So if you are in Virginia let's take a look at some places where you can go to catch them. First off we have Smith Mountain Lake. Smith Mountain Lake is a large lake with a shoreline of over 500 miles. It is south west of Washington DC in central Virginia it is a man-made lake with around 50 foot depth. all sizes of striped bass can be found here from Schoolies all the way to cows .
Just north of Richmond you will find Lake Anna, This lake is one of the largest freshwater lakes in Virginia. It boasts over 13,000 acres and over 251 miles of shoreline.
In this lake you will find many species including largemouth bass, striped bass, Catfish, crappy, bluegill, perch, saugeyes, and wiper which is a cross between a white bass and striped bass.
Claytor Lake, VA is the next stop on our list. It posts many vacation rentals in as a second home destination for many.
Cities that are worth visiting while there are Blacksburg, fancy gap, Meadows of Dan. This lake is home to several species of fish including black bass, largemouth, smallmouth, car as well as striped bass. Well there are many species in the lake about 20% of anglers are after the striped bass or hybrid striped bass found there. Gizzard shad and alewife are popular baits to use there.
Lake Gaston is a 20,300 acre reservoir that is 34 miles long. Striper bass can be caught here using top water baits in the morning, Crank baits off of the points in the mid day.
Leesville lake- now this is where you want to go if you want to up your chances of breaking a state record because of the state record for Virginia for striped bass west part here. You should have a good chance of catching 20 to 25 inch fish with a good chance of catching even larger striped bass.
Roanoke river is located in southern Virginia and divides Virginia from North Carolina. This is a great place to go striper fishing however you must check out the regulations before doing so because there are limits on size and number. There are many 18 to 22 inch fish in this river occasionally they reach up to about 27 inches.
Pamunkey River- this river in Virginia is created from the confluence of the north and a river and salve in a river. It is the paint and will give you a nice angling experience for striped bass. There are other species that are found here including Black crappy blue and chill catfish perch red breasts and fish hickory shad striped bass black bass largemouth and smallmouth and spotted bass in river herring. You will find striper season in spring brings striped bass all throughout the river but in the fall stay toward lower river and don't forget to check the regulations before you go.
Mattaponi River- this river starts out as a small stream but downstream from resource state forest it changes and becomes a tidal river and this is where you can find striped bass.
There are other species here as well such as black Croppie bluegill chain pickerel pumpkinseed and redbreast sunfish also yellow perch white perch striped bass largemouth bass in blue catfish. Remember that it is illegal to have or use herring to fish in these title rivers. Make sure you check the regulations here before you go.
Chickahominy river – this 1230 acre lake was created in 1943 to be used as drinking water for local cities. It is lined by cypress trees and half of the lake has many stumps in it but it is habitat for the feeder fish that feed our striped bass. The lake also posts pay fish ladder that allows the fish to enter the lake.
These are great crankbaits for striped bass
Biggs island lake – is 48,900 acre lake contains many species as well including flat head and blue catfish as well as childcare but the striped bass population is there as well. During summer at the lower end of the lake is the best place to be and during the winter and fall try the north end of the lake. This is due to oxygenation levels and water temperature. Currently the limit is for striped bass per day. One question that might come up is due to the fact that part of the lake is in North Carolina but if you have a Virginia fishing license it is legal on the whole lake.
Piankatank river – if you are after striped bass as we are, you will want to stay below route 17 in the lower parts of the dragon. This is because as striped bass are migratory they cannot reach it much further above this point so stay below route 17 and you should be in the stripers.
Appomattox River – this river is a tributary to the James river where most people fish for stripers but they can be found in the Appomattox as well.
James river- if you are fishing on the shore a good place to go is Mari Street Up to the waterfalls by I95.
If you happen to have a boat or kayak you can throw a shad swim bait. During the spring time the striped bass make their run up the river starting around March. This is a great time and a great place to fish.
Aquia creek is a 27 mile long tributary off of the Potomac River and it is a great place for striper fishing. It is located 45 miles south of Washington DC. Rockfish abound in these waters.
Great Wicomico river – this title tributary contains stripers or rockfish, trout, as well as other fish. Many people like the Damron Marsh area for fishing. Captain johns marina area is also popular.
Pagan River- This river is a 12 mile long tributary of the James River rockfish/striper are found here some people like to fish around Smithfield. Popular fishing spots in the area are Wolfsnare Creek, stumpy lake, eastern branch Lynnhaven river, Sandy Bay, Matthews lake, little creek reservoir, Back Bay.
The Coan river is 7 1/2 mile long river that comes off of the Potomac.
Popular places are Lake, popes point, Highland point. Remember your fish must be 20 inches to keep them. Luckily this place does have its share of large rockfish/striped bass. Some popular spots seem to be noon Cove Madison Bay and broad Creek as well.
The Nancemond river. If you are in Suffolk you can fish behind the McDonald's on Main Street across the street from the Hilton hotel. You may be able to catch striped bass there. You may also be able to catch catfish there or you could use shrimp for bait and catch croakers
Little Wicomico river – this is a great place to go straight bass fishing. This season opens May 16 through June 15 for spring and October 4 through December 31 for fall you can keep two fish per season and they have to be between 20 and 28 inches.Common fish found in the Wicomico are the American shad, Atlantic croaker, the black drum, flounder, red drum, spot, spotted sea trout, bluefish, channel catfish, blue catfish, white catfish, the striped bass, bluegill, American eel, smallmouth bass, white perch, chain pickerel, Yellow perch, and river herring. A super place to catch striped bass is about 6 miles east of the great Wicomico river light.
This river was home to native Americans and was a first settling place for European Americans.
Eastern Branch Corrotoman River is a good Striper fishing spot. 3AM and 6PM seem to be the best time for fish biting. Immediately before and after those times are good as well.
You can check out Virginia Department of Wildlife Here.
or the Top 5 Best Striped Bass Fishing States Here
Hey FISHMONGER – make sure to check out my FISHING RESOURCES page.