Florida is a place that is known for its many natural waterways, which are home to some incredible bass fishing. The Harris Chain of Lakes is one of the most awesome places to visit when you want to have a great bass fishing excursion. The goal here is to help you learn more about the Harris Chain of Lakes, as well as everything that you need to know about fishing here including the best bass fishing guides.
If you're in a hurry: Florida Bass Charter is hands-down the best choice for Harris Chain of Lakes fishing guides. Captain Tim is a U.S.C.G. approved captain, which is an important thing to look for in any fishing guide. Captain Tim can be reached at 407-821-6101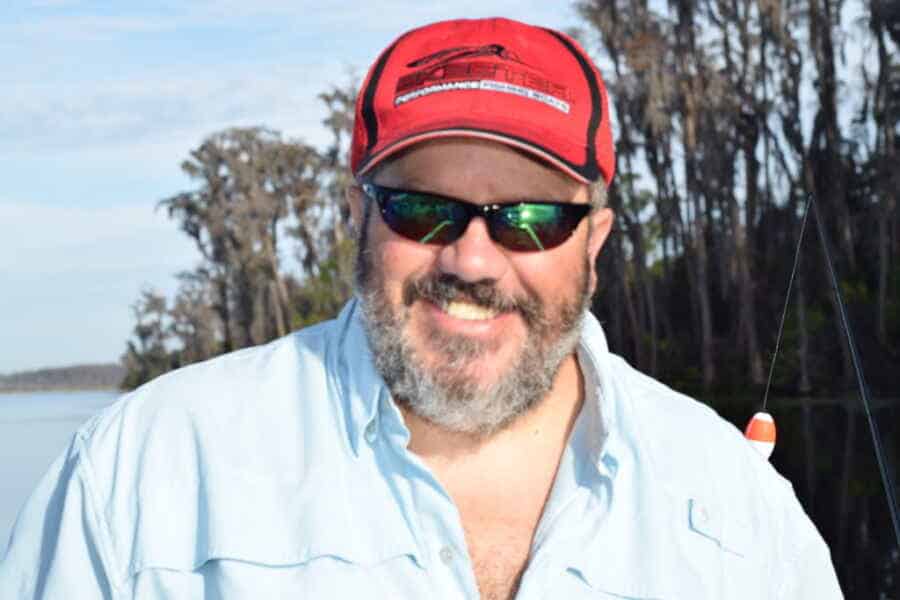 About Bass Fishing on the Harris Chain of Lakes
The Harris Chain of Lakes is an area that contains nine lakes, which are situated on about 76,000 acres. This is a very popular location for a wide variety of outdoor activities including bass fishing, powerboating, and canoeing.
The Harris Chain of Lakes was once a location to abundant bass fishing tournaments, some of which were national tournaments. However, this led to a decline in bass fish in the area.
Due to environmental issues caused by the tournaments and other practices, these tournaments were no longer put on here.
Since the restoration efforts began on these lakes, this recent decade has shown a significant recovery. These efforts included a daily limit that started early on in the 1990s, which limited the catches to five basses daily that must be measured 14 inches or less. Then, there was a drought that killed of the shoreline which meant that it needed to be replanted with reeds.
As a result of both of these efforts, now bass fishing is back to its normal levels. Now, you can catch trophy bass here, with many fish weighing between 10 and 11 pounds that are caught on a regular basis. However, there is the occasional bass that weighs up to 13 pounds.
The Harris Chain of Lakes is primarily composed of water that is dark. The water here is very fertile, which makes it a breathtaking place to see as well as one that is excellent for fishing. You can see stunning reeds, lilypads, Kissimmee grass, and bulrushes here.
The last point to know about this area is the different fishing patterns of the largemouth bass here. One is the canal fish and the other is the lake fish. Depending on the weather and season will help you know the best pattern during your trip. A highly experienced bass guide can be a great help to determining the best pattern for your trip.
The Different Sections of the Harris Chain of Lakes
There are different areas of the Harris Chain of Lakes to consider when you are planning your next bass fishing trip. This section will take a closer look at these different areas.
Big and Little Lake Harris
This part of the lake flows into the area, creating one larger body of water. Big and Little Lake Harris are combined for a total of 15,500 acres and are considered to be one of the largest lakes in Florida.
In addition to excellent fishing here, this area of the Harris Chain of Lakes is particularly beautiful. This large body of water is surrounded by a gorgeous backdrop of cypress trees and beautiful hills.
Aside from the boat docks, the shoreline is entirely covered with Kissimmee grass. This lake has three public launching ramps: One off of the US Highway 27; one on Leesburg's Venetian Gardens; and Hickory Point.
There's another smaller ramp located on the Little Harris Lake's east side. This lake can be a great place for fishing, especially when you head to the canal or the Dead River during any inclement weather.
In recent years, there have been an increase of people enjoying watersports on these lakes though boating and fishing are still the popular activity on these lakes.
Lake Eustis
Connected to Big Lake Harris through the Dead River, Lake Eustis consists of 7,806 acres and is also connected to Lake Griffin through the Haines Creek.
The Dead River and Haines Creek tend to have great bass fishing during the season. The canals around this lake are in a residential area but can be a very productive bass fishing area during various points in the year.
Lake Eustis is the location where you can find the well-known "Gator Hole".
"Gator Hole" is a deep sinkhole, which is located off the end of a natural canal that leads off of the main lake. This sinkhole can produce amazing trophy bass if you get there at the right time.
The entire lake is probably one of the most consistent places to go bass fishing.
You can find 2 public boat ramps on the lake: the Eustis city ramp and the Buzzard Beach ramp.
The East Harris Chain of Lakes
This section of the lake is over 4,475 acres and consists of the lakes Dora, Beauclair, and Carlton. The East Harris Chain of Lakes is connected to Lake Eustis through the Dora Canal at the north.
At the south, it's connected to Lake Apopka through the Apopka Beauclair Canal. Each of these lakes offer something different for anglers.
Lake Dora is typically the first lake to turn on in springtime and will commonly contain bigger fish at various times than the other parts of this chain. Boats that are docked at the northern shore of this lake tends to be pretty productive around the middle of the day.
The southern part of the chain consists of Lakes Beauclair and Carlton. Lake Carlton is a relatively small lake, which can be entered through the small inlet on Lake Beauclair's southern shore. These lakes are both known for having big bass.
Within the area of the southwestern shore of Lake Beauclair, you can find the Apopka Beauclair Canal system. This area is excellent for fishing, especially the locally known "Clear Canal".
This was once a popular place for tournament fishing because of how productive this area can be for fishing.
You can find 3 public boat ramps here: two are located on Lake Dora and one on Lake Jem, right on the Apopka Beauclair canal.
Lake Griffin
Lake Griffin is the final lake that is part of the Harris Chain of Lakes. The water comes into the lake through the Haines Creek and then flows into the Ocklawaha River. At one time, this lake was one of the best bass fisheries in the state.
The water quality in this lake has improved since local homeowners allowed the local and state governments to dredge the canals and create an easy to navigate entrance to the popular Emeralda Marsh.
The restoration efforts in this area are still ongoing but there is already promise that this can be an excellent place for bass fishing.
Tips for Bass Fishing on the Harris Chain of Lakes
The water here may be very murky, but this is a great area for fishing. However, there are some things that you should know about this location before you start fishing here. This section will take a look at
Some Great Tips About This Area.
Trophy Bass Fishery
The Harris Chain of Lakes is known for being the place to catch big bass. It wouldn't be uncommon to find a bass that are upwards to 11 pounds in size. You can catch a variety of different bass fish here, but this chain of lakes is primarily known for trophy bass fishing.
Flipping to Catch Bass
This chain of lakes is murky, meaning that you get very low visibility when it comes to fishing bass. Using a flipping technique is the best way to effectively catch fish.
Bedding Bass
During the springtime, you should be looking for bedding bass behind large flats, in the creeks, and in canals. This time of year, you will get better luck catching fish along the Palatlakaha River, Helena Run, the Dead River, and the Leesburg 9th Street lagoon.
Mixed Grass Beds
The mixed grass beds are excellent places to consistently catch fish.
Start off Fishing in the Canals
Experts from the area will tell you that the best place to start your fishing excursion is in the canals. Because this is an enclosed area, it can be easier to catch fish.
Be sure that if you do decide to go with this approach that you should fish on the shoreline and in the middle of the fish.
Techniques for Fishing on the Harris Chain of Lakes
Your fishing trip will only be as good as the techniques that you use for catching fish. Using the right techniques and tactics are essential for having the best experience catching bass. Since the water is murky, you need to be especially careful to use the right techniques and tactics.
Crankbaits
Crankbaits really excel when used in stained water. You should have crankbait that have a shad pattern, a chrome pattern, and a chartreuse pattern. These baits should be used as close to any cover as you can possibly get.
Spinnerbaits
A popular choice for the Harris Chain of Lakes is the spinnerbaits. Keeping the bait as close to cover as possible as well as moving it every so often for the sake of ensuring that it mimics the look of live bait. You should also have a wide assortment on hand in case you need to try other options to get bites.
Flipping and Pitching
Easily the best technique for catching fish on the Harris Chain of Lakes is flipping and pitching. This approach is the best option when you are dealing with the stained waters of this area.
How to Choose the Best Harris Chain of Lakes Fishing Guides
There are many options for Harris Chain of Lakes fishing guides, so how do you know if you are choosing the right option for your needs? This section will take a look at how you can select the best bass fishing guide on the Harris Chain of Lakes.
Pay Attention to Reviews
Reviews are so important when it comes to selecting the best Harris Chain of Lakes fishing guides. People are very honest when discussing their experiences with fishing guides.
You want to look around to not only reviews on their site, but reviews on other sites as well. These guides can give you plenty of information so that you know what to expect and so that you can really see what a company is like before trusting them with your fishing trip.
Call
You can't really get a good feel for the company when you communicate online. In most cases, you will get the best results when you call the company before you book your fishing trip.
This allows you to answer questions and get answers right away. It also helps you get a good feel about their personality so that you know if this is a guide that you feel comfortable taking your trip with. You want to be able to let go and relax on your trip.
What are Your Preferences?
What type of bait do you prefer? Is there a certain preference that you have when it comes to your style of fishing? It's just as important that you find a fishing guide that matches your specific preferences are. This will help you to ensure that you have the most enjoyable experience possible.
This is especially true if you are new to fishing and want someone who can help you learn more about fishing while you are out on the water.
Don't Just Pick the Cheapest
Like with everything else, sometimes you get exactly what you pay for when you just choose the cheapest option. You want to make sure that you are working with a reputable company with the in-depth knowledge and experience to successfully go bass fishing on the Harris Chain of Lakes. Typically, you can expect that the best guides charge more because they are highly sought after.
Top 5 Harris Chain of Lakes Fishing Guides
Now that you know how to select the best Harris Chain of Lakes fishing guides, it's time to take a look at some of the best options available to you. In this section, you can get a closer look at the top 5 Harris Chain of Lakes fishing guides to help make this search a lot easier for you.
1. Florida Bass Charter
Florida Bass Charter is hands-down the best choice for Harris Chain of Lakes fishing guides. Captain Tim can be reached at 407-821-6101. Tim is a U.S.C.G. approved captain, which is an important thing to look for in any fishing guide. This is important because there are many cases where you need to be on the water with a U.S.C.G.-approved captain.
Even if you don't need this for the specific trip you are planning, it's good for peace of mind because you know you'll be on the water with a captain that has the knowledge and experience to keep you safe. This team will make sure that you have the best experience possible on your next fishing trip.
2. A Horizon Fishing Charters
Another good option to consider is this company. Captain Brent is a U.S.C.G. approved captain that has grown up in the area, so he knows the Harris Chain of Lakes. With the ability to accommodate up to 3 people, you can choose up to 8-hour excursions, allowing you to make a day out of your fishing trip to the area.
This option is perfect for small families, allowing you to make memories while out in the beautiful Harris Chain of Lakes. On this boat, you are invited to bring your snacks and beverages, but
they do provide bottles of water. They also provide all of the gear you could need for your fishing trip.
3. Bass2Bay Fishing Charters
One of the great things about this option is that the trips can be specifically catered to your preferences. Whether you are a beginner or someone who spends a lot of time fishing,
Captain Mike Morse has the perfect experience for you. You get all of the gear that you could need while on your fishing trip and you get the expert advice from Captain Mike, who's an accomplished angler himself.
4. Jason's Fishing Adventure
While this fishing guide can only accommodate 2 guests, this can still be a perfect experience for a quieter fishing trip. This is a fishing guide that is perfect for people of all skill levels who just want a relaxing bass finishing experience. You have access to any equipment that you will need on the trip to have the most successful fishing trip possible.
5. Due North Outdoors
Captain Scott can take up to 3 guests out for a great fishing adventure on the Harris Chain of Lakes. You get access to gear with the price of the trip for any fishing technique that you prefer. This team is incredibly flexible and can work with you to make sure that you have the most memorable experience.
Conclusion
Your bass fishing experience is going to be amazing when you check out one of these top 5 bass fishing guides on the Harris Chain of Lakes. The right fishing guide can make the experience even more memorable, allowing you to have the greatest time with your friends and family. You can catch a fish anywhere, but you want to be able to make memories that are going to last a lifetime with the people you love.
Advertisements
Get a free FishinMoney sticker (free shipping included)?
Yea I'lltake one
Advertisements
Inked Gaiters
offers FREE SHIPPING on every order. No minimum!