Montauk Point: whether you are in a boat or fishing from the large rocks on the shore, there is an abundance of striped bass to wrangle. Using large live eel or big soft lures doesn't seem to matter. Watch for flocks of birds as they will tip you off to where there is a large school of stripers. Striped bass also feeds on herring, squid, and mackerel. The optimum water temperature for catching a striper in Montauk is 55-65 degrees. If it is any colder than that, you are only going to find them on the bottom of the water and not very active or hungry. Prime months for the striped bass in this area is September and October. This is when New York has the elite striped bass and bluefish blitz. You can also catch the stripers between April and June, before the scorching summer heat hits.
In Montauk, you can reel in a striped bass between 10 to over 50 pounds with the average size being 15-30 pounds. Rules and regulations state that you can only keep 1 striped bass per day at a minimum of 28 inches long. Some of the recommended techniques according to a professional charter service:
1. trolling, using Powershot jigs, snakes or umbrella rigs will get you a trophy catch
2. live eels are a regular and preferred way, especially at sunset or at night, but you can use them during the day as well
3. live bait fishing for porgies. After you catch the limit of porgies, you use the porgie to catch the monster stripers in this area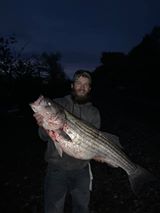 Avid fishermen and locals say that the lighthouse is a very popular fishing spot. The parking lot becomes a fish camp in the fall. The lighthouse is at the extreme tip of South Fork. This is where the striper spill from the waterways. You have to be extremely careful and cautious in this area as the rocks are slick and the current can get very strong. it will knock you down and pull you under before you know what happened. If you want to get your picture in the local bait and tackle shops, then you need to hunt down and catch a striper that is at least 40 pounds. Most anglers use a 10-foot rod, which allows them to send a lure way out into the surf. 
FREE Printable tackle box checklist HERE
Most fishermen in this area also choose to use a 20-pound test line. Because of the rough current and all of the rocks, most surf casters opt to wear chest waders. Some other gear that you may consider, for your safety; creepers (sandals with metal studs, for gripping the slippery rocks), wet suits, and helmets. Helmets protect you so that if you get pulled under the water your head is protected should you hit a rock. You can ask around at the tackle shops and get any more advice on the gear to wear or to have handy when you fish in this area. 
Some of the most crucial lures to use at Montauk Point; pencil poppers, bucktails, standard poppers, and metal lures. Light-colored lures work best during the day and the dark-colored lures work best at night. Sounds strange, I know, but that is what locals and professionals say works best. Most of the bait and tackle shops in the area can give you tips, tricks, advice, and up to the minute fishing reports at any time of the day. If you are a beginner, the locals suggest keeping the bait simple and starting out slowly. 
Regulations are as follows:
1. on the Hudson River, 1 striped bass per day at a minimum of 18-28 inches long
2. in marine waters, south of George Washington Bridge, 1 striper a day at a minimum 28 inches long. 
3. don't forget the fishing license. Your annual license for residents, age 16-69, is going to cost $25. If you are a non-resident, the annual license will be $50. You can also choose to have a license for just 7 days, which is going to be $12 for a resident and $28 if you are a non-resident. A 1-day fishing license will be a respective $5 or $10. 
Now that we have covered the legal aspect of fishing in New York, let's pick up where we left off with the tips, tricks, and excitement of catching the striped bass at Montauk. A couple of exciting places along Montauk to go striper fishing is Turtle Cove, which is located on the north side of the lighthouse. On the southside, we have the popular spot of False Bar. Both places offer an abundance of striped bass (and bluefish). As long as it is not midday and overly hot, they will feed continually, day and night. So, if you are up for it, be prepared to fish 24/7 because the fish don't wait for you to finish your meal before they start theirs.
Some of the other popular places around Montauk for striper fishing:
1. North Bar
2. Evan's Rock
3. Browns
4. Jones Reef
5. Caswells
Inlets are a good target in these areas for anglers. Whether there are jetties or not, these are major thoroughfares for a lot of bait and fish that are moving between the bays, ocean, and harbor. 
A few, last-minute tips for fishing in Montauk and then an event that we have saved for last. Local and professional anglers recommend the northside of the lighthouse and Ditch Plains for beginners or first-timers to this area. Anglers native to the area can not stress enough; "never go out on the rocks without "creepers" or Korkers. Korkers are spiked rubber soles that are attached to the bottom of the boots. If you do not have them, please stay on the sandy beaches as the rocks are very slippery. As mentioned before, it is also advised to have waders and maybe even a helmet, for the first-timers. 
Hey FISHMONGER – make sure to check out my FISHING RESOURCES page.
For 10 weeks, from September through the end of October, Montauk hosts an invitation-only striped bass tournament. This tournament has been running for 30 years. It was originally named Montauk Locals Tournament. The name was changed to Montauk Surfmasters in 2010. For the best and savviest fishermen, this is one of the most elusive tournaments. 
The divisions for this tournament are as follows:
1. Waders
2. Women
3. Wet Suit
4. kids/youth
In addition, there is a catch and release division for kids. This allows kids who want to participate but are new to the sport, to catch a striper, take a picture and then release the fish.  Basically, this is a photo contest for the kids, while still allowing them to have fun and participate. 
So, now that you have all of the ins and outs of Montauk and where the best places are to catch the striped bass, along with rules and regulations, safety, and best lures. Let's get our bags packed and get out there for one heck of a good time!