If you are an avid angler, you probably already know where some of the prime fishing places are for striped bass. Depending on where you live, it may be in the heart of one of the most popular hot spots. Today we are going to let you know the top 5 states that have impeccable striped bass fishing. We will also cover some of the hot spots in each state. Some may argue the order that they are in, and that is fine. Everyone has their own opinions on the best places, the best lures, and the best time of day. There is really no right or wrong. There are many places all over the United States that have prime striper fishing spots. Striped bass is the leading game fish, being one of the most popular and sought after because of their hard fighting, and aggressive nature. They can reside in water as deep as 500 feet or as shallow as 1 foot. 
In the interest of time we won't make you wait!
Here are the top 5 best Striped Bass Fishing States
South Carolina
Arkansas
Kentucky
NewYork
Rhode Island
Now that we have you reeling let's read the rest.
To start off our 5 state exploration, we are going to start with South Carolina. Notorious for excellent striped bass fishing, this is #1. on the list. Many large stripers are caught out of some of the major lakes; Lake Murray, Lake Marion, Lake Russell, and Parr Reservoir. Those are only a handful in South Carolina for striped bass excitement. In 1972 the striped bass was declared the official fish of South Carolina (and is also the state fish of 7 other states). To start our exploration of this area, we are going to head over to Lake Murray and take a peek.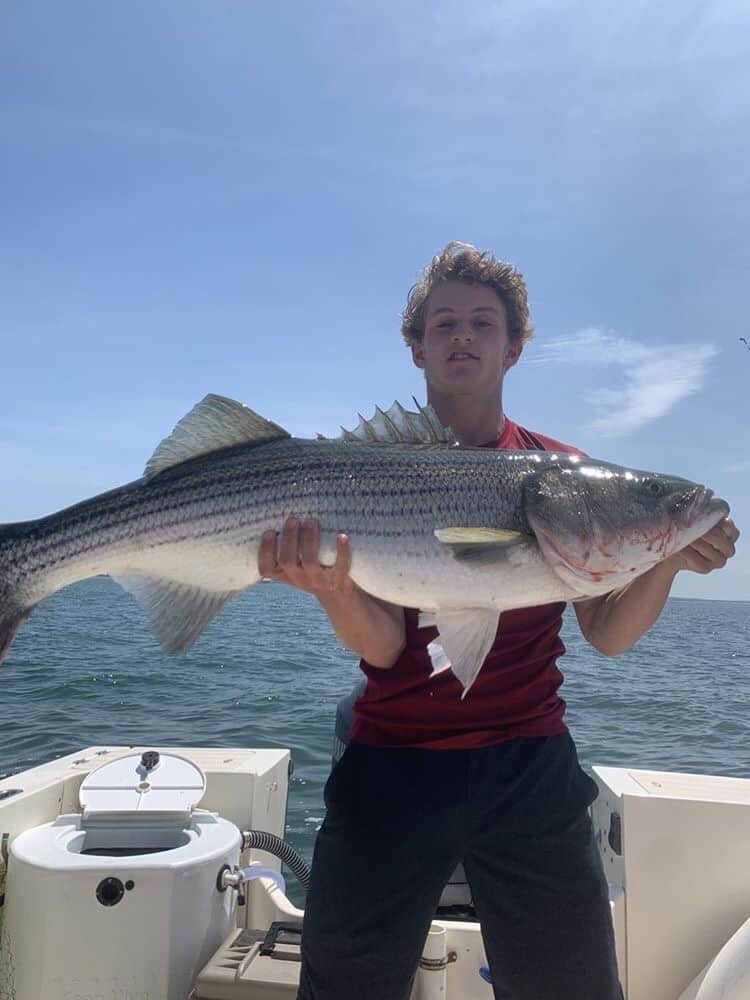 Lake Murray: 41 miles long and about 50,000 acres, boasting 500 miles of shoreline. The most popular forage in the area is threadfin shad and gizzard shad, though many anglers prefer blueback herring. You want to fish topwater baits in the early morning, cloudy days, and later in the evening from late May to early June. Regulations for Lake Murray are as follows;
  1. 5 striped basses per day, per person
  2. from October to May your striper may not be under 21 inches in length
  3. June to September there is no minimum length for keepers
It is recommended by some of the fishing guides to have a 7 1/2 foot pole with a casting reel and 12-pound test line. Starting in June the striped bass will start moving to deeper water. The key to catching a striper is the color of the water, temperature, and what the forage fish are up to. 
Lake Russell: this lake fishes differently than any of the other lakes in South Carolina. Different tactics must be used to catch a trophy-sized striped bass. The first and most important tactic is a necessity: you need to use rainbow trout as bait! The striped bass feeds on them almost as quickly as they are stocked. Guides suggest fishing both ends of the lake and using a minimum 30-pound tackle because the striped bass is big and strong. Regulations for Lake Russell; no more than 2 striped bass per day and only 1 can be longer than 34 inches. 
Lake Marion: as the temperature begins to cool down and the stripers start swimming in schools, they migrate to this area. Stripers tend to spend the warmer months deep in Lake Moultrie. The best fishing for this area normally being in last February to early March. There is one guide, who has been fishing the area for over 40 years and says that December and January are prime fishing months.

Hey FISHMONGER – make sure to check out my FISHING RESOURCES page.
During this time the forage fish like to move to the dams and the stripers follow. Suggested bait; a variety of deep diving lures. The mid-morning and mid-day fishing is perfect for the Lake Marion area in December through February. 3 fish per day per person between 23″ and 25″. ONLY 1 can be over 26″ in length. The time period is from October 1st through June 15th. Make sure to check regulations before you begin, as South Carolina is very strict on their striped bass limits and lengths for keepers. 
Moving from South Carolina, we are going to explore Arkansas. The 2nd best state on our list for the great striped bass. Beaver Lake and Bull Shoals Lake are just 2 of the striper spots in the state. If you are vacationing here, there are a ton of other things to do, besides fish, on Beaver Lake. Let's go and take a look around. 
Beaver Lake: with 487 miles of shoreline, it is a man-made reservoir in the Ozark Mountains. This 28,370-acre lake has given up quite a few 40+ pound striped bass over the years. The early spring and winter is the best time to striper fish because they are easier to find in the cooler waters. If you are going to fish Beaver Lake in the summertime and the heat, night fishing is highly recommended and suggested. Topwater fishing is best in May, with trolling and live bait is your best option during the other prime months. Along with the vast amounts of striped bass that are available for the catching on Beaver Lake, you can also swim, ski, tube or just relax at one of the many campgrounds. 
Bull Shoals Lake: located in the north center of the state, it has over 1,000 miles of shoreline and 71,000 acres of a reservoir to catch striped bass. Concentrate on the deeper waters and be on the look-out for schools of shad. When trolling, use bigger, flashy lures. For the ultimate challenge, use large topwater baits if you spot a surface feeding frenzy. Bull Shoals is on the border of Arkansas and Missouri, so please make sure that you check out the rules and regulations in both states before launching your boat or your rod and reel into the water. 
Norfork Lake: known to many as 1 of the top 3 lakes in the country to catch the unpredictable and feisty striped bass.  Norfork is located in Northcentral Arkansas and has 550 miles of shoreline, extending into Southcentral Missouri. Stripers are in the area all year long, but they say that early March to the end of May is prime time. Although June through October, you will no problems catching your limit every day. There is no bad time to fish for striped bass on Norfork Lake. Contact bait & tackle shops, restaurants, and resorts for all the hot tips, tricks, lures, and other equipment you may need. 
Moving from Arkansas to Kentucky, coming in at the number 3 spot on the list. Lake Cumberland is the best spot for striped bass and the Ohio River isn't going to treat you badly either. So how about we jump into it!
Lake Cumberland: a reservoir that covers 6 counties in Kentucky, it is 102 miles and 197 feet deep. A general rule: if you find a school of shad, stripers are normally not far behind. If you want a thrilling striped bass experience and catch, look for baitfish on the surface and cast your topwater plug right in the middle. Reel it in slowly, mimicking an injured baitfish and you could very well see a huge striped bass explode out of the water and take off with your lure, line, and if you don't hold on tight, even your pole. Striper fishing can be very rewarding, no matter what area you choose to fish, but it takes great knowledge of the striped bass' habitat and patience. When the heat of the summer sets in, use live bait or troll beneath the surface where the water is cooler. Use live shad as bait at depths of 20-30 feet to catch the trophy striper. 
Ohio River: with countless ramps & access points, the river runs from the southwest to northwest corners of Commonwealth. According to a fishing guide in the area, the 2 hot spots along the Ohio River are; the mouth of Cabin Creek and along the mouth of White Oak Creek. Fishing from barges is the best option, but also extremely tricky because you have to try to cast your lure under the barge where the striped bass are hiding out. Striped bass is also typically found 2-3 feet deep in the Ohio River. So, take your pick, the trickier method of fishing underneath a barge or the easier but still thrilling catch just below the surface. 
Traveling now from Kentucky to New York, the hottest and most fished by professional anglers, to catch stripers is in Montauk. Some will argue that New York, more specifically Montauk, should have been number 1 on our list. But many have different opinions and research shows that South Carolina is the more prominent state for the striped bass. 
Montauk: according to the Montauk fishing calendar, June-October is the best time to fish for striped bass. If you want to fish when it is less chaotic and crowded, try May or November when the fishing is still good in this area. If you are new to striped bass fishing or have never been to Montauk, your best bet is going to be to hire a fishing guide. The area is enormous and boasts so many different fishing spots, that your brain will be on overload and you will not know where to even begin to find some of the hot spots. A fishing guide can take you out, deep water fishing, easing the frustration of trying to find a prime spot, dealing with the crowds of other tourists and all of the locals. As an added bonus, you are guaranteed to catch large striped bass if you have a guide and you are out on a boat. If you prefer to do it all on your own, it is recommended that you stick to the sandy beaches as they are best for beginners and safer for the newbies to the area. Be sure to ask around at local bait & tackle shops for advice on the best lures, spots, and time of day to catch the striped bass. They always have the inside scoop on what is happening in the area and definitely out on the water. 
Our last destination and state on top 5 lists of best states for striped bass fishing; Rhode Island. East Bay, Newport, and Warwick are the top striper spots in this area. Rumor has it that East Bay is an experienced anglers paradise. So, let's go and find out why East Bay striped bass is the favorite among the locals. 
East Bay: the best months in the area; April through October, at daybreak, dusk, and after dark. The best methods are live or chunk bait, darting or popping plugs, jigs, and plastic baits. There are many areas that are recommended for beginners at East Bay. A couple of them are as follows; Colt State Park, Fort Adams Seawall, and Warren River. If you are an experienced angler; Ocean Drive, Beavertail State Park; and Sakonnet Point are a few of the prime spots. By mid-May, the bigger striped bass begins to make an appearance. Check out the local bait and tackle shops for all of your baits, lures, rods, reels, and advice on catching striped bass on East Bay. 
Newport: 1 fish per day, 28 inches in length (minimum) and any striped bass over 34 inches must have the right pectoral fin removed. This rule/regulation covers all of Rhode Island. Sachuest Point is one of the main striped bass spots in the Newport area. Though this spot isn't for the faint of heart. It is a very long walk, to the point, and despite your efforts; most local regulars will be you there, every time. But maybe if you sit next to them, they can give you some good advice and suggestions on catching a striper. There are also a couple of other striped bass spots along the Sachuest Point; the opening of the Sakonnet River & Third Beach. Both of which give you beautiful scenery and nice sized striped bass. 
There you have it, the top 5 states for striped bass fishing. I am sure there are many others out there that people think should be on the list, and maybe someday they will come out with a top 10 list, that we can all disagree on. But until then, remember, no matter where you fish it should be fun, thrilling, exciting, and maybe even a little competitive. Don't forget to check rules and regulations when planning your trip and once you arrive, hit up the local bait & tackle shops for the latest news on the striped bass in the area. Happy Fishing!