We are going to take a trip to Massachusetts, to discover the best places to catch the striped bass. We will look at the fishing rules and regulations as well. You will know everything you need to, to snag a striper, once you reach the end of our trip. 
The rules and regulations in Massachusetts:
1. anyone 16 or older needs a fishing permit
2. the permit fee is $10 whether you are a resident or non-resident
3. there is no charge for a license if you are 60+ years old
4. Massachusetts residents can fish in New Hampshire, Rhode Island, and Connecticut with their fishing license
5. the limit is 1 fish per day at a minimum of 28 inches long
6. it is illegal to keep a striper on a line or chain in the water to keep it alive. You are also not allowed to keep it in a holding car or live well.
7. the striper MUST be whole (body, head, and tail kept intact) with only evisceration allowed.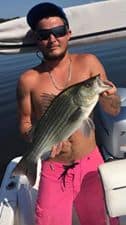 Some of the fishing Hot Spots in Massachusetts
Now that we have covered all of the rules and regulations for the striped bass in Massachusetts, we are going to move on to the fun part, where to catch the striper. There are many hot spots on both the North and South shores, and also along the Connecticut River. We will explore a little later, but on the North shore, a couple of the best spots are Boston Harbor, Governors Flats, and Deer Island. On the South shore, Martha's Vineyard, South Cape Beach, and Sandy Neck. 
FREE Printable tackle box checklist HERE
In Massachusettes many anglers fish from shore using baitfish. Some fishermen will use soft plastic lures or baitfish-imitating crankbaits. Of course, trolling in open water is a quicker way to find the striped bass, but it isn't always about quick and easy. Some anglers love the challenge of locating and catching from the shoreline. The striper is normally found in shallow bays, along the rocky shoreline, and river mouths. Striped bass is prevalent in Massachusettes from May through November. Many anglers in the area consider the striper the best game fish. 
Best time to fish in Massachusetts
As it is everywhere, the best times to snag the elusive striper is before dusk and dawn. If you are going to fish from shore with lures or bait, make sure to choose an area with a good current. Some anglers prefer a medium to a heavy pole using a 12-20 pound test line. While others swear by a 10-12 foot pole (surf rod & reel) using 30-40 pound test line. It is all in what you are comfortable using and what you can afford. There is no right or wrong pole, reel or test line. It is more about the time of day, the location, and the lure/bait that is being used. 
So, lets now begin our tour around Massachusetts and give you a little bit more information on some of the hotspots for catching the elusive and feisty striped bass. 
Boston Harbor
Boston Harbor: this is a natural estuary of Massachusetts Bay. Estuaries are the perfect hiding spot for the striper. Porgies are in abundance and they are great to use as bait to catch the prized trophy striped bass. They are found in the inner harbor area. You can also use live bait or use lures, especially for trolling. Striper seems to like the large soft plastic lures the best in this area. The water is clean and clear with a ton of small places to catch striped bass, such as Deer Island. A little more challenging than other areas because of all of the boat traffic in the Harbor. Be prepared to snag fish as big as 30-35 pounds and 42 inches long. Reel in slow, let the striper wear itself out, and be patient. There is a lot of action and challenge fishing on the Boston Harbor. 
Deer Island
Deer Island: located in Winthrop, on the Northern edge of Boston Harbor. The best spot for striper is Great Faun Bar. If you are on a boat, locate the deeper areas, often found in the middle of the bar. You can also fish for the striped bass on the Deer Island Fish Pier. It is 210 feet long and 12 feet wide. Besides porgies, other live bait that is successful: mackerel, pollock, eels, and seaworms. One other spot to catch the striper in this area is on the shore of Merrimack River, which is on Deer Island. The best time to catch the striped bass in this area is late May to early June. A very popular spot, when the stripers are running is the Rocks Village Bridge. 
Governors Flats
Governors Flats: also part of the Boston Harbor, in Suffolk County this is a spectacular Island of 105 acres, but they say that the island disappeared under Logan Aire port in 1946. On a map, Governors Island Flats, Governors Island, and Apple Island are all within a mile or 2 of each other. Make sure, that no matter where you to choose to fish on the North Shore, the school of porgies can lead to your striped bass catch of the day. 
We are going to now move our tour to South shores and delve a little deeper into a couple of amazing hotspots for the striped bass. 
Martha's Vinard
Martha's Vineyard: home to the Martha's Vineyard striped bass and bluefish derby, off of the Massachusetts coast. It is 100 square miles off of the coast of Cape Cod. Stripers like to hang out at the Squibnocket and Aquinnah. You do need to use caution, as there are treacherous shallows in this area. Striped bass also likes to stick together along Devils Bridge. For bait in this area; live eels, flies, and plugs cast among the stones can draw generous strikes from the stripers. You can also try drifting or deep-jigging using bucktails or diamond jigs. 

South Cape Beach
South Cape Beach: this area is best for bottom fishing and cast fishing. Depending on how far you want to walk, you have a lot of options to fish. You can park at Mashpee Town Beach and cast right off of the lot on the beach. If you head east, from the parking lot, along the beach there is another area called State Beach. Further east, behind the golf course, you will find many small rips that attract the striper. If you choose to go South from the parking lot, you will see the entrance to Waquat Bay. This is a good-sized harbor and bay that boaters love for catching striped bass.
Sandy Neck
Sandy Neck: located in the town of Barnstable, this is a great swimming spot during those hot summer months. But if you walk, in either direction, you will find prime fishing spots just a few hundred feet away. Fishing at Sandy Neck Beach is best done after dark in the summer, or in the fall during daylight with a northeast breeze. If you do not mind the walk, at the end of Sandy Neck is a spot called Beach Point, but the jaunt is about 7 miles. You will have prime striped bass fishing in this area if you fish from the darker water with gravel and weed patches. 
Hey FISHMONGER – make sure to check out my FISHING RESOURCES page.
Conclusion
This ends our tour of hot spots in Massachusetts, to catch the striped bass. I hope we have given you enough valuable information to get started on your weekend getaway or your summer vacation. Now, go grab your gear, your friends, your family and head out for some trophy striped bass fishing in Massachusetts. Remember if you have never been there, don't forget to grab a map so you can find all of the wonderful tourist attractions and make sure when you get your fishing permit, grab a rules and regulations booklet as well. This will give you all of the information that you need to fish legally in Massachusetts and it will also give you some insight on some of the other hot spots to fish.