My focus today, as you can see, is spinning rods.
I'm going to cover every possible angle of spinning rods, from the definition to the best spinning rods to purchase, and what type of fish you can catch with the spinning rod. So, hold onto your hats and prepare for brain overload as we delve into the mounds of information on spinning rods and their uses.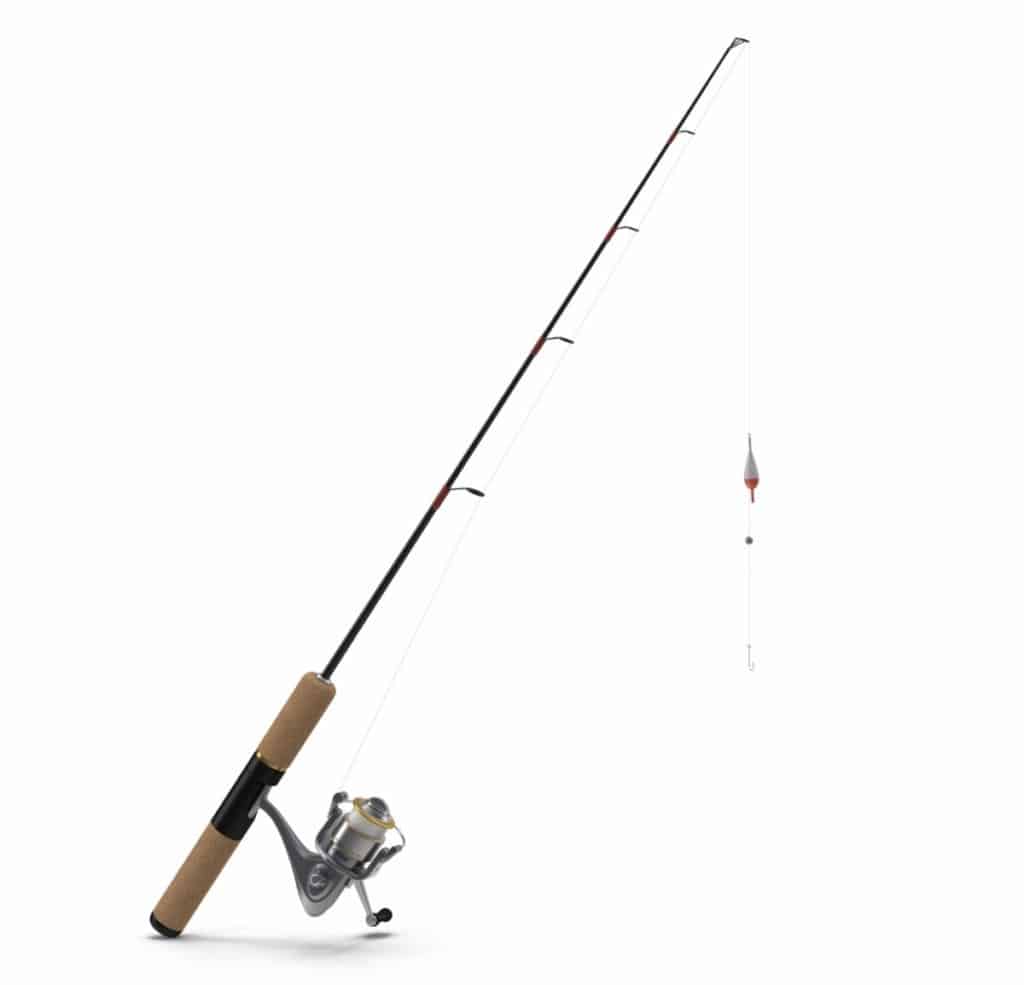 A spinning rod is normally made from graphite or fiberglass with a PVC foam or cork handle. They can range anywhere from 5 feet to 8.5 feet long. A typical spinning rod will have 5-8 guides that are arranged along the underside that helps to control the line. The eyes, as the guides are sometimes called, will decrease in size from the handle to the tip of the rod. The eye closest to the handle is large to decrease the friction as the coiled line comes off of the reel.
Your spinning reel will hang under the rod instead of sitting on top, like a baitcasting reel, and will be held in place by a sliding or locking reel seat.
Spinning rods are typically used for catching popular sport fish such as pike, trout, walleye, and bass to name a few. Spinning rods have high sensitivity and are great for smaller baits and lighter line use. These rods really shine under high finesse applications.
Who should use a spinning rod?
Spinning rods are mostly preferred for beginners. Easily replaced spools, less backlash, and the ease of casting make spinning rods popular with many anglers. These work best with small lures and live baits. Depending on the species of fish you are looking to catch will determine the spinning rod and reel combo that you will want to purchase. The features of a fishing rod will determine the performance.
The spinning rods with cork handles are more high quality while handles made from PVC foam are resistant to stains. A quality reel seat is extremely important. This will help with stress fight when pressure is applied. It is very important to make sure your rod and reel are a great match/fit. The length and flexibility of the rod will determine how many eyes/guides. The more flexible the rod the more eyes it will have. 
The rod action defines how the rod is going to perform while casting and reeling in your fish. Slow, moderate, and fast are the configurations of rod actions. The rod action will also be determined by the weight and size of your bait. 
Types of spinning rods
There are four categories of fishing rod power; ultralight, light, medium-heavy, and heavy. We will cover these more in-depth a little later on in this article. Shorter spinning rods are used for shallow ponds and rivers, where the longer spinning rods are used in lakes and other larger bodies of water. If you are going to fish on rivers with strong currents, consider a long spinning rod. The longer spinning rods are heavier and have the capability to lift heavier fish from deeper water. 
We are quickly going to go over the essentials that you should have when going on your fishing trips.
Rod
Reel
Line
Tackle
Sunblock
Insect repellents
Fishing waders
A rain suit
Pliers
Of course, you want to have plenty of hooks, lures/baits, and fishing licenses. You can purchase most live bait at local tackle and bait shops. 
How to choose which rod to use
So, let's go over a quick way to figure out which fishing rod is best for your trip, and then we will go into a little more depth on the power of the rods and what types of fish each one will catch.
Decide whether you need a light or heavy rod
Check flexibility – how much the rod will bend
Check the rod length – the longer the rod the more stable the cast
Check the bait system – crankbaits for spinnerbaits. Choose one according to where you will be fishing
You also have to get a rod that fits your hand perfectly. Make sure the line guides are durable. 
Now lets review the best spinning rods in each power category.
Ultralight spinning rods:
These are the best rods for bass, crappie, perch, and trout. Those are easy to control and sue in all weather conditions. These spinning rods are ideal for on the go fishermen and are incredibly popular.
The best ultralight spinning rod is the Cadence Spinning Rod, CR5-30 Ton Carbon Casting, and Ultralight Fishing Rod. This rod features a Fuji reel, durable stainless steel heat dissipation ring lines with SIC inserts. The highlights of this reel are:
Ultra High quality 30-ton carbon fiber blank
Made of premium materials
Super smooth power
Portable setting
Affordable
Lightweight spinning rods:
This rod gives you impeccable toughness against those big trophy catches and still did an outstanding job for the smaller fish. Designed with a combination of graphite and fiberglass that gives you a sensitive yet powerful fishing rod that is comfortable in your hands. One of the best selling lightweight spinning rods is the Ugly Stik Tiger Elite. These are designed for versatile fishing from coast to coast. They are virtually indestructible blank construction with added graphite, and conventional reel seats with stainless steel cushioned hoods.  Some of the best features of the lightweight spinning rods:
Durable and tough
Clear tip design for added responsiveness
Lightweight EVA grip
1 piece stainless steel Ugly Tuff guides
Moderate/Medium-Heavy Weight Spinning Rod:
Best for catching black bass, walleye, and channel catfish. 4-12 pound test line is recommended, depending on the type of fish you are trying to catch. The recommended lure weight is ⅛ to ⅜ ounces, again, depending on what you are fishing for it can be adjusted easily and still be proficient. Best spinning rod with medium/moderate power; Dobyns Rods Fury Series FR 703SF. This spinning rod is light, strong, and balanced. Some of the essential features in this series:
High graphite blank – choose your specific reel
Fuji reel seat
Kevlar wrapping
Double A grade cork grip
8-17 pound line is most recommended
3/16 to ⅝ ounce lure weight
Heavy weight/power spinning rods:
These rods will generally have elongated grip handles for two-handed casting. These are essential for saltwater fish, steelhead, and salmon. One of the most popular heavyweight spinning rods is the KingKast Crixus Fishing Rod. This rod features an IM6 graphite spinning rod with Zirconium Oxide Ring, stainless steel guides, and super polymer handle. It is a 7-foot rod that guarantees performance that you can count on. KastKing uses only the best materials when manufacturing their rods. The KastKing Crixus series actually has 20 different rods for any and all of your fishing needs and they are affordably priced. 
There is still an abundance of information that we could have covered, but we wanted to take it easy on you and just give you the basics of what a spinning rod is, what brands are more popular, and the fish that each power category is meant to catch. Now that you are up to date on the spinning rod; sit back, relax, and have a nice cold soda (pop). Happy Fishing!
P.S. I'd Love Your Support On YouTube