In the year 2020 there is no question that we are definitely in the information age. You can learn about practically anything that you want, and there are countless platforms to do so. One of the most well-known ones would have to be YouTube.
There is an immense amount of videos available to help people learn about a given craft or skill. Take fishing, for example. There are fishing channels devoted to every type of fishing imaginable, from fishing for crappie to fishing for catfish and everything in between.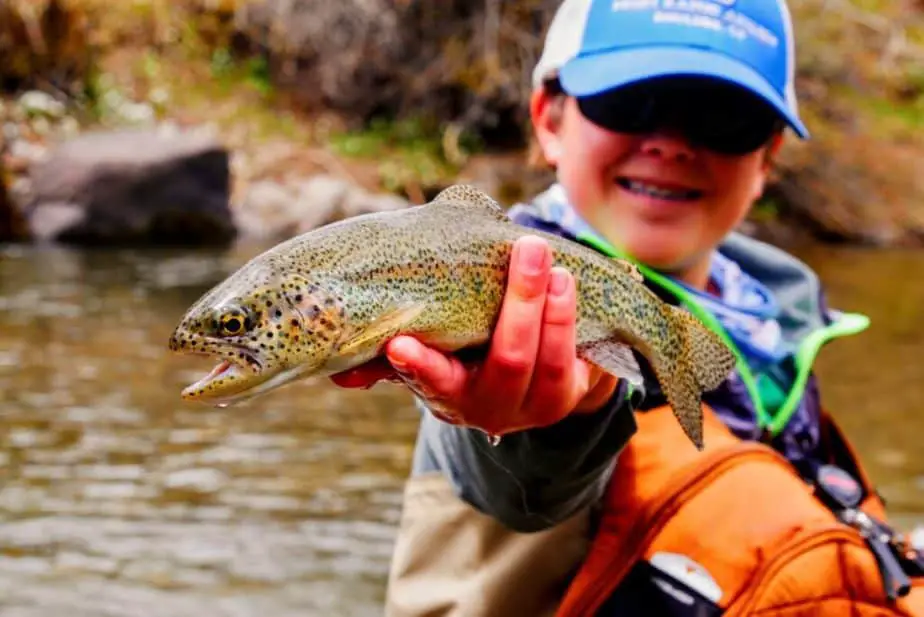 Indeed, there are so many that it can be difficult to figure out which ones are good and which ones are not so good. However, when it comes to fishing for trout, there are quite a few examples out there.
Are you looking for some really good YouTube trout fishing channels? Of course, before we get started, you probably should realize that most of the suggested channels are not devoted to just trout fishing, but many of the techniques are easily adapted to fishing for this particular breed. Here are some that you should strongly consider:
By The Way have you ever used a worm pump? It's my secret sauce and you can pick one up cheap at Amazon Here.
Versatility is the name of the game for the Salt Strong YouTube Channel. They have videos devoted to almost every species of fish, including bass, catfish, and even such obscure options as snook and grouper. However, one of the reasons why they were included in the trout fishing category would have to be because they have plenty of good (and recent) trout-related fishing videos available.
They have posted at least 15 different trout or trout-related videos. Moreover, one of the things that makes this group unique would be that they aren't just a collection of videos, but they also market themselves as an online community where other fishermen can bounce other ideas off each other and where they can even take different courses about how to fish for different breeds!
Yet another notable video they offer would be entitled, "3 Tips For Fishing Points" where it discusses some of the things you can do to catch more snook, redfish, and trout. A couple of these would include going with the flow and to avoid doubting the drop-offs. Of course, it is important to mention that when we say "points", we are talking about a designation in place and not simply an element of conversation.
Moreover, one of the best things about this video would have to be that they are excellent at providing strategies for helping you to improve your fishing game. Ask any angler, and they will tell you that they enjoy the experience much better if they are catching fish. There's just something about getting results from your hobby that makes it that much more enjoyable, and that's probably why this channel regularly gets views in the tens of thousands for many of their recent videos and views in the millions for their oldest videos.
Again, versatility is the name of the game for this fishing channel. One of the best things about Addicted Fishing would be that they provide a number of in-depth "How To" tutorials regarding how to catch all of your favorite fish. For example, they posted a video where they discussed fishing with "plastic pink worms" as a way to catch more trout.
That video was posted about seven months ago, and it already has over 258,000 views. And don't think for a minute that that video is the only one that has had that many views. Addicted to Fishing also has a video detailing the "TOP 3 Methods For SUCCESS!" when fishing for trout that has had about 236,000 views as well.
Moreover, Addicted Fishing has a lot of unique listings for you to ponder. They have videos with titles such as "How to Catch Trout With Jet Puff Marshmallows" (197,000 views), "Using Trout Magnets For a Stocked Lake"(148,000 views), and "The Best Methods For Catching Trout in Rivers, Streams, and Creeks." When it comes to YouTube channels that offer good trout-fishing videos, my point is this: Addicted Fishing is definitely a keeper.
Hey FISHMONGER – make sure to check out my FISHING RESOURCES page.
Fishin Money might be a bit of a new kid on the block, but some of the insights they provide are every bit as useful to the trout fisherman as some of these larger channels. Moreover, you definitely should consider the fact that even though they have only been posting videos since last January, they are already up to 102 subscribers.
Perhaps one of the most compelling videos they have in their offerings would have to be the one posted in early July regarding fishing weights. Perhaps it's due to COVID-19, but many fishermen are starting to notice that fishing weights are getting to be in short supply in such places as Bass Pro Shops and other fishing retailers. However, ask any experienced retailer, and they will tell you that weights is almost a necessity if you are going to start targeting a specific breed of fish.
Trout and other breeds will almost always stay at a certain depth, and the weights will help your bait sink to the required level. However, before I digress too much, this angler did notice the dilemma of these major fishing retailers no longer carrying weights. Indeed, some were completely out of them! So what did he do? He made his own! That's right, and part of the reason why this YouTube channel has so much potential would have to be because it offers several practical life hacks for helping all anglers catch more of their favorite species, trout or otherwise.
Another good thing that this channel is that it often will combine elements of sports, psychology (RE: the overcoming negative fishing thoughts video), and even an analysis of different fishing locations. This is truly a fishing channel that has a lot of potential and should have a bright future, so you definitely should tune in regularly in order to get some solid angling tips.
All three of these videos illustrate the fact that fishing is so much more than just a sport. Fishing can definitely be a way of life, and it absolutely can bring families together. Lifelong friendships are made out on the water, along with many new ways of strategizing for the fish. There is no question that fishing is a great way to deal with life, and an excellent way to learn new things about yourself.
More about keeping worms alive after your fishing trip – what do fishing worms eat?

Darren Enns Author drives a 4 door ford truck big enough to carry an inflatable pontoon under the camper.