Hey fishing buddies, Darren Here. 
Have you ever had a hard time finding the right sized sinker for the type of fishing you are going to do?
I have! When that happens to me It makes me think I could just make my own sinkers and then I wouldn't have that problem. I'm kind of a do it yourself kind of guy anyway. Are you?
Fun Fact: Darren Enns Author is from Nevada and has been Married to the same beautiful woman for 30 years.
I get a lot of pleasure out of taking raw materials and making something useful out of them. that's probably why I became a plaster by trade and why I worked in the plastering field for so many years.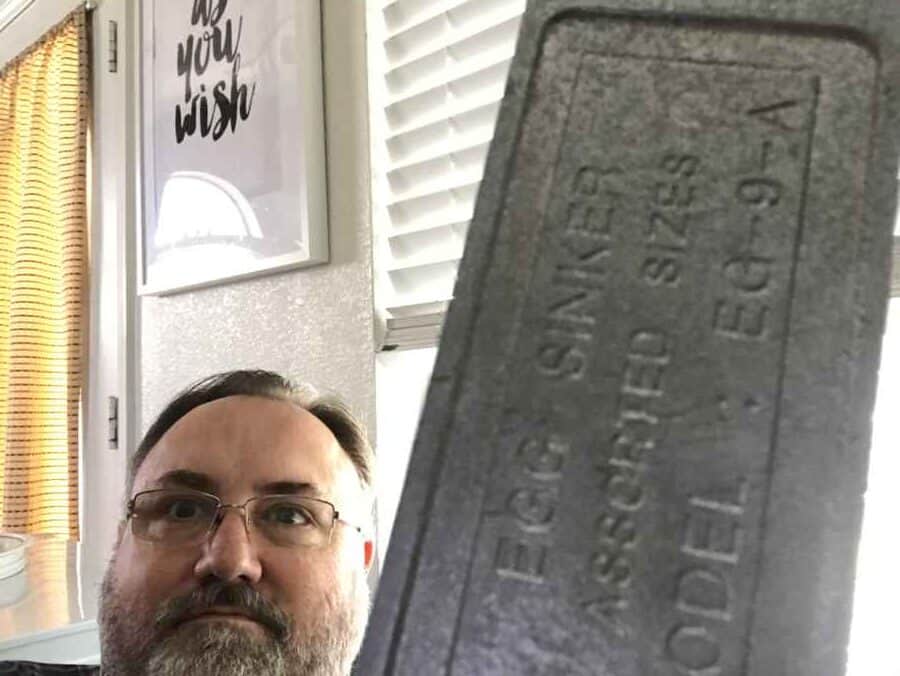 Make your own fishing weights
Anyway back to fishing. When you find that you were having a hard time finding the right fishing weights, the natural thing to do is wonder if you can make them yourself which is exactly what happened to me.
That's why I got online and ordered a do it mold for making my own sinkers. 
Who can make their own molds
This review is written for those of us who like to do things ourselves. I'm kind of a prepper at heart. I'm not sure if everyone reading this will know what that is so I need to explain that a prepper is someone who tries to be prepared ahead of time for things that might happen.
In this case what might happen is that I might not be able to find the right sinkers for my fishing trip and that could really be a bummer. So how do I prep for that I take it into my own hands and I have the right materials on stock and the mold to make them and then I make my own.
So going back to who is this for, if you don't like to get your hands dirty and if you don't like to take the time that it takes to make your own products then you might not enjoy this article very much.
However, if you do like to get your hands dirty and you do like that feeling that you feel when you are done building something and if you do you like the opportunity to tell your buddies, then what I did in this article is definitely for you.

My advice on the Do-It EG-9-A sliding sinker mold
I'm going to review the do it mold that I bought and let you know the pluses and minuses upfront so that if you decide to do it yourself you can learn from me and my experiences.
The mold that I bought is called do it mold number 50622. It's from the do it company out of Denver Iowa USA.
It's an aluminum mold with plastic handles and it makes egg sinkers from 1/16 ounces all the way up to 3 ounces.
It comes with a wire and handle that goes through the mold in order to make A hole for your string to go through. I will include some pictures and some of my finished weights that I made but let's get down to talking about the pluses and minuses of using these molds.
How I learned to do it
For starters, I really had no idea what I was doing but it did not take me very long to figure it out. I watched a few YouTube videos to see how others were doing it and the first thing that I realized is that I did not have all of the cool tools that everyone had.
What am I referring to? I'm referring to the electric heating pots that people use and the little hammers and handtools that people used in the videos.
In fact I didn't really even consider how I was going to heat up the lead and so I had to improvise. So I would suggest if you are going to order a do it mold that you also consider ordering a small cast-iron crucible that you can melt the lead into and the tool to pick up the hot crucible for pouring the lead.
Instead what I did was use a stainless steel measuring cup out of my wife's kitchen. I had to hide it at first but luckily for me she had several and when she found out that I used it she was not too angry.
I guess if you're on a budget the other idea would be to check out the thrift stores and buy something that you can melt lead into. OK another thing that I noticed was that as I was melting my lead, there is a dross or slag as some people call it that forms on top and that that needs to be cleaned out occasionally before you pour your lead. So that's another thing that you're going to have to have is a Spoon or some thing to clean the dross off of the top.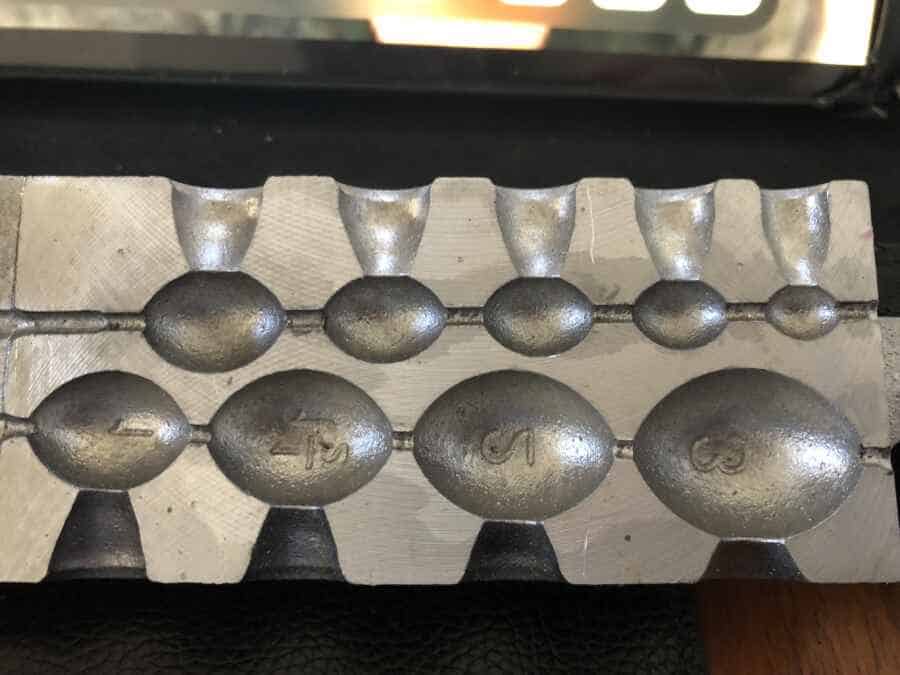 Tools I used to pour my own weights
Because I did not really have a great way to melt the lead I used a small propane torch Like This One Here on Amazon, and believe it or not it melts pretty quickly but if you had the right kind of container you probably could do it very well on a propane flame burner and that would probably work better than the way that I did it because as soon as you set your crucible down on the flame it will keep the lead molten.
When I used the torch it worked fine for pouring the mold one time but as soon as I cleaned out the mold and I was ready to pour again I had to heat up the lead once more because it had started to harden.
If you don't get the lead in a thin enough pourable state then what will happen is it will mess up your weights that you poured by having air bubbles inside.
One of the cool things about these molds is that even if you mess up it's not that big of a deal because you can always reheat the lead and pour it again. By the way I did that many times LOL
Another tip I can give you is to wear gloves. The plastic handles on the mold are OK but if you reach inside the handles with your bare hands you could burn yourself on the aluminum that goes into the handles.
Safety First while making weights
Also it's probably a good idea to wear gloves that will keep the splatter off of your hands if there is a splash of some sort. While I was writing that I thought of two more things. Never pour lead on water it will explode. Believe me you don't want that so make sure your mold is good and dry. Also never breathe the fumes of the molten lead because they are toxic.
OK another thing you should know is that you don't have to pour all of the different sizes. As I said in the beginning this mold goes all the way up to 3 ounce weights and I don't usually use anything over 1 ounce so when I'm pouring I don't have to pour lead into the two holes that make those sizes.
Also you will find that when you pour your weights out after they have cooled you are going to need some wire cutters to cut the little nipples off of your creations and I also needed to use some sandpaper to sand them smooth after cleaning them up.
After doing all of these things though I was real proud to have weights that I made myself and now I have the mold forever so as long as I can make my own I should never have to buy fishing weights again.
So some of the positives are that you can hand a sinker to your buddy and tell him hey I made that. That will start a fun conversation for sure.
Also, if you are looking for a fun little side job to make a few bucks you can make some and sell them to your friends and people who need them. At the beginning of this article I mentioned that I had a hard time finding weights. In fact, there were zero weights in the store that I always go to because of circumstances in the United States at the time. The stores were not able to place orders and so they ran out pretty quickly. When I started making weights I posted it on Facebook and some people actually wanted to buy them from me so if you had the desire you could sell weights as well.
Where I bought my Do-It mold
I'm going to leave a link to where I bought my mold so you can pick one up if you like. My link is an affiliate link but it does not cost you anything to use my link and I very much appreciate if you do especially if you got some benefit from this article.
By the way you can also make your own Jigs check out this article I wrote.
If you have any other fishing questions that you would like to ask you can contact me through my contact page and who knows if it's a good question that other people should know about I might write an article about it.
Hey FISHMONGER – make sure to check out my FISHING RESOURCES page.
I recommend joining Income School. I've been an Income School member for a little over a year and joining was the best decision I've made in working toward my business goal of making money online.
If you have social media or a blog or even a business in fishing like a fishing guide, you can make money by giving away $10 store credit to your friends and followers. Click Here to find out how