It is summertime and it means now that it is time for me to go out to the lake, hop on my boat, and do one of my favorite things in the whole world, fishing!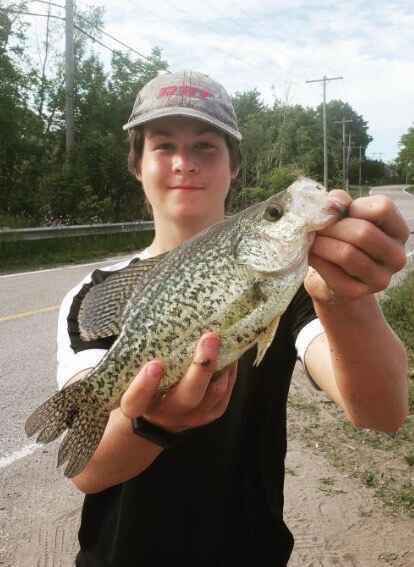 That being said, my aim is to catch as many crappies as possible because I want to enjoy a good fish fry this summer. For that to happen I must get ready to hit the lake with the best strategy possible because when it comes down to catching crappie, there's a bit of a trick to get them to bite the hook every time the line goes in the water.
Here are some good hooks for crappie fishing. size 8-12 are great!
In order to be ready to load my cooler with tons of crappies, I decided to do some research and find out the most effective ways to catch crappies in the summer because it turns out there's more than just simply throwing your line out into the water and wait for one of them to bite because there are other factors also come into play when trying to catch this type of fish.
So how do you catch crappies in the summer?
Using a fast action ultralight fishing rod for a quick hook up when the fish bites, make sure you give the crappie what they want which is minnows for bait and fish over brush piles or any cover like logs or under docks in the summertime. Read on and I will explain why.
First we must understand that crappies are a type of fish that lives in the North American fresh waters. They feed primarily on smaller fish species, and these can include the young of the predators which are the muskellunge, the walleye, and the northern pike. They also are capable of feeding on zooplankton, insects, and crustaceans for sustenance during dawn or dusk times by moving into the open waters or approaching the shores.
Following that tangent, crappies tend to be far less active during the day, and have a strong tendency to seek shelter around weed beds, submerged objects such as hollow logs and debris, and even boulders.
They are a fish species that derives from the Canadian French crapet, which refers to the different species of the sunfish family. As a result, crappies are known under many different names such as the strawberry bass, speckled perch, the white perch, the calico bass, and the Oswego bass. There are also certain items that are essential in successfully catching
Having a better understanding of what the crappie fishes are, the type of habitat they inhabit, and even the different ways in which they are known as, is going to give us a huge advantage when going out to catch them. There's no better way to get the most fish out of the water than preparation, and the more we know, the better.
Need CHUM ? Here's an article you might like about chum for crappie.
Getting Ready To Catch Crappie Fish
In order to be able to fish we must once again be aware of the fact that just throwing the line in the water is not going to be enough to catch many crappies in the summer. There's more to understand when you're out catching crappies in one of the most fun seasons of the year. This includes having knowledge on some items that will help you catch them more efficiently when you're out on the waters.
Here are some of the things to keep in mind when you're catching crappie fish in the summertime:
Having an understanding of the type of baits that are more likely to lure them.
Knowing when are the best times in the day or the evening to go out and effectively catch them.
The types of environments in which they are likely to gather in large numbers.
Using artificial bait effectively when natural bait is not available.
The region's in which they have the largest populations, so they become easier to catch.
Angling methods that work effectively in catching them.
The different types of life bait that are bound to lure them.
The importance of the weather.
The importance of depth in the lake.
How to use a rod and a line effectively.
Having awareness on the factors that make crappie fishing the most effective in the summer, is going to help you make the most out of your fishing experience when you're out on the waters looking to get a good catch for the day. This is also important because you simply don't want to be wasting valuable time and energy looking to catch crappies during hours of the day where they are unlikely to appear in larger numbers.
There is also an extra hidden benefit to fishing crappie in the summer, and that is the ability to go out and explore new places, which is one the most natural and instinctive drives every person has, the need to travel and explore. Fishing provides the perfect avenue to do just, and if you need some inspiration to get out on your fishing boat, then here are few words of motivation by the professional golfer Jack Nicklaus:
"There are always new places to go fishing. For any fisherman, there's always a new place, always a new horizon"
Know Your Target
There's no way we're going to get on a boat to go on the water and fish for crappies without familiarizing ourselves with them in the first place. That's like saying that you know the Starbucks secret menu and end up ordering a regular caramel frappuccino. You gotta know what you're after, and in this case we're after the crappie fish.
As pointed out earlier before the crappie fish is located mostly in the Northern American regions, and to be more exact, these are the North American regions where you can find them:
To get a better idea, here's a map you can check out: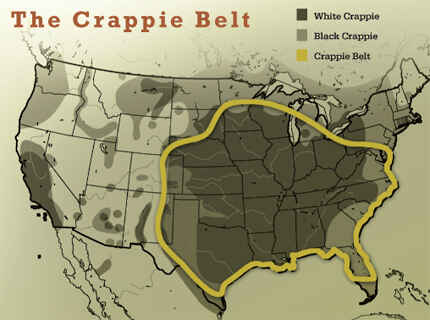 Source: https://www.in-fisherman.com/editorial/crappie-nation-the-most-popular-panfish-of-this-or-any-other-time/155017
These locations are going to help you capitalize on your catches, and will eliminate the hassle of guessing where to go and find the best fishing spots. Not only that, but if there's a region you haven't visited on this list, and you're curious about it, now is the perfect chance to plan a trip and explore a new area. After all, fishing is all about exploring new horizons and this is a great perk you can take advantage of from the fishing world.
The Sun and Depth Go Hand In Hand
This is to be expected when the research shows that the best times to go fishing for crappies are on the dusk or dawn hours. This means that when there's less sun out on the sky, there are more crappie fish out on top water levels. However, this also means that when the sun is out, these types of fish are going to stay from these water levels because the heat from the sun makes it very uncomfortable for them to breathe. Especially in the summertime.
So what does this mean for you?
It means that go into the waters to find the crappie fish schools that are trying to stay away from the sun.
Luckily, you don't have to go to the deepest parts of the lake to find them!
Crappie fish like to stay close to their feeding grounds, and they also tend to stay in water levels that are rich in oxygen. They don't go into the deeper waters because they won't find what they need l to sustain themselves at those levels; giving you the benefit of avoiding throwing too much of your line to try and catch them.
Also keep in mind these types of fish have a preference for hiding from the sun in weed spaces and boulders, finding these spots shall give you more options to keep your fishing game even after the sun is out and you didn't listen to your alarm go off early in the morning. It happens to the best of us.
The Bait That Works Best
Thanks to the fact that the crappie fish has a varied diet, finding a bait for it to catch isn't difficult. The real challenge is to figure out which one is the most effective out of all of the different types of critters the crappie fish feed on. Also, there's the question as to whether or not artificial baits work with a similar rate of effectiveness as the natural live bait.
Well, it has been found that out of all the live baits available for luring crappies, the minnows are the favorite choice used by most fishermen due to its clear coloring and ideal small size to attract their attention. This choice is even more popular than the commonly used choices that are worms and insects.
Here is a picture of what a minnow looks like, so you identify right away next time you find yourself in the fishing store:

Souce:https://en.m.wikipedia.org/wiki/Minnow
When it comes to artificial baits, the colors matter more than the texture or shape of the bait. Especially when it comes to the time of day and the clarity of the water. For instance, using artificial grubs with bright colors are perfect for bright sunny days and clear waters. On darker waters it is best to use bait that reflect as much color as possible. On cloudy skies, it's best to go for darker artificial grubs with a flash to them to attract attention.
As far as shapes go, the three most popular choices are the jigs, grubs, and spinners.
Here's an image of what they look like: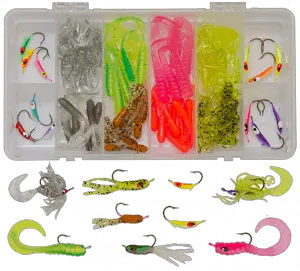 Source:https://www.ebait.com/baitrigs/product/SS-80.html
THE FISHING ROD MATTERS
This is something that may be probably unexpected because most of us think of bringing a fishing rod with some weight added to it that can help us get an edge catching fish. That's not the case when it comes to crappie fishing. In fact, using heavy rods only ends up working against you because of the fact that crappie fish have very soft mouths and the hook might not catch them properly.
It's best to use a light or an ultra-light fishing rod with fast action for the purpose of setting your hook faster, and use that extra time more effectively catching fish.
Related Questions
Are there other seasons in which crappie fish can be caught?
Yes, as the matter of fact the winter is an ideal season for catching crappie fish. There's even a method known as ice fishing in which fishermen take crappies out from frozen lakes and ponds.
Is it necessary to use minnows as live bait?
Although they are the preferred choice, the minnows are not necessary for the purpose of using live bait. Worms and other grubs can also be used for live bait. There are also artificial baits available in case live isn't an option, or they ran out of them at the fishing stores.