Once you decide to take up the fishing hobby, there is no question that there is a tremendous amount of species of fish for you to choose from. Indeed, some anglers just decide to fish for whatever bites their line willy-nilly.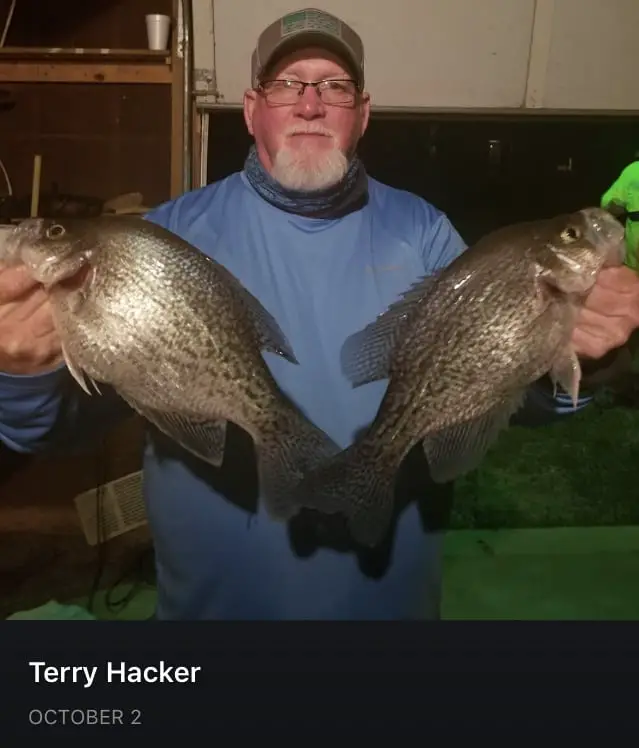 However, the great majority of anglers decide to specialize in a particular species. Such is the way with the crappie species. There are individuals all over the United States and even the rest of the world who have become fascinated with this particular species and are now very disciplined at catching them as a result.

If crappie seems like an appealing species to you, there are certain things you need to know in order to get started. To begin with, many experienced anglers will tell you the following: 
The best way to start crappie fishing is to choose an appropriate rod and reel combo as well as the lures and baits that you desire to try out and give it a try in the spring time because crappie are bedding up shallow in the water so you are more likely to vet a strike. Later as you learn, you can add to your tackle and to your experience. I'll give you many tips to up your chances as you continue reading.
You actually can catch crappie on a year-round basis. 
The first thing the novice crappie fisherman probably doesn't realize is that yes, you can indeed catch this species on a year-round basis. Of course, there are many tales of individuals who went crappie fishing with their fathers, uncles, grandfathers, or other such relatives within a three-week window in the fall and then grew up thinking that was the only time you could get a good string of catfish.
Here are some good hooks for crappie fishing. size 8-12 is great!
However, those of us who have left our own neck of the woods and went to out-of-state fishing tournaments quickly learned from other anglers that you can use several different techniques for catching crappie year-round. 
Patience and presentation is key. 
When you are first looking to catch crappie, you need to realize that they are a fish species that has a tendency to respond to certain stimuli. They also tend to be a very finicky breed, so it could be hours on end before you land one. However, that will definitely make it that much more rewarding when you are able to hold up the crappie and have your picture taken for that first couple of times! 
Crappie will react to all of the senses. 
A good way to expand on this previous thought is to drive this point home: crappie is a species that will always respond to sight, smell, and even sound. If you are going to attract crappie effectively, it isn't good enough just to bait a hook. Sure, you'll catch plenty of catfish, but you're in the big leagues now. You will have to do a whole lot more to attract crappie. When it comes to this species, you get out what you put in. 
Invest in some good fish finders. 

If you decide to equip your boat with fish finders, it will not only help you navigate around the lake because of its GPS capabilities, but it also has the potential to help you find the crappie that much faster because they have side imaging and down imaging components.

Additionally, a good fish finder can help guide you because it will mark your waypoints and prevent you from becoming disoriented in the water. Ideally, you should consider keeping one in the console of your boat and one in the front of it. Interestingly enough, there are some fish finders with sonar that will combine the down scan and the side scan.
If you are really interested in becoming a heavy-duty crappie angler, you might want to consider investing in one of those. Of course, there are some people who go with a portable fish finder as well. However, you definitely shouldn't go with a portable fish finder for cost reasons alone. However, a portable fish finder is a great option if you are an angler that rents boats, does ice or fly fishing, or tends to fish from the shore. 
Keep a fishing journal. 
No one can underestimate the importance of keeping a fishing logbook. If you have ever wondered how the professional fishermen are able to catch any type of fish on any lake, then chances are it was because they kept a logbook. However, even though we are amateurs and we don't have the time to devote 300 days a year out on the lake, a logbook can still be beneficial to us. Part of the reason why you should keep a fishing journal is that if it is used right, you can properly analyze it to help increase your odds of landing more crappies. 
Of course, you might be asking yourself, "why to bother keeping a logbook when I could just spend that much more time out on the water?" Well again, when it comes to fishing for crappie, you get out what you put in. It might take you three months before you can get back out on the water again, and even the best memories fade.

Yes, three months ago, you had a great day on the water. However, do you remember exactly what the conditions at the time were? For instance, do you remember what the weather was like? How about the humidity or barometric pressure? By putting these copious notes in a fishing logbook, you will be able to maximize when is the best time for your fishing excursions.  Check out ANGLR Fishing App
Try to plan your crappie fishing excursions right around their spawning times. 
Ideally, you want to organize your trips around all of the times that the crappie is spawning. This means that you should look at making a trip not only during the time they are spawning, but you should also consider some trips immediately before and immediately after they have spawned as well.

For example, when you are trolling for these fish just before they spawn, you should always shoot for them when the water is at a temperature that is between 39 and 54 degrees. Don't be surprised if you see some large schools of shad while you're at it. Simply troll over them, and under those shad, you will normally find a larger amount of crappie in the feeding section.

Of course, if you are fishing for crappie while they are spawning, that will be a different kettle of fish entirely (no pun intended!). In order to do it while they are spawning, you will definitely need the right type of equipment. Like everything else in life, if you want to have a chance at catching crappie during their spawning season, then an ounce of prevention is worth a pound of cure.

Make sure that you not only have the right techniques but the right baits and lures as well.  Finally, there is the post-spawn period where the water will reach temperatures from between 78 degrees to 85 degrees. It is during this time that you should slowly troll for crappie off the front of your boat. Again, during each and every part of these spawning seasons, be aware that precision is paramount. As I said, when it comes to crappie, you're in the big leagues. 
Make sure you have the right rod and reel for crappie fishing. 
The good news is that almost any rod and reel combination will work for catching crappie. However, there are some rods and reels that will work better for different situations. For example, if you encounter crappie in deep or sparse cover, you really should go with either an ultralight spinning rod or a reel spincast rod which is spooled with a line that has a weight of a least four to ten pounds.

Another reason that the pole approach is so effective is that it allows you to fish in water that is either very shallow or totally snag-infested. You can even fish in such places as treetops, brush piles, and other places with extremely dense cover. Indeed, the cane pole is also inexpensive and cost-effective as well. You usually can get them in graphite and fiberglass as well. 
Moreover, you might consider a rod that has a telescopic design, simply because that usually makes them easier to transport. By all means, find a crappie rod that allows for your own personal convenience and comfort. 
Don't neglect your tackle box. 
As I've stated previously, crappie fishing requires you to be as detailed as possible. That is why you should never overlook your tackle box either. 
Of course, there are many different types of tackle boxes on the market today, and so you have to thoroughly examine your specific style and situation before you get a new one. It definitely depends on just how much crappie fishing you do and how you go about doing it. For example, if you normally use minnows to catch your crappies, then about all you would need is a smaller tackle box.

However, if you not only fish with minnows but also have a variety of baits and lures, you are going to need a tackle box that is a little bit more diversified. If you are a very detailed crappie fisherman, a good rule of thumb is to look for a tackle box that has as many compartments as possible. You will want room for a variety of baits and lures for starters. 
Keep your baits and lures handy. 
When it comes to baits and lures, the first thing you have to realize is that there is a rather heated debate over which one is the most effective for catching crappie. On one hand, you have the lures, commonly called jigs, and crappie generally prize this type for their immense versatility. No, they aren't live bait, but there are literally hundreds that you can choose from. Jigs can come in sizes from 1/80th to 1/8th ounce, and you can occasionally even find them as large as 1/4th ounce.

Most crappie fishermen will want to go with four different sizes, including the 1/64, 1/32, 1/16, and 1/8 option. In most situations, the jig size that is most productive for crappie fishing will be 1/32. However, we are just scratching the surface here. We still have different colors to account for as well, and they are just about too many to count. The best jig for catfish? The one that works best for you. So, feel free to experiment. 
Of course, there would still be minnows to choose from as well. Moreover, one of the things that you should definitely keep in mind is that there are going to be times where the crappie just aren't biting any of your lures.

While it's true that most of the time they will go for it, for whatever reason there are times they just don't want that lure at all. In that case, there is nothing wrong with switching to live bait such as minnows.

One advantage with minnows is that you often can use them to entice to come out from their brush pile hiding spot. Some of the fishing pros will often pick up on sonar just where the crappie might be, and then they will dangle the minnows right in front of their face simply to annoy the crappie into biting it. However, even if you don't have sonar, there is nothing wrong with varying up your means of catching them from time to time. If the crappie is not responding to any of your lures, then by all means try out your minnows. 
Don't forget about those bobbers! 
One thing that an experienced crappie fisherman realizes is that this species simply doesn't respond well to you simply just dropping a line, whether it be a lure or a jig or anything. This is where bobbers come in. These simple devices will almost immediately become a tremendous asset to your crappie fishing pastime. First of all, these little bobbers can add much-needed weight to your small lures.

They can help your bait move around that much easier to the places where the crappie might be. The bobbers are also much better at helping guide your bait or lure along a specific path, letting you know that much quicker whether the crappie might be biting or not. And because they are adjustable, you can entice crappie much easier because you hold it at their level. 
Conclusion 
As you can see, fishing for crappie can definitely get very specific, but that is definitely how you start fishing for them. You really do have to educate yourself about crappie fishing as much as possible. However, your diligence will definitely pay off if you are able to catch your limit in crappie for the season!