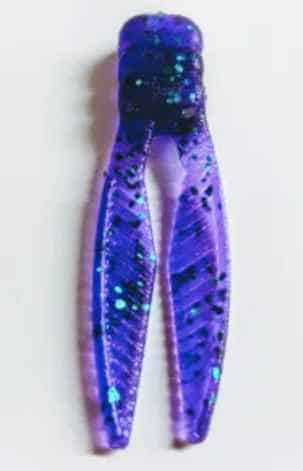 Fishing is an exciting activity, and like every other endeavor, it comes with some challenges. You may have a hard picking the correct lure to throw. And buying one of each lure or the pack can be pricey. So we've compiled the best bug tail plastics to fit your plastic bait fishing needs.
Top Bug Tail Plastic Baits
 THE MAGIC TAIL CHUNK 3 1/2 INCH  from Get Hooked Magic Baits
Fishing can become more exciting and easier with the best bug tail plastic bait. If you pay attention to details like weather, fish species, water clarity, etc., you'll be able to pick the right bait. Check out our compilation of the best bug tail plastic baits on the market.
Soft Plastic Swimbait
I love swimbaits because they can easily be rigged in various ways to catch many different fish species. You can use a standard-sized plastic swimbait to catch any fish that eats smaller fish. A micro swimbait, however, is perfect for catching crappie and bluegill. If you want to catch walleye, trout, sauger, and finicky bass, go for small swimbaits.
If you are looking for the perfect tool for fooling pike, bass, and aggressive walleye, mid-sized swimbaits are right for you. Big swimbaits are used for catching musky and trophy pike. All the rules, as mentioned earlier, are also applicable to saltwater fish. Swimbaits are not the best option when you are ice fishing.
During the spring, you can thread your swimbaits on a bighead and wind them around creek channels, points, and deepwater areas to catch bass. In the spring, you can use your swimbait to cover water in the shallows around rocks, docks, and metal pilings. Such areas are where you will find bass seeking warmer water. During the summer, you can rig the BioSpawn Exoswim through pads and grass sparse and weightless.
You can create effective topwater bait by burning a plastic swimbait. When you do this, it will swim close to the water surfaces. Also, swimbaits can be used on the back of a jig, and you can fish them around docks and shallow grass areas. While using this technique, it would be best to use casting gear to pull fish out from vegetation.
During the fall, you should try to throw the swimbait on a jighead or an Alabama Rig to catch fish feeding before winter. At this point, the bass is accustomed to bigger meals, and baitfish have all year to grow. You should rig up big baits during the fall. That way, you will be able to trigger big bites.
Plastic Stick Bait
The soft plastic stick bait is one of the widely used soft plastic baits you'll find out there. BioSpawn ExoStick is quite deadly and very easy to use. Designed by Gary Yamamoto, the very first stick bait was a result of inspiration drawn from a Bic Pen. Gary created a Senko to be a soft plastic jerkbait, and it became known for its soft wobble.
Hand Made Stick Baits from GHMB
It didn't take long before people heard about Gary's creation and its excellent fish catching ability. Anglers started purchasing these versatile plastic stick baits, and many of them made a lot of money from fishing tournaments. Soon after, many fishing soft plastic companies started developing their own versions of Gary's invention.
Soft Plastic Craw
Craws and creatures are good for mimicking the look and action of crawfish. Bass living in a pond, river, or lake filled with crawfish will be used to eating crawfish. With soft crawfish plastics, you can trigger strikes even in crawfish free water bodies. What the bass primarily feeds on does not matter.
GHMB's Punch Buster Handmade Crawdad
You can fish soft plastic craws on the back of skirted jigs to catch largemouth. Finesse plastic crawfish baits are also perfect for fishing with a drop shot or shaky head. You can use the same method to target smallmouth. Soft plastic craws with subtle kicking action are well-suited in cold water.
However, warmer water requires the 10,000 Fish Saw Craw or Karl's Hoss Craw. With their insane kicking action, these baits can help attract strikes from aggressive fish. These lures are from the Rage Craw Brand creator, Steve Parks.
Finesse Worm
Perfect for pressured conditions and clear water, finesse baits can be used for triggering bites from fish. These soft plastic finesse baits can help you target fish too weary or not interested in biting other baits. Sometimes, bass fishing can get very tough due to certain conditions like unfavorable weather, time of the day, or clarity. In such conditions, no matter what the reason is for tough fishing, you can use a lure to get back to the finesse baits.
Here's a finesse worm that's perfect from GHMB
You should try rigging your finesse baits weightless, on drop shots, shaky heads, Carolina rigs, finesse Texas Rigs, or Neko Rigs. All the listed rigs are very effective. Soft plastic can catch much fish when paired with the correct finesse.
Ribbon Tail Worm
The ribbon tail worm is one of the best bug tail plastic baits out there. The new BioSpawn ExoRibbon works very well. We added this classic ribbon tail worm to our list after deliberating between grub worms and internally ribbon tails. This soft plastic bait is great for anglers looking to catch big bass.
This 10 inch Artificial Bait bait worm will have our custom Get choked power scent -razzle oil on it
It has been used for decades, and many people still use it today. Ribbon tail worms come in a variety of colours and sizes. The 7′ and 10′ inch ribbon tail worms are very common, and you will most likely find them in green pumpkin, blue and black, motor oil, and Junebug colours. Anglers often fish ribbon tail worms on a Texas Rig.
Conclusion
While fishing, you need to pay attention to conditions like weather, species of fish, water clarity and light penetration.Keeping all these in mind will help you catch a good number of fish. And if you need effective bug tail plastic bait, you can pick from the list above. We hope you go for the best and have fun while fishing!