It's summer time. Everyone is getting their boats ready to hit the water. Their out buying new fishing poles, lures, bait and extra supplies so they can spend the day at the lake. Fishing is a huge 'sport' or past time in the summer. Grandpas and dads teaching their kids. Showing them tricks on how to catch. Taking pictures and videos of their very first catch, they excited yet scared looks on their faces as the fish flops around on the hook.
The top 5 baitcasting reel brands are; Penn, Daiwa, Piscifun, CastKing, Pflueger.
But what kind of fish do most fisherman like to catch? For some, it doesn't matter. They just want to spend time with their families or with their buddies after a hard work week.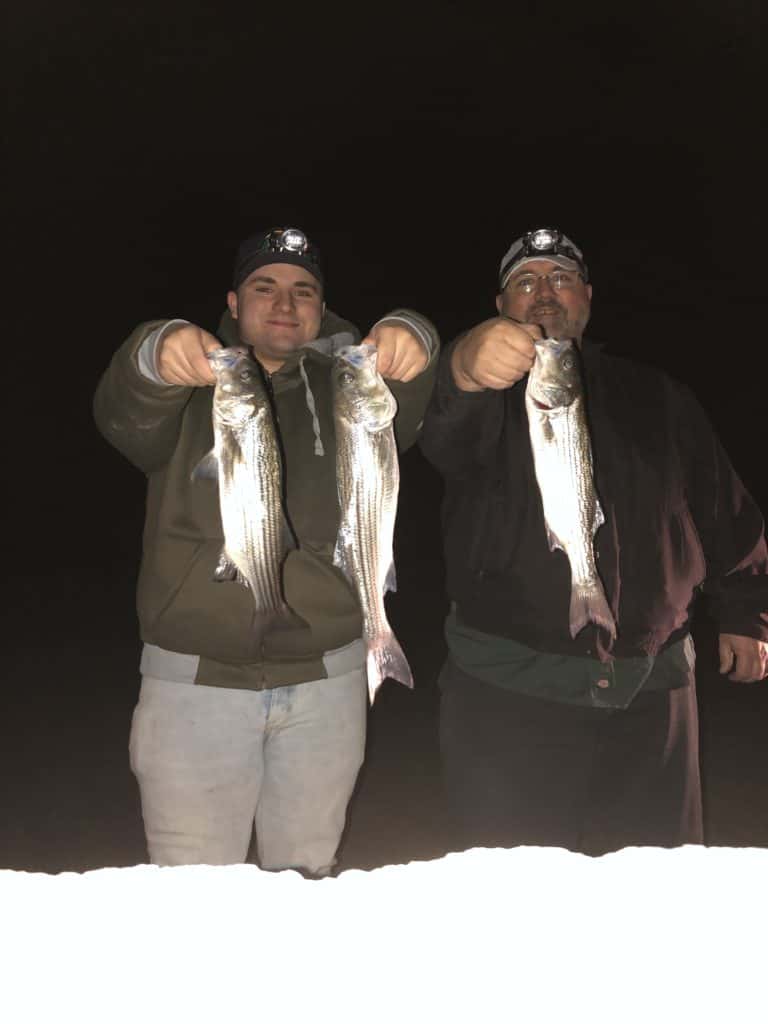 I Have a secret…
I catch and throw back. It isn't about the kind or how many, it is about the relaxation and the memories. But if you are going after a certain type of fish; the striped bass, this article will give you a ton of good information from history on the fish, to live bait, to reels to lures used to catch these very popular fish. It even includes ways that these fiesty fish can be cooked, once you get them home. 
One of the most sought after fish for anglers is the striped bass, also known as the striper. These fish are primarily found along the coast of North America and are considered the state fish of South Carolina, Maryland and Rhode Island.
A mature striper can weigh between 20 and 40 pounds and they can live up to an estimated 30 years. The maxium weight is 80+ pounds, but the average is 5-20 lbs and 20-35 inches long. Females are normally larger than the male striper. So if you catch anything over 15 pounds, it is probably a female.
There are 2 main ways to accomplish striped bass sport fishing:
1. Trolling: using live bait or lures and manuvering them through the water. Whether on a boat or standing on the shore. This makes the lures look alive to those hungry fish.
2. Surf Casting: standing on shorline or wading in the water, using top water lures. A top water lure is mainly a lure that floats on the top of the water and is made to move atop the surface to attract fish.
FREE Printable tackle box checklist HERE
Some of the best live fish bait used in catching striped bass:
1. Bunker
2. Clams
3. Eels
4. Sandworms
5. Shad
6. Bluegills
Of course, there are many other live bait that you can use when you are fishing for striper. These are just some of the top choices of anglers. Trial and error on what works best in the area that you are fishing and of course the time of day, weather conditions and some other factors will determine what works best for you. 
The peak feeding for striped bass is 1/2 an hour before sunrise and right at dusk and they prefer 55-68 degree water temperature. They can not function in less that 44 degree water, so therefore they tend to go where the water is a little warmer but not too warm.
The best time to catch striper is at night, especially during the warmer months, because of their preferred water temperature. Also in the deeper, darker water is where they like to 'hide out'. Striped bass can tolerate both saltwater and fresh water; and they live in the ocean, but spawn in fresh river water. They prefer to ambush their prey when they are stirred up and disoriented.
There are many types of reels and poles that can be used to catch these type of fish. It always comes down to preference, brand, weight and how smooth the pole casts and reels in. Everyone has a favorite brand, but maybe this will give you enough information on a brand  you haven't tried, and if you are in the market for a new reel, you will try something new. We are going to review the top 5 reels used to catch striped bass and then touch on some of the top lures that you can use to to seal the deal with these sneaky creatures. 
a. premium fish fighting power
b. affordable
c. 4.5 star rating
d. graphite body and rotor
e. ergonomic handle
This reel is available in five sizes ranging from 3000-8000. Perfect for the serious fisherman on a budget. This reliable reel allows for the angler to prevail over the hard pulling fish. The gear ratio, depending on the size, is 5.3:1 to 6.2:1. Max drag is 13-25 lbs and weight of the reel is 12.3 ounces to 32.1 ounce. This reel is light weight but durable and holds its own next to the more expensive reels as being durable and a fan favorite. Many reviews praising this reel; how well it works, and the smoothness. Great reel for the money.
a. solid screw in handle
b. waterproof drag system
c. manual retern bail
The is reel is very versitile and is considered the next generation of Daiwas. It's leaner and meaner, ranging from ultralight freshwater to heavy salt water models. It boasts a 4500 size and larger 7 bearing system along with 6BB +1RB anti reverse system. The line capacity (lb/yards); 6/210 to 10/140 and for the braided it ranges from 15/190 to 30/120. Reviews state this is a smooth casting, strong pole that is definitely worth the money. Owners love the versatility and the many models to choose from. You can find the perfect size for your favorite fishing area.
For the 3rd reel we are going to look at the Piscifun Torrent:
a. 18 lb carbon fiber drag
b. Japanese Hami cut 3604 gears
c. low profile, 7.1:1 gear ratio
d. double wind shafts
This reel give you a 0-10 power magnetic brake, 4 1/3 inch handle, shielded bearings, oversized knob, and aluminum spool. But of course, those are just a few of the incredible features of this particular reel. The Torrent casts farther and smoother than many of the more expensive reels. Extremely powerful, durable and unique yet very affordable. With a braid capacity of 30 lb/120 yd and a mono capacity of 10 lb/120 yd the reel weight is 8 oz.. Some of the reviews for this reel state that it performs beautifully, very nice drag, solid reel, definitely worth the money and is perfect for a beginning fisherman that are starting out on a budget. Pair it with the right pole and you will outfish your friends. 
a. 17.5 lb carbon fiber drag
b. 6.3:1 gear ratio
c. 11 + 1 shielded ball bearings
d. rubber corck handle knobs
e. left or right handed options
This reel is powerful, smooth, and allows no mercy for the stripers. In this price range, this is the most powerful and smoothest compared to other brands. Some of the other unique features of this reel are instant stop anti reverse, aluminum spool, corrosion resistant, and hours of fish fighting fun. The weight of this reel is 7.2 ounces for the EVA handle and 8.1 ounces for the rubber cork handle. Top of the line reviews on this one as well. Great reel for the money, smooth, nice drag and light weight. Many people love the cork handles as they offer a little more comfort when you grip tight for those fighters. 
a. 7 bearing system
b. graphite body and rotor
c. sealed drag system
d. braid ready spool
The are a variety of sizes to choose from with these reel, but the gear ratio of 5.2:1 is the same for each and every model. Reviews on this model are mixed.  For the people who gave it 5 stars, they are very adament about it being a great reel for the price and that they love the product. Some of the other reviews stated that they had issues with the gearing grinding or with the braided line getting tangled. But even with the mixed reviews, this reel rated a 4.5 stars and is definitely worth the try. 
But now that you have your reel, and presumably your pole, you are going to need some bait to catch the striped bass. We mentioned earlier the live bait that are the best for snagging this particular fish. Now lets take a look at a few of the best lures to attract the striper. We will not go into too many specifics on the lures, just some of the basic features of each one that we have on our list.
a. made in 1939
b. draws fish from 20 ft away
c. hard plastic
d. 4.5 inches long
e. 1/2 ounce in weight.
a. heavy duty saltwater hooks
b. 6 inches in length
c. weighs 1 1/9 ounces
d. 3d eyes
a. targets trophy stripers
b. weighted tail, cast farther out
c. 2 sizes (6 or 7 inch)
d. weight, depending on length, 1 or 2 ounces
a. best when in shallow, clear water
b. comes in 7 sizes
c. rainbow of colors to choose from
d. erratic darting action
e. slender profile
a. you can use when you cast or troll
b. use in fresh or saltwater
c. reinforced body
d. high pull strength
e. 6.5 inces and 1 1/2 ounces
So, we have went over some background on the striped bass, we have covered some of the best baitcasting reels to use and we also took a peek at some of the lures that are best to use, while also covering some of the most popular live bait used. So, no matter what your preference on bait, what brand of reel you love the most and where your favorite fishing spot is; we have covered all the most important things you need to know about catching striped bass.
 The final thing, the cherry on the top of this article is the best ways to cook the striper that you take home.
Of course, if you look on the internet (or even ask your grandma) you can probably come up with some great recipes, suggestions and opinions on how to cook these tough catching, fun time having fish. Striper bass have white meat with medium texture and a mild flavor.
Hey FISHMONGER – make sure to check out my FISHING RESOURCES page.
Pan-seared striper you only want to sear on 3-4 minutes a side, reducing heat when you flip over the filet.
Grilled– cook only 5 minutes per side, making sure to let your grill/coals heat for 15 minutes before putting them on the grill
You can steam your striped bass with sauteed vegetables, for a healthier alternative
If you choose to broil your striper, make sure you cook it for 5 minutes per 1/2 inch of thickness
There are many many ways to deep fry your striped bass, depending on the ingredients you use. Make sure the oil is 375 degrees and that you cook each fillet for about 4 minutes on each side.
Yes, there are hundreds of recipes on the internet, but this gives you the basics on how long to cook on each side. You are free to season them however you wish, bake them or grill them in or out of aluminum foil; with or without vegetables. Enjoy what you possibly just spent hours and hours trying to wrangle, clean and fillet.
Now, pack up that boat; tackle box, pole, bait, drinks, life jackets and family or buddies and go have an amazing day at the lake – even if you don't have a boat. Make some memories and let us know how are suggestions worked for you.