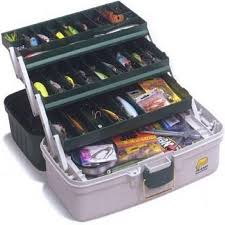 Any avid fisherman knows that you definitely need a good pair of needle nose pliers. They come in handy when stubborn hooks refuse to come out of the fishes lip. They can also save you from being stabbed by your own hook if you try to get it out without pliers. 
The best fishing pliers have a long needle nose and are resistant to rust. They should have a ring on the end so you are able to tie a string to them to keep them from falling and a really good pair will have a spring to open the pliers automatically when the tension is let off of the handle. 
These are some of the good features to have although any pair of needle nose pliers is better than nothing so go ahead and throw them in your tacklebox.
Next you're going to need some extra line. There may come a time where you need to re-string your fishing reel and in case that happens you're going to need the right test line for the job at hand. 
It's always good to have some extra fishing line in your tacklebox but don't forget that you will need leader as well. Sometimes anglers like to use a lighter line for the leader so we are including them separately here.
Pre-tying your fishing rigs before you go on the water is a super idea.  You want to keep those pre-tied rigs in your tackle-box and safe from getting tangled or lost. If you break off your line and you need to tie a rig up real quick to get yourself back in the water that's when these will come in handy. They're already tied and ready to go.
You may need to bring with you a hook sharpening stone. Not much to say here except that you should sharpen your hooks every once in a while. If it's been a while since you have sharpened your hook or the hooks on your fishing lures, you will have a stone available to do so if you put it in your tacklebox now.
While we are on the subject don't forget to put extra hooks in your tacklebox. It might be a good idea to have some of the different sizes in case you get into bigger or smaller fish than you expected.
Of course you will need swivels and snap swivels as well. Your swivels can be used to create your rigs. When fishing for striped bass, you may want sliding snap swivels as well so that you can adjust the weights that you put on. 
If you are using live bait you may need a small net to help you retrieve them from the bait tank. Don't forget to throw one in your tacklebox so you are ready to go when the time calls. You may decide to switch up and use a different type of live bait so have a net ready in case you need it.
Have a wire cutter handy especially if you or someone else nearby is accidentally stuck with a hook. You may need to cut the tip of that hook off in order to back the hook out of them. Hopefully that doesn't happen and you only need wire cutters for other purposes. If you got a good pair of needle nose pliers you may also have some side cutters on there. If so you are set to go if not put a small pair of wirecutters in your tacklebox as well.
Of course you are going to need a tape measure or some way to measure those lunkers that you pulled out. Or you could just lie and overexaggerate what size the fish was.
You are going to need a stringer if you catch a few fish so don't forget that. Depending on the size of fish that you are going to catch, plan the type of stringer that you bring accordingly.
A scale is a good thing to have handy especially if you catch your personal best and you want to document it on Film. ODon't forget to set your scale at 5 pounds before you start weighing anything.
An old fisherman trick is to bring a pair of nail clippers on a string tied to your vest so that you can easily clip that fishing string or those tags whenever necessary. Make sure you have one in the tacklebox.
You are going to need a knife for sure. You can plan on what type of knife to put in your tacklebox but a fillet knife is a good idea because it can be used for many purposes including to fillet your catches.
You may need a hook retriever tool. Sometimes those fish swallowed the hook and it's a little hard to get out without some help so a hook retriever is a great idea to have with you in your tacklebox. If you do not have one you can consider bringing a Flatnose screwdriver with a V cut into the tip of it. This may work as well to get those hooks out from deep down in the fish.
There is a type of float called a PALSA. They pinch on where your hook is and help it to float up off of the bottom. This keeps it out of the reach of crabs and other crustaceans that want to eat your bait before the fish get to it.
Bring some jigs and a rubber eel or worm. You never know when you're going to need some jigs and some plastic baits. It's a good idea to keep many sizes and flavors in your tacklebox.
If you are fishing for striped bass, you're going to need some poppers or top water lures. Especially if you're fishing for bass when they are feeding off of the top in boils. Keep several top water baits handy especially ones that mimic the feeder fish that your stripers are feeding on. In my state they feed off of shad so gold or silver colored top waters are a good idea.
If you are fishing fast-moving water or deep water you will want to bring with you some pyramid stinkers. Somewhere between 1 ounce to 3 ounces is best. This is where you're snap swivels come in handy. If you are using a 1 ounce sinker and it is not enough to keep your bait in one spot you may need to switch up to a heavier sinker and having a snap swivel makes it easy to switch them out. But you need to have them in your tacklebox in the first place for that to work so we put them on The list.
Spider stinkers are another trick if you are in fast-moving water. They are like a pyramid sinker only they have legs made of wire that stick out and help to hold them down by them getting stuck in the rocks and sand as they hit the bottom. In fast-moving water they really do a nice job. Put some of these in your tackle box because if you don't need them now you may need them in the future.
Of course a tackle box would not be complete without artificial bait and lures. There are so many kinds we will not get into them so much here however, many of our articles on this blog cover them in depth you can do a search at the top of the blog and find which articles talk about different kinds of lures but for now let's just say that you need some in your tacklebox. 
Put some bobbers in your tackle box as well in case the fish are feeding from the top you can use them to keep your bait up high. A little trick that we use in the west are the sliding clear bobbers that hold water. You can fill them mostly full of water and they will have a lot of weight for your cast but they will have enough air in them to float. If you don't want them to float you can fill them completely with water and they will sink like a sinker, taking your bait down with them.
I always like to carry some cramp on weights or some split shot with me in case I need to add weight on the fly. The needle nose pliers will come in handy here as well to pinch on those split shot and save your teeth.
A portable depth finder is a handy thing to have. Now days they make them to fit on the end of your spare fishing pole. You can cast them out to where your bait is and find out what's going on down there below. Kind of high tech and nice?
Don't forget to bring a Compass. If you are out on foot hiking those inlets and you get lost a compass may come in handy to help you find your way back. It's always a good idea to know which direction you're going especially when you're lost.
 Now we're getting into the really important things. Bring sunblock. If you are the only one that remembered you may be the savior of many other people on the fishing trip. The water can be brutal reflecting the suns rays up at you again after they have already hit you once. Putting on sunblock will keep you much happier than going home looking like a lobster believe me.
Bring a hat, keeping the sun off of your head especially in the summertime and blocking some of the suns rays off of your face will keep you a much happier fisherman.
While you're at it put some sunglasses in your tacklebox. It's always nice to have an extra pair in case someone else needs them. Having an extra pair in your tacklebox can save your eyes from Strain that is unnecessary in case you forget to bring your good ones at least you'll have a back up pair and if you do bring your own you will have a back up pair for somebody else
Insect repellent is a good idea to have with you because when those mosquitoes come out it can be brutal. Keeping most of them away from you will make for a much nicer trip so put some in your tacklebox.
Some fish attractant sent maybe the one thing that makes your trip a lot more fun. We once fished on the lake where nobody was catching anything until we started using the scent and then we all cought fish. Everyone else on the lake was looking at us like what in the heck are you doing? They never did figure it out and we looked like geniuses.
Bring a small flashlight in your tacklebox in case you end up staying out late. It definitely could mean the difference between a good time and a more difficult time.
Take a Ziploc bag with some toilet paper in it in your taco 🌮box. I'm telling you, it could save your whole trip.
Bring some superglue. If you break a part of your real or your fishing pole or one of your lures you could be back in action quickly with some good superglue. It's small but it works great. Here's a tip, if you get a cut squeeze it together with some superglue and you are back in action.
 While we're on that topic, you might as well put some duct tape in your tackle box as well. I don't think I need to go into depth on why. It fixes everything.
 Here's a pro tip for you, bring a hot glue stick and an extra rod tip. How many times has somebody broken off the tip of the road with no way to fix it?
If you are fishing on the shore taking a fishing rod holder in your tacklebox can make things a lot nicer for you.
Bring a facemask for mosquitoes. We buy the paint strainers at Lowe's and they work great.
You can get a thin rain poncho at the dollar store and put it in your tacklebox. There are times when the rain starts and you have no way to get out of it unless you stop fishing. If you have one or two of these in your tacklebox it may save the day.
Put a lighter in your tacklebox.
You can get some bells to clip on the end of your fishing pole if you are fishing from the shore. This makes it nice because you do not have to stare at the end of your fishing pole all the time. There are bells with an led light as well for night fishing.
And last but not least, a multi tool. This kind of covers everything just in case. Some multi tools have needle nose on them, there is a knife there, screwdrivers in case you need them to tighten some up on your fishing rod for real. Etc.
So there you go this is the list that I came up with. If there is something that has been left off please let me know and I can add it to the list. As you will note our list has a few empty spaces at the end for just such an occasion because I'm sure there is something that's missing. Happy trails and tight lines
Hey FISHMONGER – make sure to check out my FISHING RESOURCES page.