Breaking into the fishing industry
The fishing industry, one of the hundreds that many Americans wish they could be a part of. If you have a passion for fishing, for learning about the fish, for what kinds of bait works best with each type of fish or if it has just been a hobby since you were little, but you now want to join the industry maybe make a little money on the side or to supplement your current income.
If you have social media or a blog or even a business in fishing like a fishing guide, you can make money by giving away $10 store credit to your friends and followers. Click Here to find out how
Then this article will give you many suggestions about how to break into the fishing industry. It is definitely not going to be an easy task, as there are HUGE companies out there that dominate, but follow your dream your passion and make your own name in one of the biggest sporting/hobbies events there is.
Fly Tying, making your own fishing rods, considering work at trade shows, and starting a fishing blog, are some of the ideas of how you can make money in the fishing industry. read on for even more great ideas.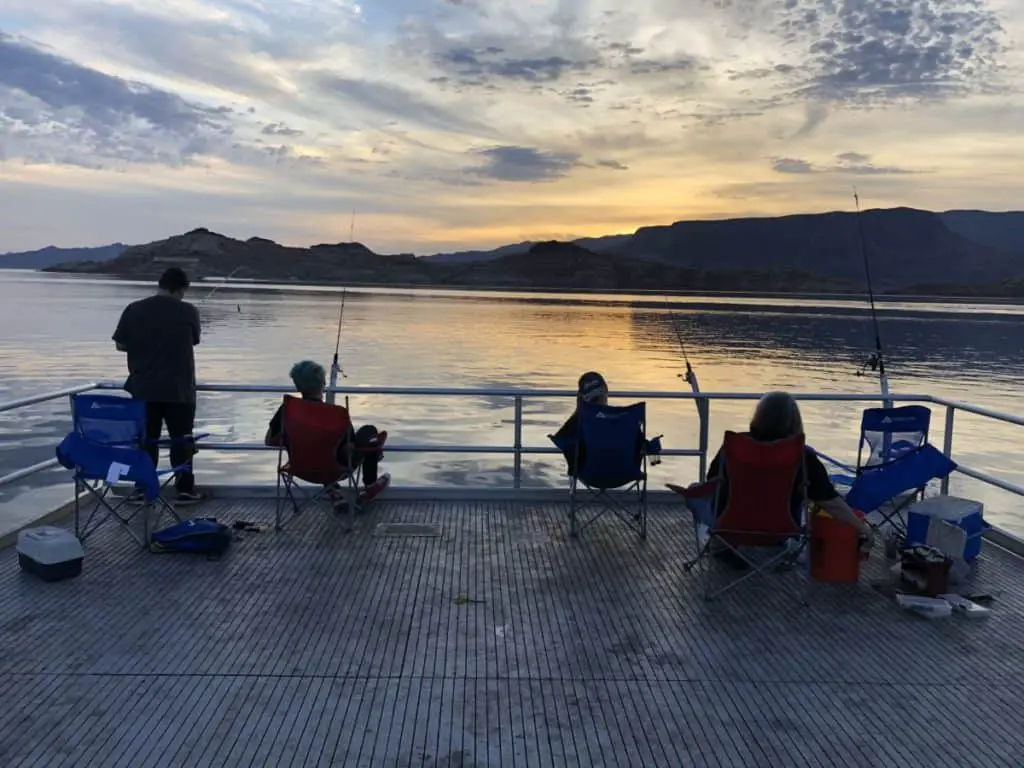 Get your foot in the door of the fishing industry
So, depending on how big of an avid angler you are, there are many things that you can do to get your foot in the door of the fishing industry. If you are just a hobby fisherman, who dedicates his summers to the lakes in the area and is dedicated to going every weekend, then you may want to start out with something simple; like fly tying or lure making. Going out every weekend for 3 months, you have a good idea of what kind of lures work for what kind of fish in your area, so why not try the task of making some of your own lures? If you search around on the internet, there are hundreds of places to buy lure making kits. Or you could opt to buy each piece separately so you can show your creative side and your imagination. Make some lures that no one has seen or a spin-off of some of the more popular ones. We have included a short list below of some of the items that you will need to create your own lures. But beware, this is only a tiny portion of what you need and what you can find.
– spinner blades
– skirts, skirt material
– buzz bait blades
– lure paint, beads, and bodies
– crankbait plug parts
– reflector tape
– lure eyes
– spoons
– split rings and pliers
You may also want to stock up on some books or watch some videos online to help you get started and to give you a few ideas on what to do.
Fly Tying
The same thing applies for fly tying. There are thousands of kits out there, that will include all of the supplies and the directions. But if you want to be imaginative then you will need to purchase your supplies separately and then be as creative as your mind will allow you to be. We have included, again, just a few of the MANY pieces that you can buy separately. Definitely look around on the internet and find exactly the pieces that you are looking for and the prices that you can afford. What we are giving you here is a generalized list.
– hooks
– hair, fur, and tails
– necks, saddles, and feathers
– synthetic body materials
– chenille or yarn
– flashabou
– dubbing
– bug, popper bodies
– fly eyes and heads
– fly tying thread and weighting ribbon
Just as with the lure making, there are books out there that will give you ideas, suggestions and 'starting' lists. You can also find a wide array of videos on YouTube of others who do fly tying and lure making. Watch them, get some ideas, and then run with those ideas.
FREE Printable tackle box checklist HERE
Make your own fishing rods
Another way to break into the fishing industry is to make your own rods. This is going to take a little bit longer than making the lure or fly tying, but these will be unique to what you want them to look like. A little less likely that it will look like other rods out there. It will take hard work, dedication, and a keen eye to make your own rods. But if you are up for the challenge, there are many things that you need to do before you start. You first need to decide what kind of fish you are going to be catching with your rod. This will allow you to make the perfect weighted pole for a specific kind of fish or fishing style; drop shot, flipping, pro crankbait, spinnerbait, top-water, worm/jig, walleye, panfish, salmon or catfish. Once you decide on what type of fish and what kind of bait you will be using this pole for, then you can begin to gather everything that you are going to need.
– 1 or 2 piece spine of the rod – ensure alignment of guides and have better performance
– cork handle or split-grip EVA handle
– spinning reel seat or casting reel
– rod guide prep and spacing
– hand wrapper set up
– wrapping the rod
– install the tip
– decals
– apply finish to wraps
Those are your basic steps and supplies that you are going to need, not including the string when you are ready to finish it up. Again, look for books or videos to help you get started and to help you give you some ideas and starting points for making your own rods. These could be big sellers around your town/county if there isn't a big box store close buy. Take your time and make them look unique, make all different weights and styles, big and little.
Consider working at trade shows
Once you have done any of the 3 suggestions above, you stake out the local Hunting and Fishing Trade Shows. These shows are set up all over the United States prior to hunting and fishing season to showcase all of the newest gear, apparel, and accessories. This would be the perfect place to get your name and products out there. You could stand side by side with some of the biggest names and companies in the fishing industry, as you sell your own unique lures or rods. You never know, maybe one of the pros will try one of your rods or a few of your lures next time they go out to catch 'the big one'. If your products get popular and you are largely recognized, then you can begin going to more of the trade shows, if your life/job allows you to travel to them. Or you can choose to stay within a couple of state radius of your hometown. Either way, get out there and showcase your talent, soak in the suggestions, the praises, and even the criticism and fix or change whatever is suggested.
If you are not into the trade shows or really trying to sell your fly tying or home-made lures then why not try having a fishing camp or fishing lessons? Beginner, advanced, and intermediate. Children, women, the elderly, or families. Take your knowledge and love of fishing and share it with others.
Teach the basics; parts of a pole, different lures and the fish that they catch, how to string a pole, and change a lure. This would then give you a chance to showcase any lures that you have made at home, on your own. Set up 2-4 club meetings a year and as the fishing season approaches, have 2 or 3 classes a week. Show them your favorite fishing spot, help them learn how to cast the pole, how to reel in the fish, how to bait the hook and how to be patient. If you catch some fish at each trip or during your lessons, take them back, save them up and at the end of the fishing season, you can host a huge fish fry for all of those that participated in your camp and your fishing lessons.
We have 3 other ways that you can break into the fishing industry. These are going to be the hardest, most time consuming and maybe the ones that you are not sure you want to do or can accomplish. But, if you are an avid fisherman and you have tons of pictures, stories, and experiences to share; then the next idea will be perfect for you because you can incorporate all of that. Brace yourself, because a lot of people know a lot about it, some people know a little, and others know very little.
Start a fishing blog
I am talking about a blog/website. You can post all of your pictures and some of your memories on your website and then have an interactive blog linked to your website. This way friends and family that have been on fishing trips with you can share pictures and stories as well. There are going to be 5 simple steps to starting a blog and if done right, you can even make a little money from your blog.
1. Choose a blog platform
a. WordPress
b. blogger
c. Tumblr
2. Choose a web host
a. self-hosting
b. free alternative
If you go with the free alternative, there will be limits and you technically won't own your blog. If you self host, you have all of the freedom and rights to your blog. You will definitely want to do your research on the 2 alternatives. There is so much more information about these 2 alternatives than we can cover here.
3. Starting a blog on a personal domain
a. come up with a domain name
b. find a place to "host" your domain
Do an extremely thorough search for web hosting companies and compare their offerings and pricing. Choose which one fits your purpose and budget the best.
Once you have done those 3 steps, then you get to do the fun, exciting, creative part of your new venture in the land of blogging. So show your personality, pic your best pictures, your funniest stories and get ready to set it all up for your friends and family to see.
4. Designing your blog – depending on which platform you choose; you will have hundreds of themes, layouts, and fonts to choose from. Make sure that you keep your blog clutter-free and user-friendly. If it is hard to navigate, or there is way too much to read then people that come across it will not spend much time there. Make it professional, yet fun. You want it to reflect your personality and have a clear understanding of what your blog is about.
5. There is an abundance of resources available for beginner bloggers to help you to get started. They can answer any question you will have and can provide useful suggestions, information, and solutions; including how to make money with your blog, how to get your blog noticed above all of the other blogs, and how to make it grow.
Compete in tournaments
If you are an avid angler, that never ever misses an opportunity to go fishing, someone who knows anything and everything there is to know about the fish in your area and the best time to catch them and the precise lures to use. There is always the option to go pro.


Hey FISHMONGER – make sure to check out my FISHING RESOURCES page.
Though expensive, it could net you a huge foot into the fishing industry. First and foremost you need to have a deep understanding of fishing. The more you fish the more experience you gain. Start competing at the club level tournaments. Work your way up, slowly. Fish with others who have more experience than you, and learn their tips and tricks.
Teach yourself about the different fish, lures, bait, rods, reels, best catch time for each species and whether to go top-water or deep. Learn to cover shallow water quickly, this will give you the advantage of snagging more and bigger fish. Practice, practice, study and study some more. Figure out a game plan on the Elite Series fishing spots. Set your focus on 1 area of the lake, you will be more productive than chasing the fish everywhere.
You must also master your electronics. Learn how to operate and be proficient in reading your electronics or you could put yourself at a huge disadvantage. The final and biggest obstacle, SAVE! Including, but not limited to; entry fees, gear, electronics, etc., it can cost upwards of $50,000 to $70,000 each season to compete in the Elite Series.
Become a fishing guide
The last thing that we are going to cover that can get you into the fishing industry and making some money is; becoming a fishing guide. If you are native to your area, grew up fishing on the lake 20 miles from your home or if you are mesmerized by fishing and have a vast knowledge of the fish and what catches them the best; then becoming a guide is your best option.
But, be forewarned, it is a ton of hours. You have to have a lot of patience and be able to handle not being the one fishing. You will be showing, answering questions, fixing poles, changing lures and more. It will cost you approximately ,000 to get started. You will need to obtain your MCC license (Merchant Mariner Certificate) from the Coast Guard. Then you will need to go and get CPR/First Aid certified. Next, buy all of the poles, reels, string, lures, life jackets and other gear that you are going to need on your venture. Advertise your business at local shops, and in print and online publications.
This venture makes take a year or two to really get off of the ground, depending on how many other fishing guides are in your area, but stick with it, if this is really what you want to do. Compare notes and share stories with other anglers, make friends with local bait shops, resorts, and restaurant owners. They can help spread the word to tourists in the area.
Conclusion
There are many many other ways, not listed here, to get into the fishing industry. How you do it, depends on your area of expertise, your dedication and your passion for the sport/hobby. If you love making the lures and doing fly tying, then, by all means, do so. If your passion is helping others learn then be a guide or host a fishing camp. Tailor your business venture around your favorite aspect of fishing and make sure it reflects your personality and dedication. Ask others for opinions and advice on how to get started. Research, research and research some more. There is a vast amount of knowledge on the internet that can help you get started on whatever path you want to take.