Lake Powell, the second largest man-made reservoir in the United States is located in Utah. It is part of the Colorado River, along the Utah and Arizona border. Two million people visit the area every year, including vacationing at Rainbow Bridge National Monument.
Lake Powell is 254.1 miles long, with a maximum depth of 583 feet. Besides the monument, and other beautiful attractions to visit, you can fish for striped bass. We are going to cover a couple of the popular spots, the best lures to use, and other information that will make your fishing trip a huge success.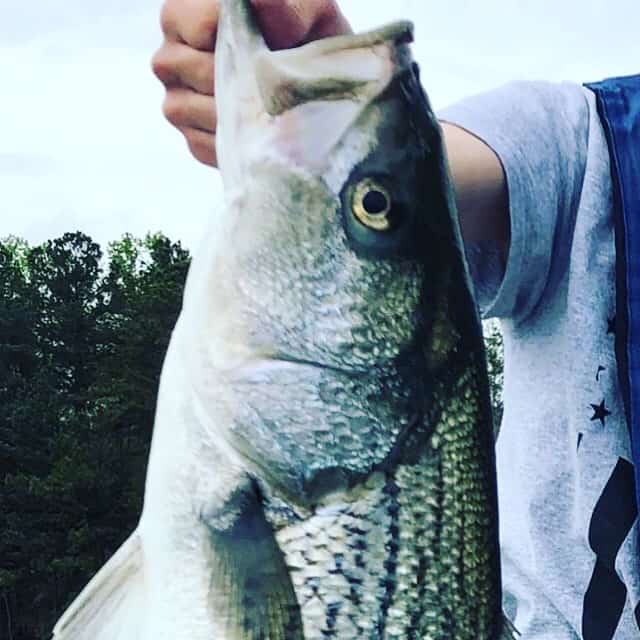 Even though Lake Powell borders Utah and Arizona, as of 2014, you only need a fishing license in Utah to be able to fish on the lake. All fishermen age 10 years and older are required to have a fishing license. There is no daily limit on how many striped bass you an keep in this area, but there are a couple places that are prohibited from any kind of fishing (for any species). When you get your fishing license they will give you a booklet with all of the rules/regulations and other information on where to fish (and where not to go). Make sure to keep it handy, unless you are with a fishing guide that knows the area very well. 
For most areas in the United States, fishing for striped bass is decent all year around, but 'peak' times for striper differs a little bit in each area. For Lake Powell, late June through August is the best time. Stripers become a little more active in April, when spawning season begins. On the lake you can easily catch striped bass from an anchored house boat or from the shore. In the spring time, serious anglers have this advice for you; stripers often group in 30 to 80 foot deep water. You can choose from Dirty Devil, San Juan, Colorado, or Escalante Rivers to fish. We will give a brief description of each later on in the article. You may also find a good amount in groups around the dam. If you are going to fish in the spring, heavy spoons, cut anchovy, sardine bait, or bucktail jigs should be your go-to's. We will cover lures in more detail shortly.
As the water begins to warm up the striped bass will leave the deep water and begin swimming around and in spawning areas; reefs, lake points, and rock piles that are less than 40 feet deep. Use cut anchovy or troll rattle lures such as this one that is sold here and it looks like a shad.
close to the bottom. Striped bass will hang around spawning areas through early summer in Lake Powell. Then they will move deep again, 60-90 feet, to find cooler water. This is when you will need a boat, down riggers and/or leaded line. When summer begins to fade and fall starts to creep in the stripers will be on the move, lookig for schools of shad so that they can feed before they go dormant in the winter months. Keep a close eye on the surface, as striped bass will normally force the shad to the top (making it look as though the water is boiling as the jumping shad are trying to evade the stripers). The bass will be feeding fairly aggressively and will normally latch on to almost any bait that you present them, but the closer they look like to shad, the better. If you want an outstanding view of your catch, watch the striped bass violently attack your lure. The boils in the water, that the shad produce because of the striper usually begins to occur towards the end of June or the first part of July and the again around the end of August to the first of September. 
In late fall and early winter, the striper fishing will be fast. They are readily caught using jigging spoons or bucktail jigs at 60-100 feet. Once the water in Lake Powell reaches 50 degrees or less, the striper become a lot less active. Trophy striper are normally found in 64 degree temperatures at 60-90 feet. Striped bass will feed at night, but about 45 minutes before dawn is going to be prime time to snag a few. 
Here are a couple more tips to help you catch striped bass on Lake Powell:
 1. use flurocarbon line because it is almost invisible in the water
 2. it is best to use firm frozen anchovy. Dried bagged anchovies have a preservative that keep them viable but chases the striper away.
 3. suggested hook size is a number 2 or number 4 circle hook or octopus hook, depending on the size of the striped bass in the area you are fishing, and if you are fishing from shore or out on a boat in the deeper water. Theres more…let's continue.
Let us now take a look at the best lures, for each method of fishing on Lake Powell:
Surface Lures: 
 1. Rebel Jumpin Minnow– black/black or blue/black
 2. LC Sammy – 100 is 4 inches and 128 is 5 inches
 3. 3 inch Rebel Magnum Pop-R in silver and black.
 4. Heddon Super Spook JR 3.5 inches in bone/clear color
Medium Casting/Trolling:
 1. Lucky craft pointer- 78, 78DD, or 100DD
 2. LV500 – 3/4 ounce in aurora black
 3. Shad Radp – color of shad or silver/black
 4. Rapala XRap minnow in silver/blue or silver/ black
Trolling & Casting:
 1. Hyper Striper 1.5 ounce using a single tail trailer
Deep Trolling:
 1. Bomber-Salt water 6 inch 2 ounces
 2. Yo-Zuri Salt water 30 foot deep runner in black/silver
 3. Storm Deep Thunderstick and Thunderstick Jr.
Vertical Jigging:
 1. Spoons – 1.5 ounce Chartreuse shad color
 2. Howard Oatman special 1.5 ounces
 3. P-Line lazer minnows – silver glow 1 ounce in size
 4. Kast Master – 1/2 to 1 ounce silver
Now here is a brief description of a couple of the spots within Lake Powell that you can catch striped bass:
Dirty Devil Lake- 80 miles long, flows through southern Utah, emptying into the Colorado River at Lake Powell. Fly fishing, spinning or baitcasting works best in this area.
San Juan- major tributary of the Colorado River and provides drainage for the 4-corners region; Colorado, New Mexico, Utah, and Arizona.
Escalante River- formed by the confluence of Upper Valley and Birch Creeks, flowing about 90 miles Southwest before joining with Lake Powell.
The ever changing shorline of Lake Powell exceeds 2,000 miles. When the lake is full you have over 160,000 surface acres. Of course the best way to access the biggesst striped bass is on a boat, as the depth can reach almost 600 feet. WHether the boat is anchored or you are trolling, you have an excellent chance of catching a striped bass on Lake Powell.
There are people from all walks of life who come to Lake Powell. You have those that are vacationing with their families on their house boat, and throw a line out while the family is off sight-seeing, the ones that come for the many bass tournaments throughout the season, and the avid anglers who just want to take a week fishing every inch of the shorline. You will do just as well catching stripers whether you are fly fishing, surf fishing, bait casting, or trolling. There is no preferred or more popular way than another to catch the striped bass here. But do remember, frozen anchovies are the #1 bait choice of most of the anglers. -DBE
A few tips for you, to make locating 'boil' waters a little easier, if this is your first time fishing for striped bass at Lake Powell; there are 3 large bays off of Bullfrog Marina that you will have a lot of luck at. Bullfrog Bay, Good Hope Bay, and Halls Bay. Look for the smaller bays within or seek out the coves. Use top-water lures such as the Zara Spooks, poppers, Whopper-Ploppers, or just about any other floating lure. Shoot for the pockets of shade, starting at the mouth and working your way towards the back of the coves and smaller bays. 
Keep an eye out for the birds. Seagulls, Grebes and even Ravens and Crows. They are a giant help in locating shad, which means hungry stripers are not far behind. Watch for them to dive at the shorelines, this will indicated trapped shad or the anticipation of a boil. Finally, you have to be patient. Listen, be as quiet as possible and watch for splashing. Be sure when a fish jumps you react. Cast into the area immediately as close to where the activity was, as possible. If you have a fish finder, use it and keep a close eye on it! 
If you do not own a boat, don't want to rent a boat, or can't afford a fishing guide there are many places that you can be successful right off the shoreline. With miles and miles and miles of shoreline on Lake Powell, there are bound to be hundreds of striped bass waiting for you to present your bait. For the best surface feeding action, some say that Good Hope Bay is the top spot. San Juan to Great Bend, Escalante River, and Face Canyon to Rainbow Bridge. Whether by boat or by shoreline there are many boils reported in these areas. PIck up a fishing map when you purchase your fishing license and circle the best shoreline spots, according to the game and fish department. You can also ask some of the local fishermen or the guys that run the bait and tackle shops. 
Hey FISHMONGER – make sure to check out my FISHING RESOURCES page.
With Lake Powell being so enormous in size, with many many areas and miles of available striped bass fishing, no matter what spot you choose, you can not go wrong. In a 1 week vacation you are only going to have time to fish a tiny section of this beautiful lake, so make it the best tiny section that it can possibly be. 
We are going to leave you with a snipped of a new story, broadcast by Fox 13 Now. About 6 months ago a women reeled in a huge striped bass in Lake Powell. According to a local fishing guide it is the biggest since the 1990s. Heather and her husband were fishing on the San Juan River when she landed the huge striper. It happened at about 11:15 a.m. after about 5-10 minutes of just kind of toying with the fish, they finally got a good glimpse and realized just how big it possibly was. They decided that their net was not going to do them much good, so they did their best and what they had to do to tire out the large striper. It finally rolled over next to the boat, according to the news report, and Heather's husband Ryan reached down and grabbed it by the mouth. After getting it into the boat, Ryan quickly weighed and measured the beast and they took a couple quick pictures and then they released the fish back into the river, hoping to allow someone else the thrill of catching a giant striped bass. The fish weighed in at 35.33 pounds and was 44.5 inches long. According to Lake Powell Fisheries the record striped bass was set in 1991, weighing in at 48 pounds and 11 ounces, also caught in Lake Powell, Utah. Heathers was not far behind, and guaranteed it was a memory that her and her husband will never forget. 
As I always say, now that we have toured the Lake Powell area and given you the best information that we can give you to catch the striped bass; go and make your reservations, pack your bags, your rods and reels, tackle, bait and anything else you may need for your vacation to Utah. Don't forget to get that fishing license when you get there, and get a couple copies of the map of fishing areas, so that you can find the hot spots and catch a few dinners worth of stripers.  Happy fishing everyone!
Grab more tips and be informed about new posts in my monthly letter. Enter Below.
[wpforms id="408″ title="false" description="false"]