1. Get live shad either at the bait shop or by using a cast net from a boat or the shore.
2. Tie on a Gamakatsu Weighted Superline Extra Wide Gap Hook size 2/0
3. Use a pretty hefty size of monofilament fishing line like 12 pound up to 20 pound test depending on the size of fish you are planning on catching.
4. The hook is weighted so all you need to do is hook your shad through the nose and easily cast it out where the fish are.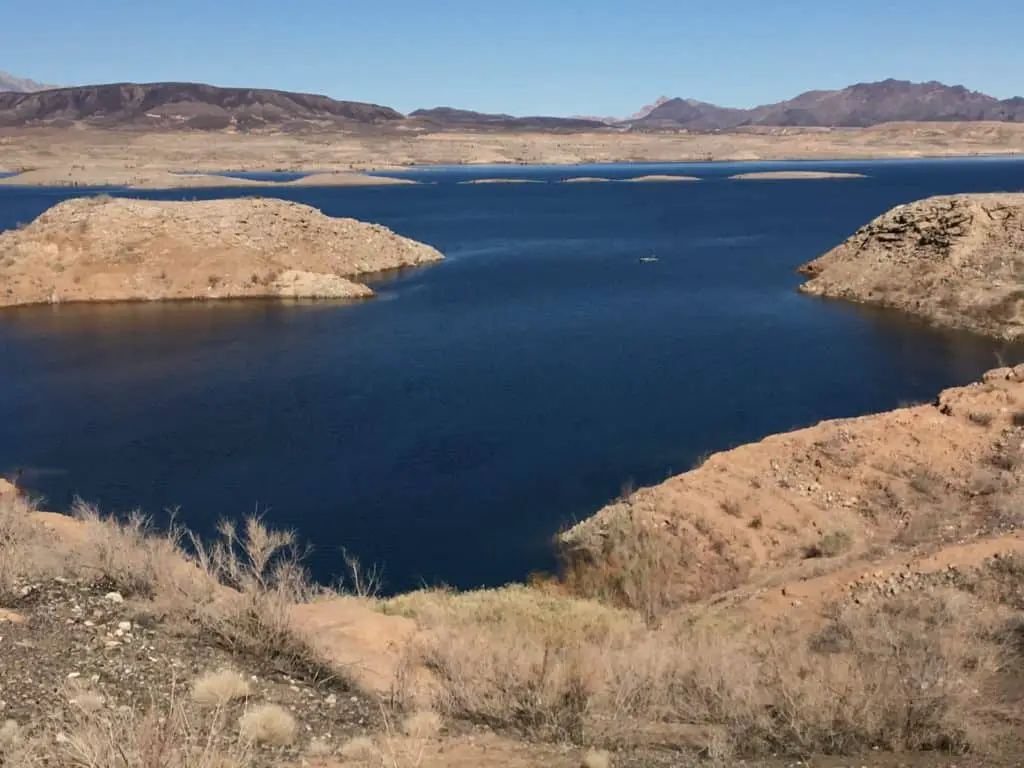 Let's take a closer look and explain more in depth about how you can be successful catching stripers in Lake Mead.
using live bait
Using dead bait
Using lures
According to Adrian of Sin City Outdoors who has a YouTube channel about the subject and all other subjects outdoors, you can use shad at Lake Mead while boat fishing.  You can use a fish finder or if you don't have one a lot of anglers use the old method of watching for the birds.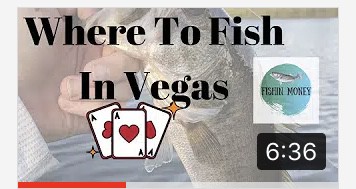 Striped bass like to eat schooling fish (shad) and the small school fish rise to the surface to get away from the stripers. When they do this, the birds like to come down and get the small school fish on the surface.
While these fish are on the surface like that it is called a boil. You can literally see the white water from the fish jumping and usually that area is surrounded by seagulls and other birds trying to get their share of fish as well. 
If you have a boat and you can get around or you can follow the birds and usually stay on the schools of fish all of the time. 
Another method is to follow your fish finder for fish that are subsurface and down on the bottom. The fish could be at different levels of water at different times of the year because of the temperatures of the water, so a fish finder is a handy gadget to have at Lake Mead. (HELIX 5 Fish Finder)
While fishing for striped bass at Lake Mead in Nevada/ Arizona the first thing you have to decide is what type of bait you are going to use. You can use Lures of many types or live bait or dead bait.
If you choose to use live bait, you can catch shad right at the lake and those can be used for Striper.
You will have to bring with you a cast net and it would not hurt to take some time to practice a little bit outside on the grass or at  the park. There are shad all along the shores of the lake specifically around good hiding places so you should not have too much trouble finding them and catching a few to use for bait. 
Once you catch them you need to keep them in a live well or a bucket of water with some kind of aeration.
I should mention here that you are going to want to take lots of cool refreshing drinks with you because it can get very hot at the lake. 
When you are catching your shad, you want to make sure you get them about 3 to 6 inches long. There are different kinds of shad in Lake Mead and some of them get very large. If you caught a 3 pound shad you would have a hard time catching a striped bass that could eat it, so keep them at a decent size.
I have been a trout fisherman all of my life so I am used to having a line with a barrel weight or snap on weight and a swivel and leader. You can do this but it's not really necessary and sometimes it's even better to just use a weighted hook. 
Once you have your weighted hook tied to your 12 pound test, you want to attach your shad to the hook through the nose from the top down. You can just drop it into the water or lightly cast it into the boil. This set up should get you a fish very quickly if you are in the right spot. 
The striped bass are in such a feeding frenzy they do not take a lot of time to study the bait you throw in. If it looks like a shad they are going to take it. Which brings me to our second option, fishing with a Lure.
Lure fishing is kind of nice because you only have to tie on the bait one time and as long as you tie well you can reuse it over and over again to catch several fish. This eliminates the need to catch shad and can give you more time for fishing. 
OK, like I said, when the stripers are boiling, they do not take a lot of time to study what they are eating. If It looks like a shad they are going to strike. That being said the best type of lures to use are rubber lures that look like shad or some other small type of fish like bluegill or perch. 
Silver is a good color because it shines underwater like a shad would. A good example of a lure that you could use would be the 
Storm WildEye Swim Shad 03 Fishing Lures. These wiggle like A real fish in the water and are a great choice for catching striper. that are boiling at Lake Mead and other places. You could also throw in some color and go with the Proberos Soft Shad Swimbaits Silicone Fishing Lures Rigged Lead Head Jigs Soft Lure Bass Swim Bait Rig Tackle for Saltwater and Freshwater
That is not your only option however, top water baits such as the SteelShad – Bass Lures – Topwater Popper Bass Fishing – Long Casting Topwater Lure might be the option for you.
Heddon Zara Spook Lure is one of the most popular top water lures. 
The Sebile Magic Swimmer TM
Is another choice for you if you like swim bait. 
So you see that lure fishing for stripers is a very popular choice because it keeps you in the water longer and with comparable results to using live bait.
Using dead bait or store-bought bait is probably the least popular choice but some people don't have a choice because they do not have a boat. If you are going to be shore fishing, you can still catch a striper. I have done it many times and I will tell you the best way that I have found to do it. Much of the time when you are fishing for striper will be in the spring and summer of the year. That does not mean that you can't fish other times of year it's just that those seem to be the most popular times to fish.
Lake Mead can be ruthless when it comes to the heat so most people that fish off of the shore choose to fish as the sun goes down and into the evening and the night. 
The temperatures will be lower and you will not have the sun beating down on you. You can use a weighted hook or just a large worm hook for this. 
Stop at the store on your way and grab a couple bags of frozen anchovies. In my experience if you hook on a full anchovy and cast it from the shore as far out as you can. You will have a very good chance of catching a striper. If you break the anchovy in half and cast it out you have a better chance of catching a catfish which is not the end of the world but this post is about stripers. 
Don't forget to bring a comfortable chair and you will do good to prepare by having some way to know when you are getting a bite. It will be dark and hard to see the tip of your rod so picking up one of these would be a good idea. Zerone 10 Pcs Fishing Alarm Light LED Twin Bells Fishing Tackle Night Fishing Accessory
Of course any noise maker or light will work and if you don't have one you can always hold the rod in your hand and you will definitely know if you get a bite. Bring some snacks listen to some nice music in your headphones or on low volume drink a cool beverage in a comfortable chair and with someone you enjoy being with and you will have a great time even if you don't catch any fish. I wish you the best of luck and if you follow these instructions you should have a great chance of taking home some striped bass to cook for dinner. By the way fish tacos are delicious.
| Photo | Angler | Place | Date | More Info |
| --- | --- | --- | --- | --- |
| | Darren Enns | Willow Beach | 04/10/2021 | More Info |
| | Victor Jr. | Lake Mead | 06/21/2021 | More Info |
| | Earl Rohn | Willow Beach | 06/15/2021 | More Info |
| | Martin McElroy | Echo Bay | 06/17/2021 | More Info |
As you can see preparation is key for catching large striped bass at Lake Mead Nevada. It Doesn't take much but the more you are prepared the better chance you will have in the more you will enjoy yourself.
One last thing, if you are looking for a good place to fish at Lake Mead off of the shore, let me suggest government wash, which is at the north west end of the lake. I have had good luck there. Other people have said Boulder Beach is a good place as well.
One last option that I could give you is to not go after stripers at all. There are many other species of fish in Lake Mead. There are trout that are stocked at government wash and other places so that is an option. Also there are many people who fish for large mouth bass, small mouth bass, crappy, catfish, and other species that are there like bluegill and perch, sunfish, tilapia, etc. some of these other species might give you a better chance if you are down on your luck with the striped bass so don't give up. Stay tuned for my next article about these species at Lake Mead and how to catch them.
 I can't overstate the fact of how hot it gets at Lake Mead so be prepared for that or you will be cutting your fishing trip short. Don't forget the sunblock or you will be sorry. 
By the way if you are going out and you need a fishing buddy, get a hold of me, especially if you have a boat.