Can You Fish at Willow Beach?
Willow Beach is a long-time classic fishing destination. It's a part of Lake Mohave on the Colorado River. The black rock canyons are just below Hoover dam and are part of Lake Mead National Park. Its Cold waters are on the north of Lake Mohave.
I'm going to share stuff here that you won't find anywhere else.
Back in the day, they used to catch huge
rainbow trout out of that little beach. I remember when I was a kid they had a café in by where the
store is. Other Species we caught were Carp, Catfish, and Bass.
Inside the café, we used to go there to eat breakfast in the mornings before we went
fishing or we would go fishing early and come to the café after a couple of hours of fishing.
Inside the café.
The walls were lined with hundreds of pictures of anglers with their catch. These
were all rainbow trout at the time and you had to have a trout over 5 pounds to get on the wall.

There were also taxidermy trout on the walls along with other wildlife that you can find in the
area. If I remember right there was a bighorn ram mount at the front entrance.
Later on, as I grew up in the 80s and 90s the decor changed a little bit. The trout pictures were still on the wall
but the trophy at the front of the store was in a case and it changed to a striped bass.
Around this time striped bass got out of Lake Mead into the river system. They had a heyday eating up
trout.
Because of that, they grew to enormous sizes. I can't remember exactly but I seem to
recall a striped bass in the display case that was over 60 pounds if I remember right.
This place is the iconic big fish travel destination. There have been people coming here for decades to
catch big fish whether they be trout or striped bass.
Willow Beach, Arizona is a popular destination for fishing enthusiasts living in Las Vegas, Nevada. One of the main reasons for its convenience is its proximity to the city. Located just an hour and a half drive away, it is a relatively short drive for those looking to escape the hustle and bustle of the Las Vegas strip and enjoy some peaceful time on the water. Additionally, the drive to Willow Beach takes you through beautiful desert landscapes, making for a scenic journey.
Another reason for its convenience is the variety of fish species that can be found in the area. Willow Beach sits at the base of Hoover Dam, where the cool water released from the dam creates an ideal habitat for a wide range of fish species. Anglers can expect to catch rainbow trout, striped bass, catfish, and even the elusive razorback sucker.
The fishing itself is also convenient at Willow Beach. There are several boat ramps, fishing piers, and shore fishing spots available, providing ample opportunities for anglers to cast their lines. The park also offers several amenities, including restrooms, picnic areas, and campgrounds, which are perfect for those who want to make a weekend out of their fishing trip.
Willow Beach also offers a great option for those who want to fish without the need of a boat, as the fishing pier is open all year round. This is a great option for families, and the park is also well known for its educational programs that teach kids about the importance of conservation and the different species of fish found in the area.
Finally, for those who are new to fishing, the park staff and local fishing guides are always willing to offer tips and advice to help make your fishing experience a success. With all these factors combined, Willow Beach offers a convenient and enjoyable fishing experience for those living in Las Vegas.
I took a 100 person survey on facebook if people like bass fishing best or trout fishing best. Here's the results.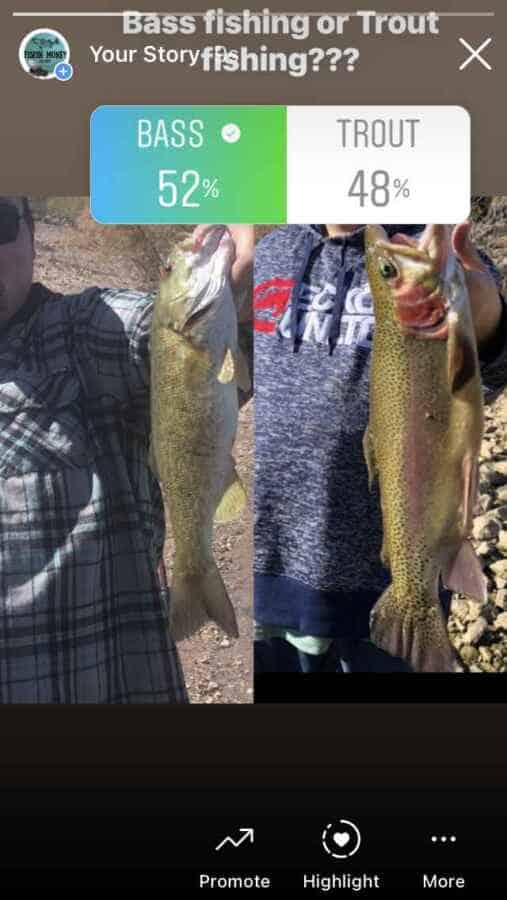 Can You Swim at willow beach?
There is no swimming allowed at the marina but if you go outside the buoys you can swim. You should be warned that the water is ice cold year around though.

Do I need an Arizona fishing license to fish at Willow Beach?

There is a lot of confusion unless you already know about whether you need a license to fish at
Willow Beach or not.
First of all yes you do need a license to fish at Willow Beach. However, if
you have a Nevada license that will work as well.
It doesn't matter if you are on a boat or on
the shore as long as you have a Nevada or an Arizona license you are good to go.
Do I need a stamp for Arizona or Nevada at Willow Beach?
The answer is
no. Some time ago they did away with the stamps. Now when you buy the license it is included
with the license if you get it in Nevada or Arizona does not matter.
Do I need a trout stamp at Willow Beach?
Again the answer is no. Back in the day you
used to have to buy a trout stamp but nowadays that is included with the license as well no
matter which state you come from Arizona or Nevada.
| Photo | Angler | Place | Date | More Info |
| --- | --- | --- | --- | --- |
| | Darren Enns | Willow Beach | 04/10/2021 | More Info |
| | Victor Jr. | Lake Mead | 06/21/2021 | More Info |
| | Earl Rohn | Willow Beach | 06/15/2021 | More Info |
| | Martin McElroy | Echo Bay | 06/17/2021 | More Info |
Do I need a stamp for a second pole at Willow Beach?
Once again the answer to that is no. It is
included with the license and you can have up to two poles but a maximum number of three hooks
between the two poles.
So I usually fish one pole with one hook in the other pole with two
hooks.
At the end of this article, I will give you a willow beach fishing Report for 2021

Can I catch striped bass at Willow Beach?
The answer is absolutely yes you can.
What are the
recommendations for catching striped bass?
Well you can do it similar to the way you do it in
Lake Mead- bait fishing with anchovies that are frozen.
Cut them in thirds and put them
on a standard worm hook. Use about 1 ounce of weight and toss them out there about as far as
you can get them.
If you are on a boat you can do the same thing or you can go upstream a ways and float down slowly with an anchovy on the hook slightly above the bottom.
Another
recommended way to catch striped bass is using baits that mimic baitfish. Either a lure that
mimics a shad or one that mimics a trout or even bluegill.
These are terrific to use because
the bass and the striped bass love to eat these smaller fish, especially trout.
In case you did not know trout are stocked at Willow Beach every Friday. When this happens it's like buffet time for
the striped bass. This would be a good time to throw out a swim bait that looks like a trout.
last but not least you can use live bait which you can get from my buddy mike wigglerarmy.com

Can I catch trout at Willow Beach?
Again the answer to this is an astounding yes.
How do you catch trout at Willow Beach? I would suggest the old standby Berkeley power bait and fish
somewhere around the picnic area by the store or the fishing pier over by the hatchery.

Probably the best place to catch trout. Anywhere in between that is able to be official legally is
good as well. If you have a boat or kayak you can go up or downstream and fish The coves. The
trout like to hang out in there as well and you can catch some real big trout at Willow Beach.

Both of my sons have caught 5-pound trout there. In case you were wondering yes this was
recently it was 2020.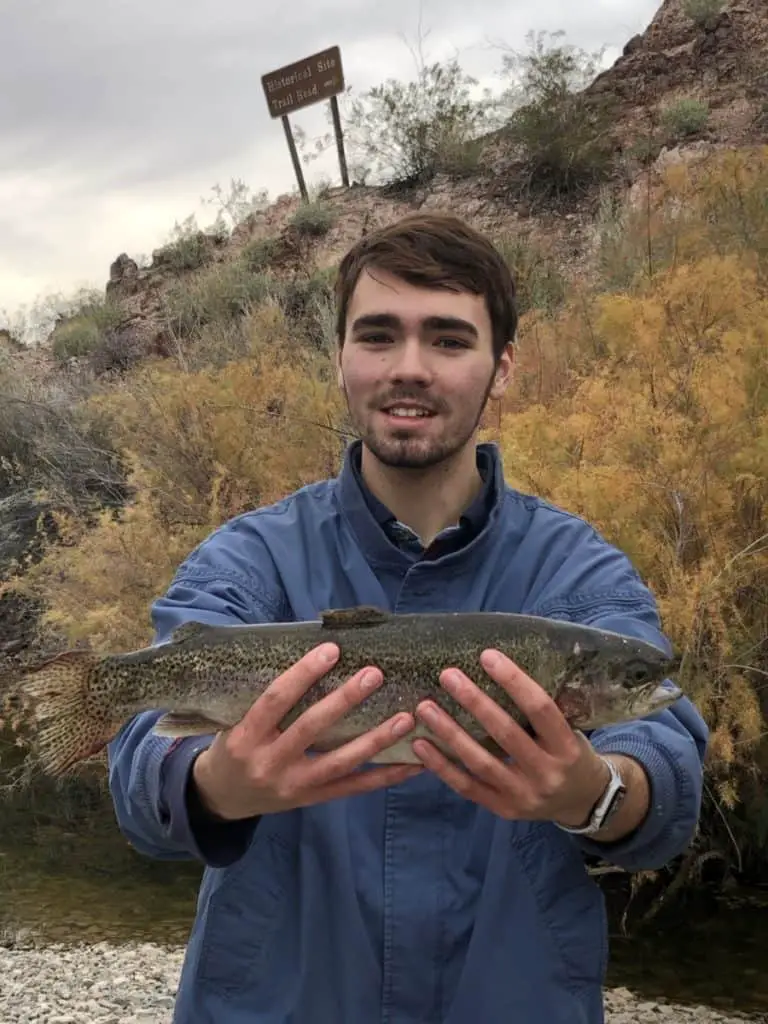 I know the best do you eat the trout but the hatchery also put out some
very large ones for the anglers to catch. You can also use lures like spinners for trout and even
jerk baits that are semi-small.
Another popular soft bait or mouse tails made by Berkley. Also,
regular old nightcrawlers are a great option. You can get them from my friend mike
wigglerarmy.com

Marshmallows are a good bait for trout as well. Some people use the garlic-flavored ones made
specifically for fishing but the little colorful marshmallows that you put in your hot cocoa do a
nice job too. (the garlic flavored ones give me bad breath)
Lastly, a super very good option is wax worms or mealworms that you can get at
the store at Willow Beach. Keep in mind Arizona time is different than Nevada time most of the
year and the store closes fairly early.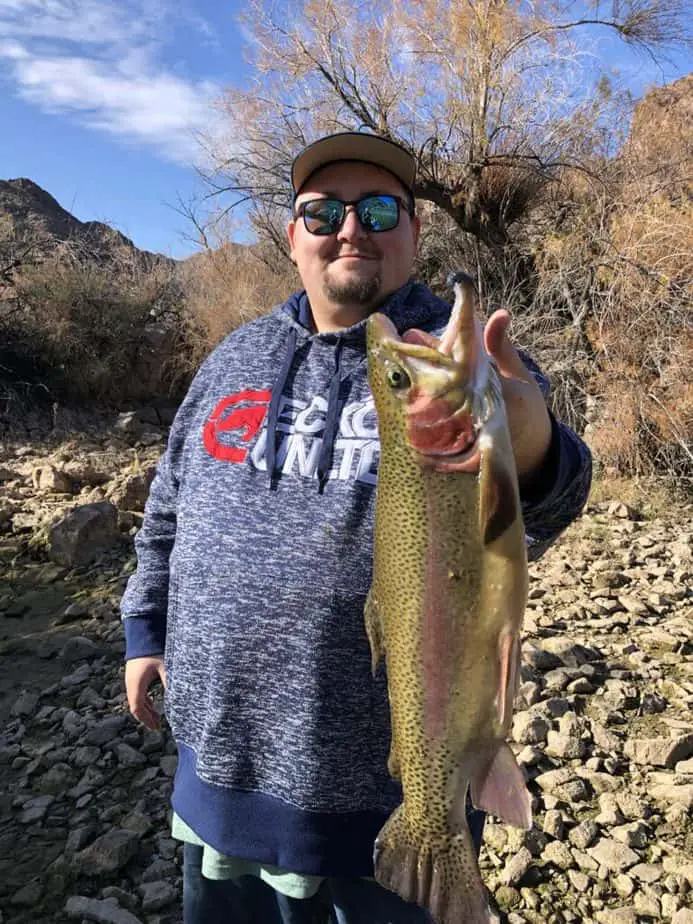 What are some Willow Beach fishing tips?
The first tip I would give you is to try to fish in the off
hours to beat the crowds.
A lot of people go down to Willow Beach If you try to go during a holiday weekend you are
going to fight for elbow room. I would say if you go in the morning during the week that would be
a terrific time.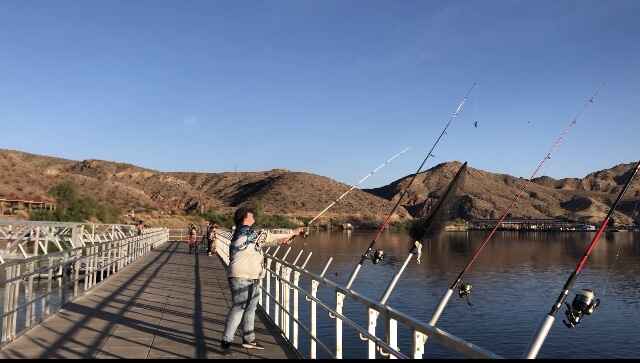 It doesn't matter if you are going just to kayak or if you are fishing, the middle of
the week is a good time.
Late in the evening is also a good time. Only the most diehard
fisherman are out there after about 10 PM so getting a spot is not so hard except maybe on the
weekends. They do have a very nice fishing pier at Willow Beach and it's quite large but in the
late summer, there's a lot of grass around the pier so it's kind of difficult to fish.
If you are going to fish the pier in the late summer you are going to want some sort of gear that you can cast out
very far. This will get you out past the grass and give you a better chance of getting a striper.

Mouse tails and wax worms seem to do the best on trout if you can see them. Plop one of these
baits in front of them and you can usually get their attention with it especially the wax worms
and regular worms.
The best piece of advice I can give you if you want to catch trout is to go
there on Friday morning. Prepare for heavy traffic along the shore because a lot of people know
that the department of wildlife stocks Willow Beach at the ramp on Friday mornings at about eight.

Watch out for the no fishing signs. You need to stay in the designated fishing areas which are a
little ways away from the docs. If you are fishing for striped bass this is a good time too.
Because the stripers come in to eat the trout. Putting something out there that looks like a trout
is a good bet during this time.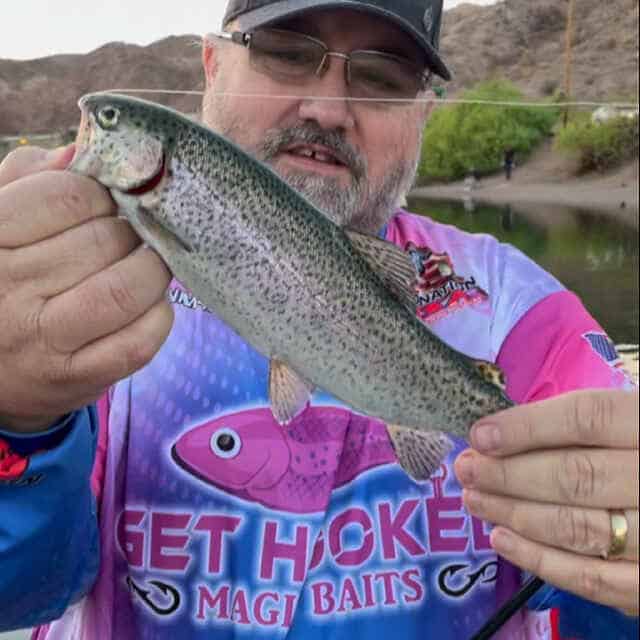 Willow Beach trout stocking schedule 2021
All I can tell you is that they stock Willow Beach at about 8:00 AM every Friday morning. There
are occasions when that schedule is changed for example during Covid lockdowns they did not
stock for quite a long time.
There may be other reasons why they don't stock for example if it is
a holiday. Other than that they are pretty regular about it.
Willow Beach Fishing Guides
There are fishing guides that will take you fishing at Willow Beach. The one I recommend is
Travis Pitt Bass Experience.

Tell him Darren from FishinMoney sent you.
Willow Beach Fishing Report 2021
It's willow beach. itseveryones favorite place to go get skunked. However if you follow the tips I give in this article you can also hit one out of the park. Oh and if you land-a big one, make sure to stop at the Willow Beach General Store and put your name on the board! and Tell em FishinMoney sent Ya!