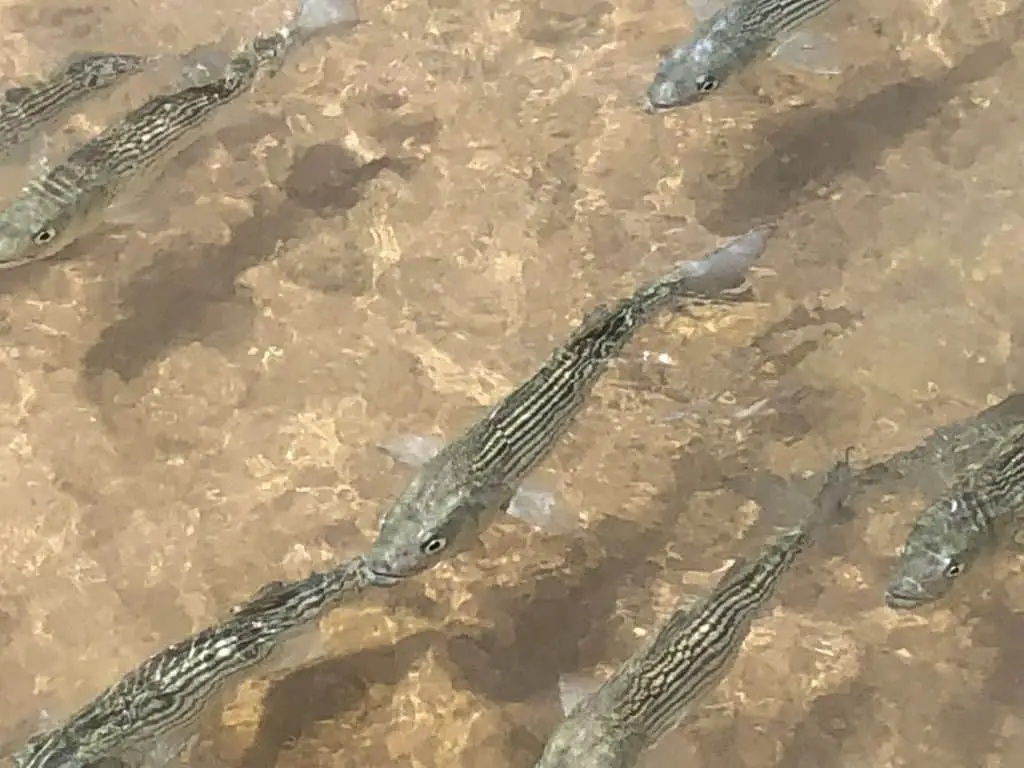 FREE Printable tackle box checklist HERE
So, you're an avid fisherman and you are planning your vacation in the Southwest region of the United States. You are searching for the best places to catch fish, mainly the striped bass. Here we have compiled some of the best places in the Southwest where you can catch these feisty, fun, unpredictable fish. Of course, when you choose your destination please make sure you have the proper fishing license for that area and know what the limits are when catching/keeping the striped bass. You can choose a fishing guide, to take you out on a boat or you can choose to take your own boat or just fish from the shore.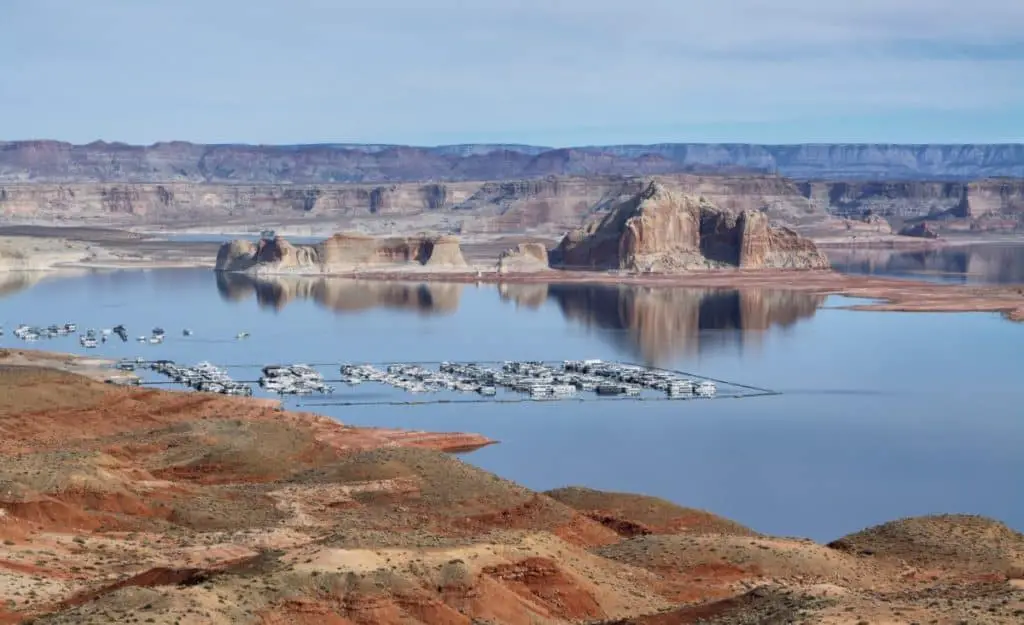 Top Spot Goes to Lake Texoma Striped Bass Fishing
The top spot on our list goes to Lake Texoma on the Oklahoma/Texas border. Known as the striper capital of the world, Lake Texoma is a 93,000-acre reservoir with 1,250 miles of shoreline. There is an abundance of striper for those avid anglers to stay busy all day.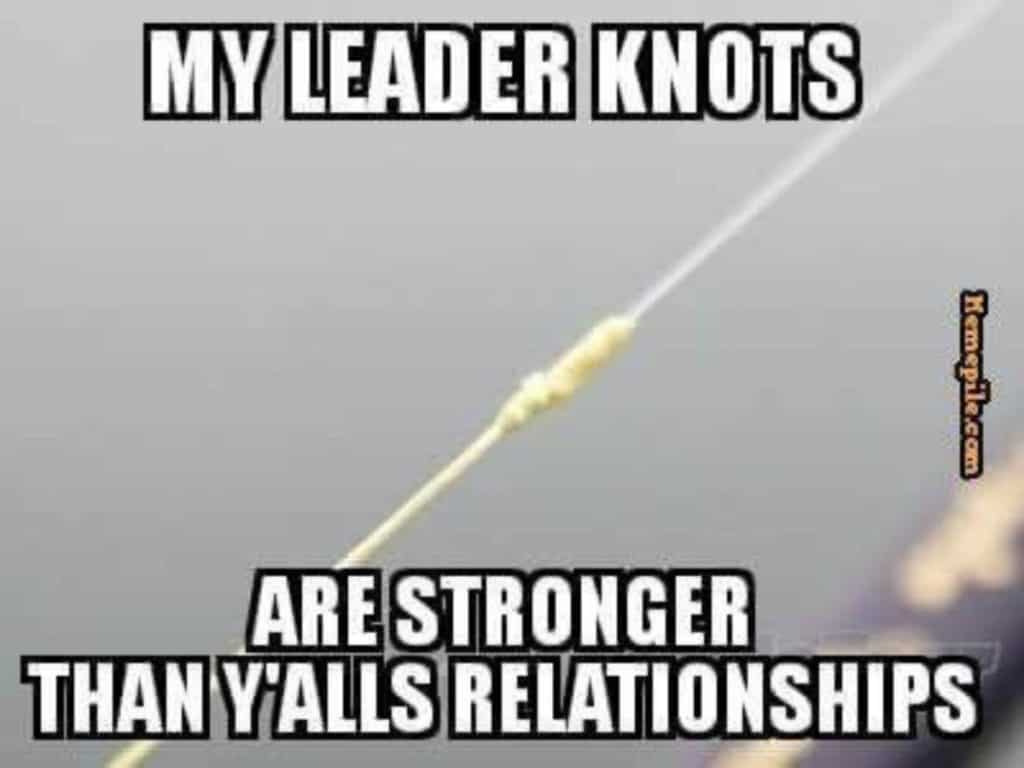 Lake Texoma has a sustaining natural population of the striped bass. July-September is the optimum time to visit and go fishing for striped bass. It is best to hire a fishing guide if you are going to go to Lake Texoma, but it is definitely NOT a requirement. If you want to do cooler/winter weather fishing, then schedule your trip between January and March. But know, it will be a much different experience. With the cooler temperatures, you have to present the bait SLOW. You also have to reel a lot slower than you would otherwise. To fish on Lake Texoma you can purchase a special fishing license for $8 that allows you to fish in Oklahoma or Texas but it is specific to Texoma ONLY. The limit is 10 fish per person, and only 2 can be over 20 inches in length. The top 5 spots on Lake Texoma to catch striped bass are: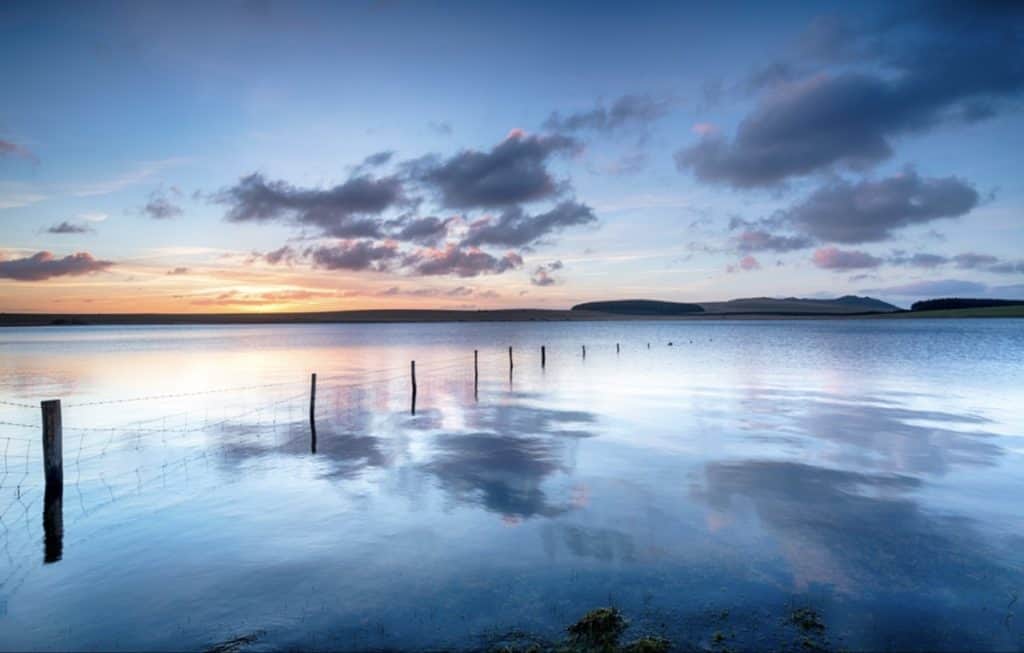 1. Striper Alley
2. East or West Burns Run
3. Platter Flatts
4. Washita Flats
5. Alberta Wall
Second Spot Goes To Lake Pleasant Arizona Striped Bass Fishing
Next, on our list, we are moving to Arizona. We have Lake Pleasant, Lake Mead, and Lake Havasu.
Plenty of choices for a beautiful family vacation and tons of fun fishing experiences.
Lake Pleasant: a 10-acre lake 45 minutes northwest of Phoenix. It is a desert lake that is clean, clear and generally produces an abundance of bass. It is one of the tournament anglers' top choices for catching the striped bass. Here at lake pleasant, stripers can be caught as deep as 100 feet. Be sure to keep an eye out for a 'school' of striped bass feeding on shad, approximately 20 feet deep. The best bait to use to catch the striped bass is spoons or shad-imitating lures. Lake Pleasant offers a marina, boat rentals, cabins, a restaurant and much more.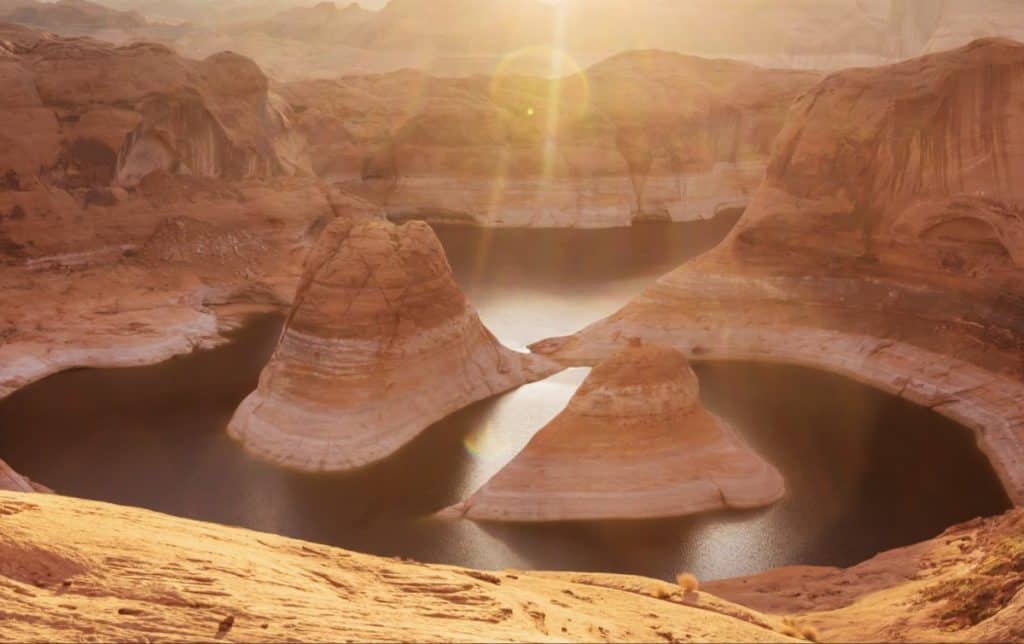 Next Striper Fishing Spot Lake Mead Nevada/Arizona
Lake Mead: this is a man-made lake on the Colorado River with the best and most exciting fishing between the months of July and August. The average striper here is 5-10 pounds, with plenty of 20-30 pound ones available too. Watch for enormous schools on the surface. Overton Arm of Mead is the most productive fishing and has one of the best catch rates. Lake Mead borders Arizona and Nevada so make sure you check the fishing rules and regulations for both states. You will generally find striped bass near points of land and open coves in the early morning and late afternoon. There is a 20 fish limit per day.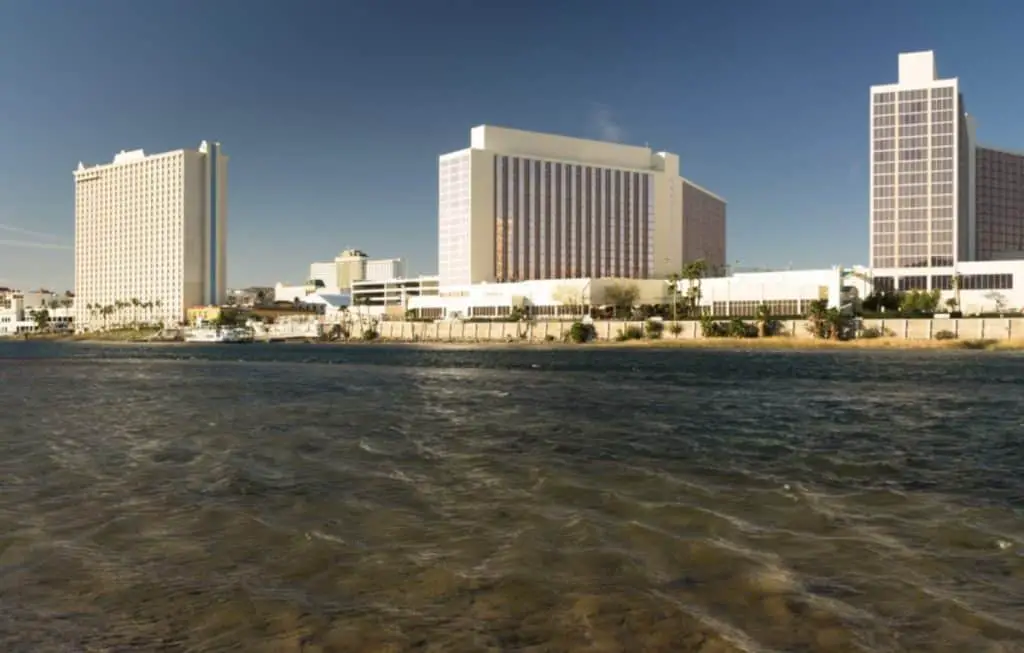 Lake Havasu Striped Bass Fishing
Lake Havasu: bordering Arizona and California it is 25 miles long and has 19,300 surface acres. Striped bass can be found in shallow to medium depths between 65-69 degrees. The key to success is to cover LOTS of water, as they can swim up to 15 miles a day in search of food. Anglers prefer night fishing because the striped bass is more active. Here at Lake Havasu, October and November are the prime fishing months if you are in search of the striped bass. You will find huge schools on a feeding frenzy, preparing for the colder temperatures that are on the way.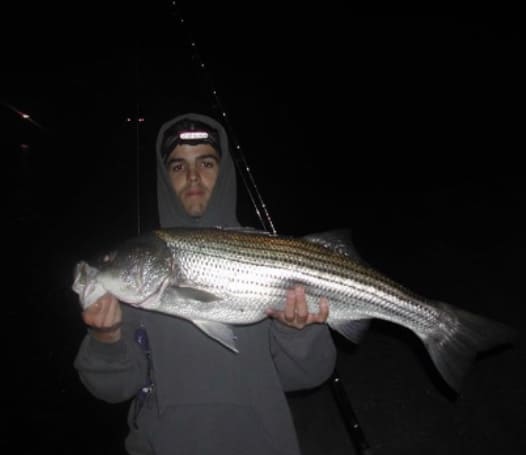 Lake Mojave Striped Bass Fishing
From Arizona, we are going to move to the beautiful country of Nevada. Offering plenty of nightlife and other sites to see that are family-friendly and can produce great memories for you and your loved one. But if you are an avid angler that wants to spend your vacation on the lake, instead of in a casino, then we have the perfect spot for you.
Hey FISHMONGER – make sure to check out my FISHING RESOURCES page.
Lake Mohave: this lake covers over 30,000 surface acres and is a 64-mile long reservoir with a maximum depth of 120 feet for all of your fishing adventures and enjoyment. The widest section is 4 miles wide and is called Cottonwood Basin. The optimum times to fish for striped bass on Lake Mohave is going to be April- November. The recommended time is early morning or later in the evening using frozen anchovies, live shad or lures. In the cooler months, you will find the striper bass hanging out in the coves or off the points near Davis Dam. In the warmer months on Lake Mohave they striped bass will be abundant around the upper lake where there is a current from the Hoover Dam.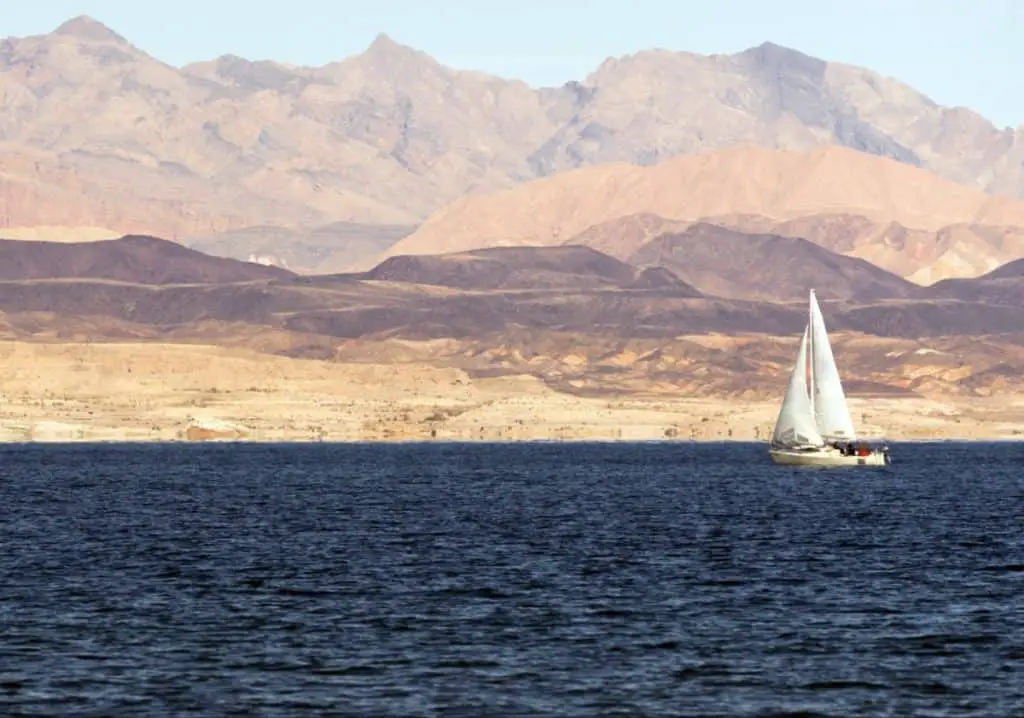 Elephant Butte Striper Fishing in New Mexico
Our final destination for catching the striped bass is going to take us to the Land of Enchantment. We are headed to New Mexico. While you are there, if you can, they have an amazing hot air balloon festival in Albuquerque. For you fishing enthusiasts please take a look at the information that we have for you.
Elephant Butte: 35 miles of beautiful water with 36,000 acres of surface this is a great place to catch the striped bass, especially in the areas of Caballo Lake and the Rio Grande. Striped bass is fun to catch but can be unpredictable and tricky. Fishing guides recommend using soft plastic swim shad. These are the most realistic and the striped bass seem to bite on them the most. It is advised that if you are going to be going out on a boat, to use a very good fish finder to make sure you have the correct depth and can spot the most fish. Striper likes to say deep. Keep a close eye out for seagulls and fish feeding on the surface. This is a great indication that there are striped bass close by. When you are fishing in clean water at Elephant Butte an increase in speed will trigger more bites than reeling in slowly.
With all of this information on striped bass and the best hot spots, now your only decision is going to be which one to choose. Where to take the family and possibly catch the biggest striped bass. Make sure to double-check all rules and regulations no matter where you choose to go on your fishing adventures and most importantly, have an amazing adventure!