Generally, most anglers will fall into at least two different camps: there are those who just want to fish for any species of fish whatsoever, and there are also those who want to specialize and try to catch just one specific fish. (I like them all.)
Indeed, there are literally millions of individuals who will attempt to catch such breeds as salmon, trout, catfish, perch, bluegills, and many others. Moreover, among the ones who specialize, there is also a large group of individuals that not only love the sport of fishing, but they will also debate until the cows come home about the best techniques to catch said species.
Here are some good hooks for crappie fishing. size 8-12 are great!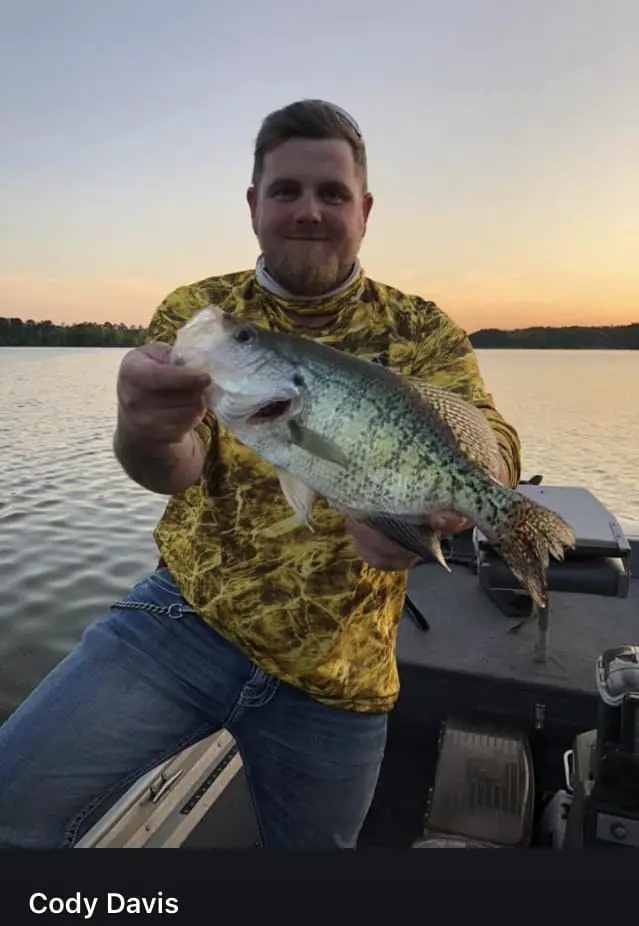 One example of this would have to be those who try to catch crappies. Indeed, one of the biggest debates among crappie fishermen would have to be over just what this breed of fish will eat. The short answer is all kinds of stuff, but this leads us to our next pressing question…
Will Crappie Eat Crawfish?
Yes crappie do eat crawfish if they have the opportunity but keep in mind that crappie prefer to eat upward and crawfish are usually found on the bottom. Find a way to present a crawdad to a crappie though and they will eat it.
If you need some excellent crappie fishing lures including crawfish, I have given my favorites in my resources page HERE.
Actually, that's a bit of a loaded question. Before we get to an appropriate answer for that, we need to fully understand some other questions first:
What Do Crappie Normally Eat, Anyway?
First of all, you should fully understand the normal diet of crappie, and then you just might understand why there is such an intense debate over whether they eat crawfish or not. Generally, crappie will eat such things as zooplankton, grass shrimp, minnows, and immature species of fish such as walleye, bluegill, pike, and even crappie themselves. They will even eat frogs. You might notice that no, I didn't mention crawfish in that list, but trust me, the jury is still out on this question. Let's look at the next wrinkle…
What Do Crappie Eat When Food is Scarce?
Of course, we've already established that crappie will eat just about anything that they can wrap their mouths around, but what about when food is scarce? Although some anglers still insist that the crappie will still NEVER eat a crawfish EVER, would the crappie do it then? The answer, according to most anecdotal accounts, would be an emphatic yes, they most definitely would.
You see, crappies are largely known as an opportunistic species. Simply put, they are not picky eaters at all. Their typical food choices such as minnows or small fish won't be available in the winter or the early spring, and so that means that these crappie will have no choice but to go with crustaceans such as crawfish or insects such as crickets or larvae instead of their preferred diet. Of course, you as an angler can use that to your advantage and lengthen the time you have to try to fish for crappie throughout the year.
Need CHUM ? Here's an article you might like about chum for crappie.
There's Plenty of Anecdotal Evidence
Of course, even though there are always going to be a significant number of people who insist that crappie will never eat crawfish, there are also plenty of anglers throughout the United States and beyond that have anecdotal evidence that crappie will indeed go after crawfish. For instance, there was a gentleman who was fishing on a well-known river in Ohio, and to begin with he was using the typical minnow bait to catch his crappie.
However, he decided that he wanted to try for some other fish for a little while, so he switched his bait to crawfish. It didn't take too long before something blasted his line, and although he thought that it was going to be a large bass, it turned out to be a fairly good-sized crappie!
Moreover, there was yet another instance where an individual was fishing on an Illinois river when he was a small boy, and he and his uncle were initially going after the bluegills, but he landed a crappie instead! Although he was just six years old, he was hooked for life! There is yet another individual in Louisiana who said he has cleaned out more crappies than he could count that had the remains of a crawfish in their stomach. Indeed, there are stories like this all over the United States, so you can certainly rest assured that crappie will absolutely go after crawfish if the need arises.
What About Their "Feeding Down" Habit?
Of course, part of the reason why some people are so adamant that you cannot use crawfish as bait for crappie is because this type of fish would have to "feed down" in order to eat them. However, they fail to realize that these crappies will go to some tremendous lengths to get food if they need to. Yes, they will normally "feed up" to obtain food, but if the only way for them to get their food is to "feed down", then they are not against doing that. All I'm saying is, yes, the crappies will definitely change their behavior if it means that they are in for a free meal.
Hey FISHMONGER – make sure to check out my FISHING RESOURCES page.
Obtaining Your Crawfish
Now that you know that yes, you can definitely catch crappie using crawfish as bait, you're probably wondering just how you would go about getting the crawfish. Well, there are plenty of ways to do it, but one method would be to go out at night with a flashlight and a dip net and look for them along the streams. This is a good way to find them if you are the adventurous type of course. Another method that some have found to be easier would be to simply look for them during the day. Some people enjoy turning over rocks in order to try to find them. Of course, you've got to be quick! You'll soon find out that these crawfish are very quick! Persistence is key. Of course, once you catch them, you will have another concern.
How Do You Keep Them Fresh?
That's another good question. One of the best ways to do that would be through using styrofoam coolers. You can fill them with layers of wet newspapers, because you have to make sure that the crawfish are kept cool. However, some don't like this method because it takes up too much space on their boat. Another way to do it would be through placing them in a flow-through minnow bait bucket. Taking the inner bucket of the exterior bucket will allow the crawfish to continue to have air.
How Do I Hook a Live Crawfish?
One of the best ways to hook a live crawfish would be on an "upwards" trajectory through the tail of the crawfish from the bottom just shy of a half-inch from the end. This method still allows the crawfish to have some natural movement when you cast it out. Another method would be to hook the crawfish through the bony horn of their head. This is a method many crawfish bait enthusiasts prefer because it prevents the crawfish from crawling under a rock and hanging up your line.
Whatever method you choose for hooking your crawfish, you can rest assured that the crappie will indeed go after them. They are hungry fish! Go ahead and try this method for crappie fishing during the off-season, and you just might be in luck.
Darren Enns Author has been married to the same lucky woman for 30 years.