The Lone Star State of Texas is the second-largest state in the United States, cradling the Gulf of Mexico along the southern border of North America.  Ranches and farmland make up the majority of its nearly two hundred and seventy thousand square mile area.  Approximately seven thousand square miles of this great state is made up of water; lakes and streams teeming with wildlife can be found scattered throughout.  

Surrounding the shores of these bodies of water are forests and grasslands.  Pay a visit to Texas' streams and you'll most likely see many whitetail deer, as Texas has the largest population in the United States.  
However today, we will be focusing on the fishing aspects of Texas' gorgeous landscape: Striped Bass to be exact.  Although Striped Bass are not indigenous to Texas,  many of its lakes and water bodies have been stocked aplenty, giving the opportunity to angle many of these beauties to Texas natives and visitors alike.
  Let's move on to discuss different areas where Stripers can be found in the Lone Star State.
The list of places to catch striped bass in Texas is long but here are four of our favorites.
Amistad Reservoir
Buffalo Springs Lake
Toledo Bend Reservoir
Possum Kingdom Reservoir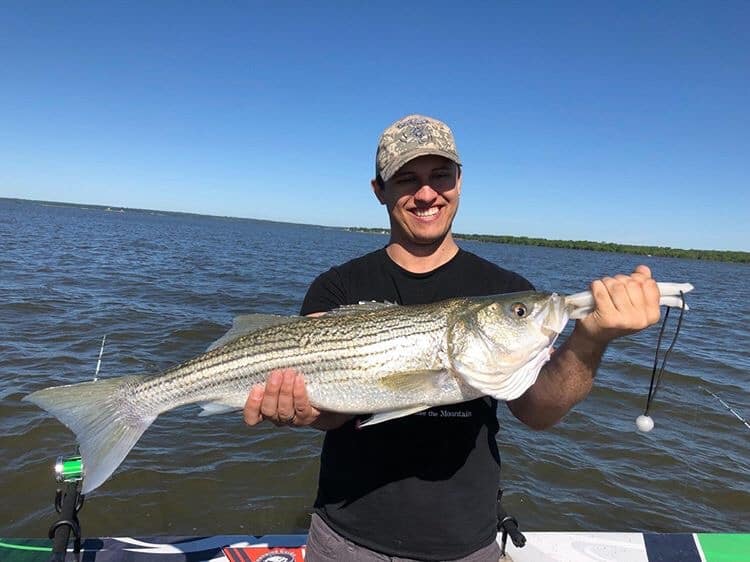 Texas is filled with various bodies of water, as we have mentioned briefly before.  Nearly two hundred of these are man-made lakes and reservoirs. 
 Where you find water, you'll most likely find fish, and this saying holds true.  Various species of fish can be found throughout Texas, including Walleye, Largemouth, and Smallmouth Bass, Crappie, Sunfish, and of course Striped Bass.
Amistad Reservoir
 Along the Rio Grande in southern Texas, you'll find Amistad Reservoir, a sixty-five thousand-acre man-made reservoir that divides Texas and Mexico.  
Amistad has a very healthy amount of Striped Bass within its waters, which allows for topwater fishing along with trolling and deepwater fishing at around two hundred and fifteen feet.
In just the last two years alone, wildlife services in Texas have kindly stocked Amistad with nearly four hundred and fifty thousand Striped Bass.  
As this species of fish hails from saltwater coasts and requires special breeding environments,  lakes and reservoirs are stocked heavily from time to time.  
As Amistad is a very large reservoir, the trick to finding the best fishing spots in the lake is to find where the stripers like to hang out and feed.
Hydrilla clusters tend to hold plenty of these swimmers because of the amount of oxygen that the plant gives off. Find yourself some channel Hydrilla and maybe some fallen trees that have adapted to covering the underwater wildlife.
The more cover and oxygenation the water has, the more likely you'll find good-sized stripers. Another trick is to know where to fish during the right time of the year.
These stripers want colder water, which gives us a fairly good idea of when and where to fish. Higher temperature waters will drive the fish deeper into the water, or towards the areas with more cover, (i.e. the Hydrilla in the channels and coves.)
This means that during summer months, those places will be the hot spots.  In the winter, the water surface temperature will drop to around 55 degrees. This allows for more topwater fishing as the cold water is all around and not just found deep.
As for lures and baits in the Amistad, many tournaments have shown stats that say red is a favorable color to use if you're fishing with a plastic worm or lizard.
Jigs and cranks don't matter much in color and are found to be quite useful when fishing in the covered areas previously mentioned. 
Buffalo Springs Lake
Located just a few miles east of Lubbock, Buffalo Springs is a smaller two hundred acre lake with plenty of grassy cover in the water.
It's a perfect "fishin' hole" for a variety of fish including some nice sized stripers. Perfect for family fishing, there are also some secluded spots for anglers to get out there and test the waters, so to speak.
There are fishing spots at the docks, one named Paul's Pond in particular, that boast a lot of bites throughout the seasons.
Another more secluded area would be near the spillway of Buffalo Springs where the water continues its journey south towards Ransom Canyon.
Towards the southeast end of the lake is McMillan Dam, a great post for catfish and stripers alike. With the grassy waters found here, jugs and cranks are again suggested, however many stripers have been snagged with anchovies and shad.
Like a lake with plenty of other activity, the wake and constant current dispel much of the fish to the outer shores, making shore fishing the perfect way to angle at Buffalo Springs.
Toledo Bend Reservoir 
Towards the eastern edge of the state, hugging the state line between Texas and Louisiana lies Toledo Bend Reservoir. Located on the Sabine River, this one hundred eighty-two thousand acre lake is chock full of largemouth and striped bass.
While the striper catches are slow during the summer months, fall and winter months tend to bounce those numbers back up, according to local anglers in the area.
Eelgrass and Pondweed surround the embankments, as well as Hydrilla clusters and fallen trees. This cover is excellent for striped bass to live in/around and will feed not far from their potential areas.
As for bait, plastic worms, lizards, and jigs are said to be the best to use during daylight hours in the Hydrilla cover, as the bass will congregate there to maintain a cooler temperature in the more shallow areas of the lake.
If you're going to fish at night, be sure to use propellers or flukes as they are great for low-light topwater fishing.  
Those of you looking to catch some large stripers will want to check the flats and channels during the late summer and early fall. Stripers will school together during this time as they make their way upstream to spawn. 
Possum Kingdom Reservoir 
Spanning nearly sixteen thousand acres, Possum Kingdom Reservoir holds some of the best striped bass fishing west of Dallas. The reservoir was created in 1941 and is located on the Brazos River.
This body of water is rockier than the others mentioned, but towards the south shore, there is more vegetation.
According to locals, the docks make a convenient and great fishing spot, as most species of fish in the lake tend to enjoy its cover and shade. Aquatic vegetation can, again, be located towards the south end of the reservoir, and many stripers and white bass have been known to congregate there for the shade and cooler water temps.
It is recommended to use live bait such as live shad or anchovies for the bass located in this area.
To find the perfect spot for these stripers, just take a lookup. Birds will circle above and wait for leftovers to float up to the surface from the feeding bass below. Once a bird dives down for its meal, you'll know just where to cast for some large stripers. If you're not having any luck on live bait, it is recommended to use worms or spoons.
Record holders
We all enjoy a good fishing story (whether or not it's actually true is always the big question) but these anglers soon to be mentioned have spent years hunting down and catching the largest striped bass in the state of Texas. 
-Ron Venerable
On May twenty seventh, nineteen ninety nine, Mr. Ron Venerable was fishing on the great Brazos River. Unaware of what was about to happen, he caught a bite, set the hook, and fought to reel in this behemoth. Weighing in at fifty three pounds and measuring forty eight inches long, Ron's catch was, and still is, the biggest striped bass caught in the state of Texas. He holds the record to this day!
-Tom J. Reavis
Remember when we talked about the Amistad Reservoir? Well on May fourteenth, nineteen ninety, Mr. Tom J. Reavis pulled in a forty five pound, forty four inch long big boy. Definitely a striped bass for the books! This catch is currently the record for Amistad, and has been for over twenty nine years!
Rules and Regulations
As always there are rules that fishermen must follow when fishing in Texas. First off, it is important to know what you're fishing for, and what each species looks like. There are different bag limits for different types and following those rules is a must.
For instance, the bag limit for stripers in Texas is 5 daily, but the bag limit for White Bass — a similar looking fish — is 25 a day. Keep in mind that following these regulations allows for other anglers to have their chance at the daily limit, and we all deserve the right to fish just as much as any other angler.
Conclusion
In closing, it's easy to see that there are many great fishing spots in Texas. With such a large area, the state truly is a remarkable place to visit for some great sights and fishing holes.  
We've only covered a few, but there are hundreds! Always remember to be safe and adhere to the states fishing laws when out angling, and with dedication and time, you might be the next to catch a state record. Happy fishing! 

Hey FISHMONGER – make sure to check out my FISHING RESOURCES page.