The Best
Florida Bass Charter–407-821-6101 Captain Tim and his fantastic team specializes in live bait and artificial bait trips. They know every technique that will catch you largemouth bass in Florida. This is not just a job for Captain Tim; this is his life and his passion. He is the best bass Fishing Guide for Lake Kissimmee. He lives to fish, and he enjoys taking vacationers out and sharing his expertise. The crew at Florida Bass Charter are United States Coast Guard certified. They follow all safety measures, and they are ready and willing to teach you all the techniques you need to know to catch largemouth bass in Florida. Give him a call and book your trip now.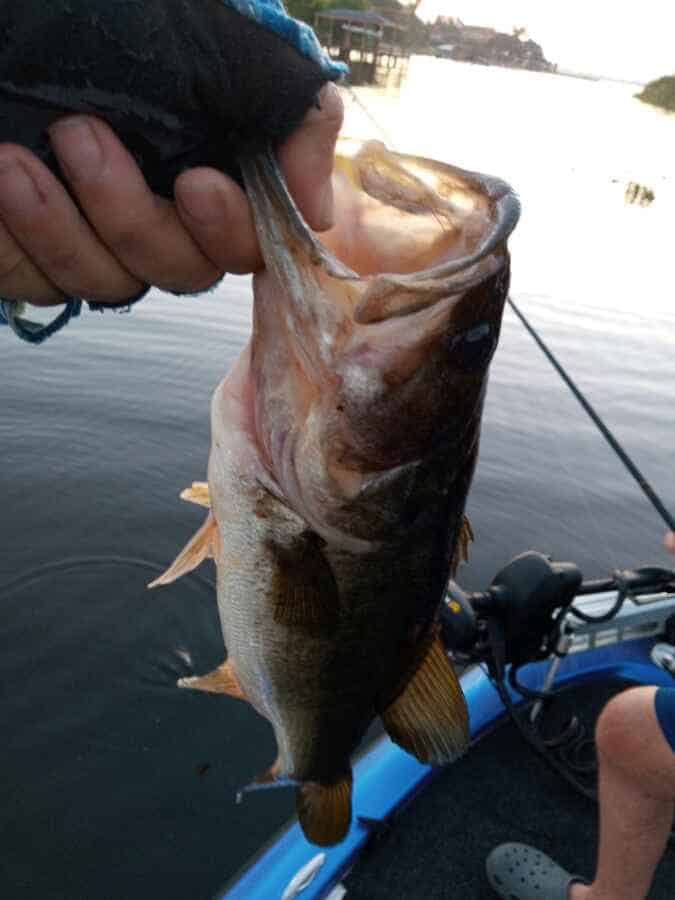 If you are looking to catch trophy bass, you need to visit Kissimmee, Florida. Kissimmee Lake is the third-largest in Florida, offering 35,000+ acres of fantastic angling and stunning scenery. Lake Kissimmee is the largest with the Kissimmee chain of lakes, located 15 miles away from Lake Wales and approximately 40 miles from Orlando, Florida. Forget the amusement parks, museums, and other attractions and book a fishing guide for a day. Go out and have an adventure. Explore the beautiful Florida waters, learn how to fish for the first time, or try to catch a huge trophy bass. 
Lake Kissimmee has slightly warmer water temperatures than some other lakes in this area. Because of this, you can see many largemouth basses. There are many anglers in this area that will fish Kissimmee during summer. With a combination of heat and warmer water temperature, you will find an abundance of largemouth bass. If you can schedule your vacation/fishing trip during the complete moon phase, you can catch bass closer to the shore.  
Fishing on Lake Kissimmee
If you are an experienced angler, a pro, or use a guide, make sure you take advantage of the thick vegetation. All the guides will know this and know where the hot spots are going to be. Kissimmee doesn't become as crowded as some of the more transparent lakes in Florida because of the heavier vegetation. An ideal hiding place for the Bass in this area; eelgrass, bulrush, and knotgrass. These vegetation types help protect bass, allowing them to grow to Lake Kissimmee's large sizes. 
One of many highlights for fishing on Lake Kissimmee is catching Bass between 5-8 pounds. Now and then, some anglers can wrangle in a 10+ pound largemouth bass. While out on Lake Kissimmee, keep your eye out for large sections of reed or eelgrass. This is where you can find larger schools hiding out. 
Tips for Fishing on Lake Kissimmee
Fishing on the upper area of the chain of Kissimmee lakes can be a little more challenging. This area is more acidic and has tannin-stained waters. The lower Kissimmee chain has more shallow water and is sensitive to changing weather fronts during colder months. A lot of anglers choose to wade fish. Many boat ramps and fishing camps will grant access to wade fishing. In the Florida lakes, watch out for hydrilla. Hydrilla can make navigating these waters complex, so it is recommended to use a fishing guide if you have never been on Florida's water.
When fishing on Lake Kissimmee during spring and winter, for best results, use flipping plastic baits or a slow-trolling golden shiner. If you search for largemouth bass during the fall or summer months, your go-to lures will be plastic worms, rattling crankbaits, and jerk baits. You will want to have a good arsenal of lures and other equipment no matter what time of year you go out fishing for largemouth bass. 
Popular lures for Lake Kissimmee 
The type of lure you use will depend on the area you are planning to fish and the kind of fish you plan to catch. I am providing a shortlist below some of the most popular lures for catching Largemouth Bass in Florida, specifically Lake Kissimmee and the surrounding area. 
JerkBait
This type of bait is perfect when fishing around hydrilla or eelgrass that are abundant in Florida lakes. Using your rod tip, you need to perform a complex jerking motion to get through the thick vegetation. Using jerk baits, you want to mimic shad and shiner colors, as this is the type of prey that bass is attracted to.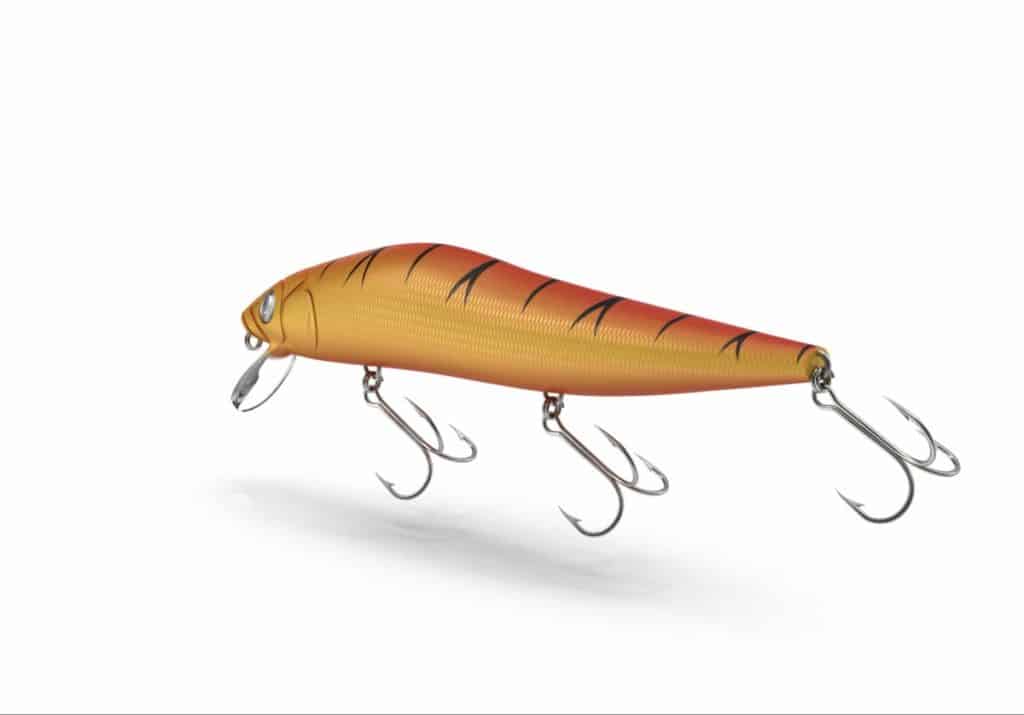 Speed Worm
Speed worms are the most popular and most versatile lure that you can use to catch Bass in Florida. You can use the speed worm; use it along with a heavyweight in cover, choose to worm it on the bottom of the lake, swim it back to you, or use it as a top-water lure. 
Swim Bait
This type of bit works exceptionally well around grass and lily pads on Lake Kissimmee. It is effortless to use; rig it up on a lightly weighted swimbait hook, throw it out, & reel it in slow and steady. The fish will go crazy! Make sure you are in or around some vegetation. 
Spinnerbait
With spinnerbait, you can catch trophy-sized bass. All you need to do is find an abundance of baitfish swimming around and toss in a white spinnerbait. Spinnerbait may not catch you the most fish, but it could snag you the biggest Bass of The trip if used correctly on Lake Kissimmee.
Rattletrap
This style of bait is best in the same areas and situations as your jerk bait. The thickness of vegetation will determine how you use a rattletrap; if hydrilla is thick, then you want to throw your rattletrap out and steadily reel it back in. If you are in sparse vegetation, you can do the Yo-Yo technique; bounce your line up and down. 
Lakes in The Kissimmee Chain
The lakes within the Kissimmee chain of lakes range in size from about 200 acres to 44,000 acres. The smaller lakes will, of course, have more limited fishing opportunities. I have included three of the most popular Bass Fishing lakes in the Kissimmee chain below. 
Lake Tohopekaliga
Twenty-two thousand seven hundred acres make up the most famous lake in Florida and the entire country. It is well known for producing more trophy Bass consistently than any other lake. According to Florida Wildlife Commissions' biologist, for every 10-acres of land, there is one Bass over 10-pounds. Bassmaster Magazine has named Lake Toho "the most consistent lake for both numbers and trophy-sized bass."
Lake Hatchineha
A top-class bass area, Lake Hatchineha offers gorgeous scenery. This lake is smaller and less known than other lakes in the Kissimmee chain. At only approximately seven thousand acres, Lake Hatchineha is a favorite spot for local anglers. The average depth is only 3-feet, and the deepest area comes in at 8-feet, making it one of the shallowest. Fishing on Lake Hatchineha is best done during the early mornings, evenings, late at night during summer, or in winter months.
Cypress Lake
At Cypress, you cannot only catch your share of largemouth bass, but you also see a variety of wildlife. Alligators, Osprey, and Eagles, among many others. All are living in their natural habitat. Cypress Lake has a record of 18-pound largemouth bass. This part of lake Kissimmee is best fished during the fall months but produces largemouth bass all year round. The locals prefer to slow-troll small jigs, which helps them locate the schools of baitfish. 
Top 5 Fishing Guides
I've given you information about the fishing on Lake Kissimmee and the surrounding areas. Now, I will provide you the names of the top 5 best fishing guides in this area. They will all make sure that you have all the information that I didn't include. Your guides will also make sure that you have an incredible time on your Florida fishing adventure. 
Captain Tim and his crew use top-of-the-line equipment and fishing gear at all times. He also guarantees that you will get your money back if you do not catch a fish with a wild shiner. No matter how many people want to go out fishing with Captain Tim, he can accommodate. If you need one boat, he has it; 5 boats are doable, and even 15 boats work just fine. Captain Tim not only owns Bass Fishing Charter, but he also has a bait and tackle shop that other fishing guides in the area use; Get Hooked Magic Baits. During the off-season, Captain Tim fishes the Florida lakes at the pro level.                                     
2. Super Bass Fishing Guide Service                             
Captain Joe Ventrello will provide his clients with conclusive guidance and instruction to ensure they have a successful Florida fishing experience. Captain Joe welcomes people of all skill levels and all ages to use his guide service. He also has extensive knowledge of tackle and other products to help make your trip a fun success. You can choose to go out on the lake with Captain Joe for a full day or ½ day of angling fun. Super Bass Fishing Guide Service is family-friendly (they welcome and enjoy children) and has everything that you could need for your fishing experience; Bring yourself.    
3. Central Florida Bass Fishing                                           
They have recognized captain John Leech on ESPN, Field & Stream, Outdoor Channel, and more. Captain John is well known in this area and will take you out Bass Fishing on Florida's best lakes. He will consider the weather, water level, and time of year and then decide where the best place to go fishing for the day. After you guys meet up, first thing in the morning, you will make a stop for needed bait, food, drinks, and whatever else you will need for your adventure. You have package options that include 2, 4, 6, or 8-hour options. Captain John will make sure that you have an exciting, memorable trip and that you finish your day toting many basses to shore.
4. Orlando Fishing Guide                                          
Captain Randy Dumars specializes in artificial and live bait; The Orlando Fishing Guide team is here to help you accomplish your dream; catching a trophy-sized bass. They use state-of-the-art bass fishing boats or bay boats, and each guide is professional and exceptionally knowledgeable on Kissimmee and the surrounding lakes. Call them or visit their website today and book your Bass Fishing trip. They are ready and excited about taking you out on the waters of Florida, providing you with an exceptional experience of a lifetime. 
5. Horizon Fishing Charters                                          
Captain Brent Kirkendall is located in Lake Toho Fishing Camp. Horizon offers ½ day, ¾ day, and full-day options. They are only available for Lake Toho and Lake Tarpon, but they know all the secret "hot spots" in those areas that will produce large Bass numbers. All of your gear is tournament grade, from the boat to rods, reels, fishing lines, and more. They will instruct you on different techniques using a variety of lures. They use bass boats that can navigate shallow areas where larger vessels can not go. 
 Conclusion
If you are looking to snag that trophy bass or go bass fishing, Kissimmee Lake and surrounding areas are the most productive areas. There are a large variety of places along Lake Kissimmee that the bass fishing guides can take you. They know all of the best places to fish at each particular time of the year. They can look at the weather and the fishing report and know exactly where to go for the day. All the fishing charters in the Kissimmee area are very knowledgeable and have been taking visitors out fishing for many years. You can be confident that whichever fishing guide you choose from the list above, you are going to have the time of your life. I will guarantee you that you will catch an abundance of largemouth bass when you fish on Kissimmee Lake. Remember to purchase your Florida fishing license and call in advance to book your Florida Guide/Charter, they get booked up in a hurry just before the summer season.