When I was a kid there was one thing that you could count on that was always on my mind and that was fishing. 
Of course when you're a kid you only have what you have and that is not much when it comes to fishing gear.
Get live Striper and bass bait HERE
Of course, I had a fishing pole but I must have gotten for Christmas or my birthday and I had a tackle box with a few things in it.
Your run-of-the-mill bass curly tail jigs, a couple of flies for trout, a handful of bobbers. 
Get A Free FishinMoney Sticker HERE
And a few other odds and ends like some 6 pound fishing string. And assortment of hooks mostly for trout.
When my friends and I got lucky enough to get dropped off at Lorenzi Park to do some fishing we had a blast together.
I don't recall who all was there but I remember that my friend Shane and I quickly learned that the fish in the pond at that time were so small that you needed a Hook that could fit in their mouth and we do not have any that small.
As I recall I took a small treble hook and type two hooks off of it to make one single hook that was small enough to try to catch some bluegill.
It took us most of the day to figure all of this out and get our gear ready to actually catch a fish but in the end, we did not give up and we were able to catch bluegill that day.
I don't go back there anymore, at least I have not been there for many years because in my opinion there are other places that are better for fishing.
The neighborhood is a little tough and although in the daytime it's fine I would not want to be out there too much at night.
I prefer places like cold Creek, veterans memorial pond in Boulder city, and even Sunset Park.
But I know there are a lot of people who for one reason or another are going to Lorenzi Park and they want to know where to fish when they get there.
Where should I fish at Lorenzi Park?
I can tell you exactly where I always had the best of work and I can also tell you where would be a good place now to finish when you get there.
 Around the center of the pond between the two lakes, there is a bridge. Near the bridge, you will see a blue roof picnic area. Next to that, you'll find some steps that lead down to the water and an overlook with a rail around it that's where you want to go. Just remember it's near the center bridge that crosses the two lakes find the steps near the bigger lake and it's right there. I'm going to include a picture of the place that I'm talking about and you will quickly see you once you see the picture of why I recommend this place.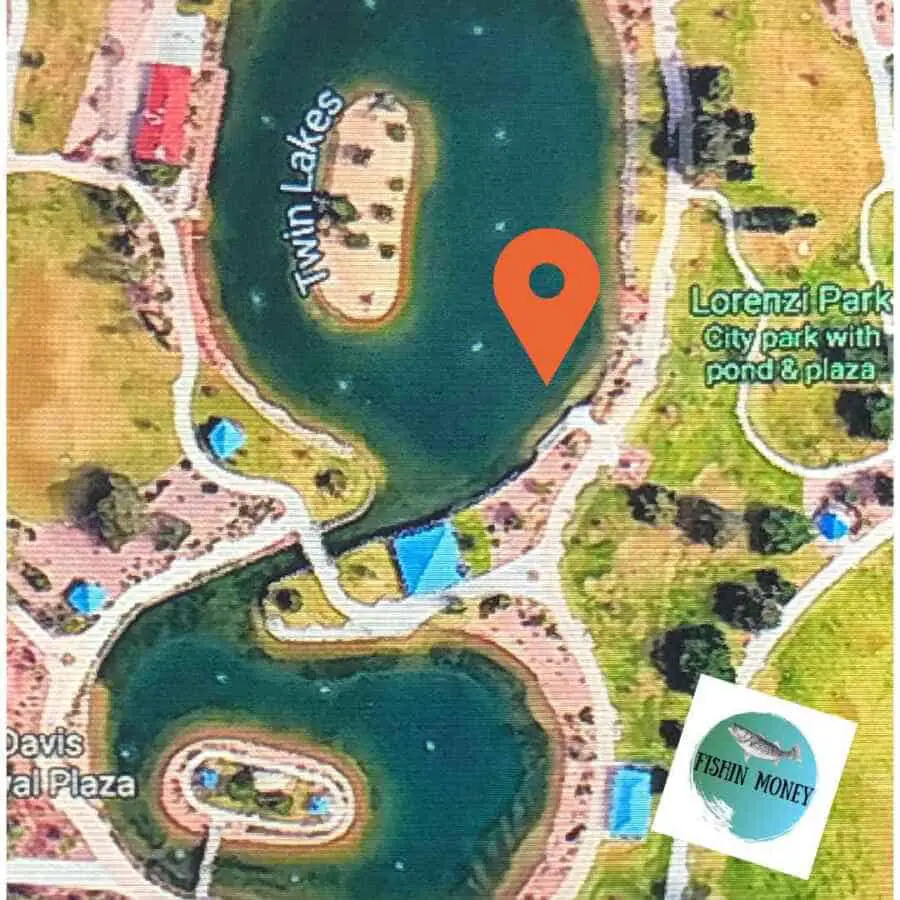 This is the place where I was able to catch bluegill when I was a kid. 
What bait should I use at Lorenzi Park?
We used Webber's white bread. 
Yeah, no joke we just rolled it up into a tight ball and put it on our hook. Every time we cast and we were able to get lots of bites.
The problem with using this type of meat is that as soon as he gets wet it starts to get loose and it's not too long before it comes off your hook.
It's really easy for the fish to steal your bait. But it's cheap and his kids that was what made the most sense to us I guess.
Nowadays if I were to go there I would probably bring some Berkeley power bait. You can make small little balls of bait for fishing and it would be much harder to get it to come off of your hook.
How do I fish for trout at Lorenzi Park?
However, if you are going to fish at Lorenzi Park during the fall and spring before it gets too hot. I would still recommend the same exact spot for fishing however you might be fishing for a different species.
That pond is now stocked with rainbow trout. Back when I was a kid it was not but now it is and also during the hot summer months it is stocked with catfish.
If you are fishing there any time between November and March you can rest assured that there are rainbow trout in there and in that case I would go with a very small treble hook maybe a size 14 and Berkeley power bait for trout fishing.
How do I fish for catfish at Lorenzi Park in Las Vegas?
If you go there during the summer months or hotter months, I would recommend using a small warm hook and you could try using nightcrawlers or anchovies.
You will need to know where you can get nightcrawlers and anchovies so I am going to tell you here.
The best place to go for that is the Walmart sports section. They have a refrigerator and a freezer where they keep both nightcrawlers and anchovies.
However, I am going to give you my best tip of this article. If you are fishing for catfish in the warm months, go to the grocery store and buy some small shrimp. Put that on your hook and you will knock out those catfish.
There you go don't say I never gave you nothing… LOL
Make sure you go to the front page of my website and request a sticker for free. That way you can tell people who gave you the best fishing tips for Lorenzi Park in Las Vegas