The definition of fly fishing: an angling method that uses a light-weight lure, an artificial fly, to catch fish. The fly is cast using a fly rod, reel, and specialized weighted line. The light-weight requires casting techniques that are significantly different than other forms of casting.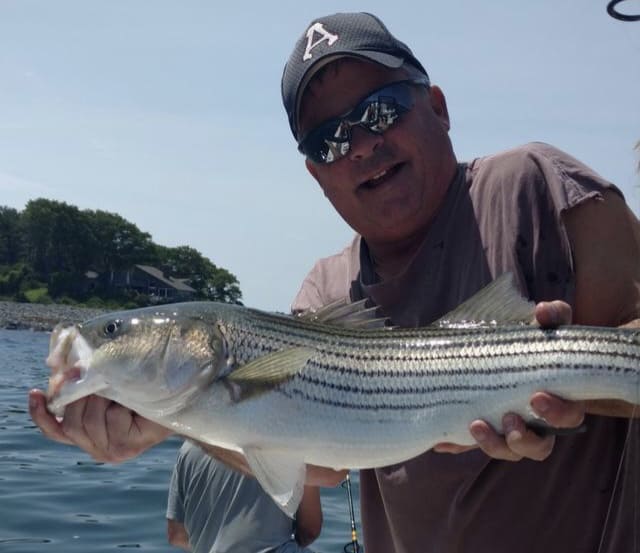 Some anglers prefer to fly fish over anything else, and it takes a skilled angler to manipulate a fly rod, however, having great equipment always helps as well. We are going to take a look at the most popular fly fishing rods used to catch striped bass. You may be wondering if this is even possible, with how vicious and aggressive they can be when they attack your lure, but I can assure you it is.
Hundreds and hundreds of times, large predatory fish such as the striper have been caught this way. We are going to take a look at fly rods that are perfect for beginners or someone who is on a budget and we are going to take a look at a couple of pretty pricey rods for those guys that spend every waking moment fishing whether recreationally or professionally. 
Incase you are impatient, the best of the three different price categories are the ones listed below. The following are the best fly rods available for Striped Bass and other large game fishing species.
Echo Ion XL 990 Fly Rod
Sage Motive 1090-4 fly rod
Scott Tidal 909/4 9 foot
Orvis Helios 3D 910-4 fly rod
G Loomis Asquith 990-4 Global All Water Fly Rod
Fly fishing rods can get fairly expensive. The ones we are taking a look at today range in price from about $170 to $1,100. We are going to take a peek 5 poles today, a couple of brands from each price bracket; low cost, average cost, and expensive. A great brand on the more affordable end of the spectrum, that would also be great for beginners is the Echo Series.
Echo Ion XL 990 Fly Rod: this 9-foot fly rod is perfect for windy conditions. It excels at casting so you can reach that striped bass that are far out in the water.  The 990XL is designed for tight loops and bigger, bulkier flies in high wind situations. When you are fighting the big stripers you need a fly rod with a little bit of a backbone, because striped bass can be very feisty and a challenge to get onshore. The 990XL has the perfect blend of power and action and can handle anything that grabs your fly and runs. Here are just a few of the features of the Ion;
1. oversized stripper guides
2. 30″ fish hero measuring marks
3. anodized aluminum reel seat
4. hard chrome single foot snake guides
5. 4 piece travel design
They also have a 9 foot, 10wt fly rod for the same price as the 9wt. Echo also offers fly rods that are in the $400 to $450 range as well. 
In the mid-range price category, $400-$600, we have a few different brands and options; Scott, Sage or as mentioned above, the Echo series. We are going to focus on Scott and the Sage in this price range. Also fairly affordable, for some. You definitely won't have to dig into your savings or 401k for one of these poles. 
Sage Motive 1090-4 fly rod; 9 foot, 10wt: This one comes in at about $500 and is well worth the extra money. These were designed specifically for saltwater anglers. The Sage Motive is hand-crafted with the latest graphite technology and new tapered design, allowing for a fast-acting power fly rod that loads quickly. Delivering the big saltwater flies to the large striped bass in one easy cast. You will be able to cast at a farther distance, because of the tight loops. Features on the Motive are;
1. premium full-wells cork grip
2. lifetime warranty
3. anodized reel seat with components for saltwater use
4. bluefin blue color blank
Scott Tidal 909/4 9 foot fly rod: 
1. hand-crafted in Colorado from top to bottom
2. lifetime warranty
3. advanced reinforced carbon
The Tidal is the perfect fly rod when the wind is blowing on general saltwater. It slices through the wind so you can get your fly in the perfect spot to hook a striper. If you love going after the BIG predators, like the striped bass, this fly rod is perfect to have in your arsenal of fishing gear. Priced around $450, it won't break the bank as it breaks through the wind. 
Hey FISHMONGER – make sure to check out my FISHING RESOURCES page.
For the professionals who have made fishing their full-time job or who take their tournaments extremely seriously, this category of fly fishing rods is specifically for you. Orvis, G Loomis, and Sage have some of the most expensive fly rods on the market. Not all weekend or occasional fisherman can afford the rods in this price range, but if you can, then you have a great chance of landing a trophy striper. The two rods we are going to take a closer look at the range between $950 to $1,100. 
Orvis Helios 3D 910-4 fly rod: According to reviews, this fly rod is one of the most accurate and powerful rods ever made. The 10wt is perfect for that huge striped bass. At long distances, the Helio is designed to accurately land your fly just where you want it, no matter what is going on around you or behind you, this rod as spectacular accuracy on the cast. Some of the amazing features of this fly rod include;
1. REC recoil snake guides
2. SiC/titanium stripping guides
3. 25-year guarantee
4. aluminum rod tube, to protect your expensive rod when not in use.  
The top of the line, $1,100 fly rod for striped bass fishing is;
G Loomis Asquith 990-4 Global All Water Fly Rod: This rod is more than a perfect balance between power and feel, and is the lightest and most advanced fly rod on the market. This is not recommended for a beginning fly fisherman. Especially if you are new to angling for huge predatory fish. The Asquith excels in windy conditions or when an extra-long cast is needed. This particular series of fly rods were designed by a world-class casting champion. So you know they are the best of the best. Features of this top of the line fly rod;
1. fighting butt for added leverage
2. premium aluminum rod tube
3. lifetime warranty
4. top of the line titanium snake guides
Whether you are a beginner, a weekender, an enthusiast, or a professional; we just covered the top fly rod fishing poles that will help you hook a striped bass. The budget friendly poles will work just as good as the more expensive ones, depending on your fly fishing experience and know-how.  So, no matter what your budget, there are excellent options out there for you without having to break open the piggy bank. So, let's grab those fly rods, reels, big juicy flies, and go land us a trophy-sized striped bass.