Florida Bass Charter – 407-821-6101 One of the top choices in the whole state of Florida is Captain Tim and his crew of very knowledgeable, friendly, and experienced anglers. Captain Tim is a United States Coast Guard certified Bass Charter. Fishing is Captain Tim's job and his passion. When he is not a guide, he is fishing at the professional level, all over Florida. Not only is Captain Tim one of the top fishing guides, but he also owns a well-known, popular bait and tackle shop, "Get Hooked Magic Baits".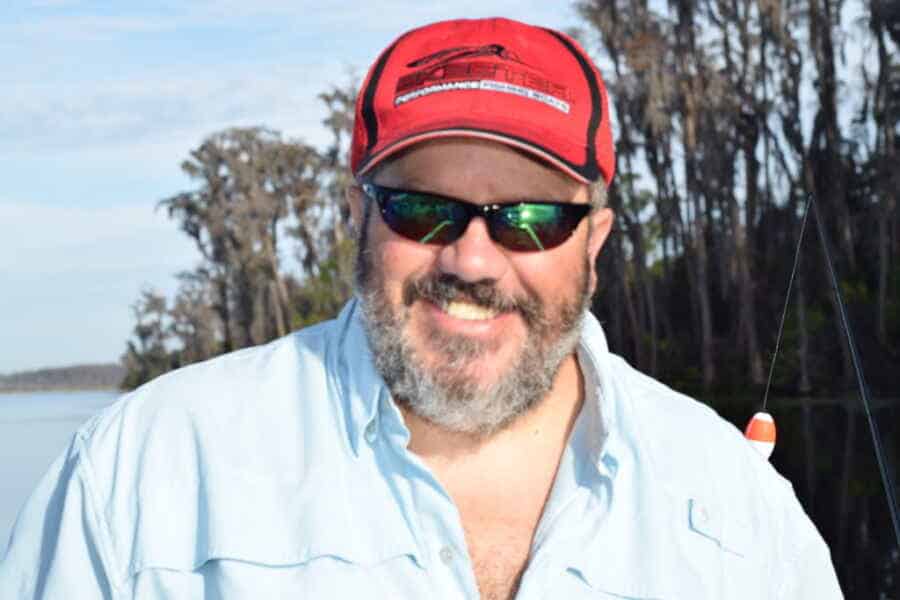 Lake Tohopekaliga, also known as Lake Toho, is located near Kissimmee, Florida. The locals refer to it as West Lake, or simply, Toho. The lake is the largest in Osceola County, covering 22,700 acres and spanning 42 miles. Lake Toho is the primary inflow of Shingle Creek and is bordered by Kissimmee on the northern shore and Kissimmee Park on the eastern shore.
Lake Toho is best known for birdwatching and bass fishing. There are also some beautiful sight-seeing spots nearby, at Kissimmee Park. At the north end of Lake Toho, you will find Lakefront Park. There is a gorgeous walking path with benches. Visitors to the area will also enjoy alligators, waterfowl, turtles, and other wildlife. There is also a stunning lighthouse, a playground for the kids, and the Marina, located on Lake Toho's west end.
You will learn everything you need to know about Lake Tohopekaliga and the extreme bass fishing in the area. We will provide you with some great tips for fishing in the area, along with the five best bass fishing guides for the Lake Toho area.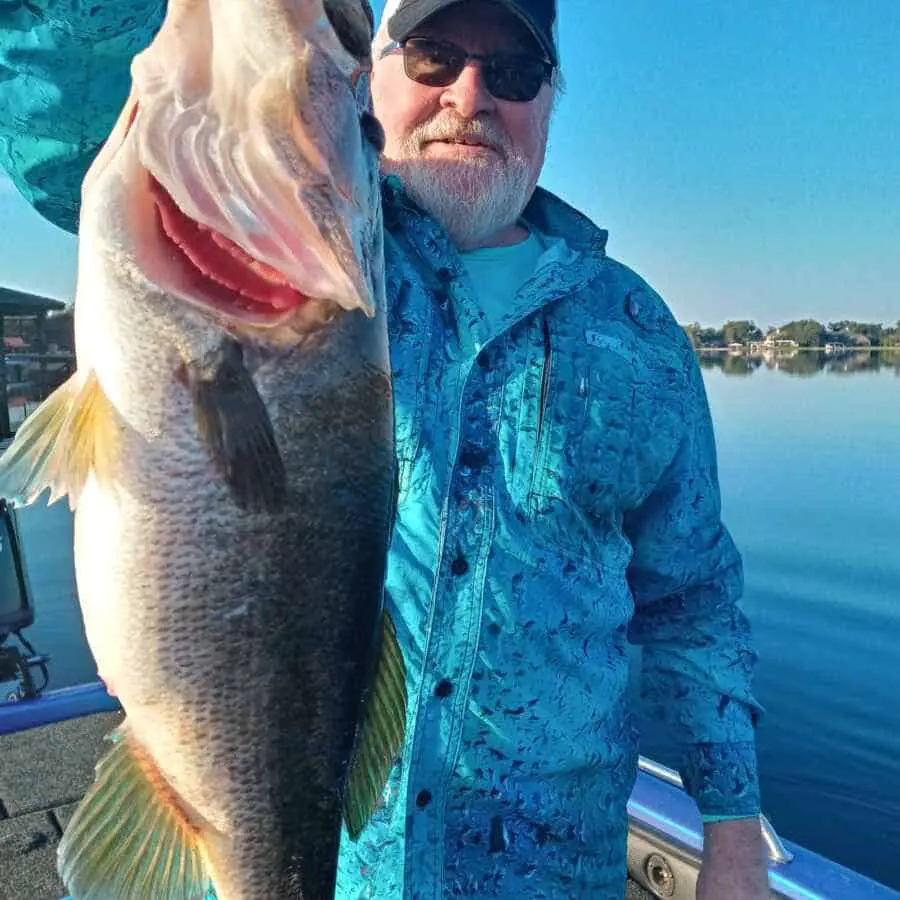 Fishing at Lake Tohopekaliga
For decades, Lake Toho has had an excellent reputation among professional and recreational anglers. Lake Toho has produced trophy-sized largemouth bass for many years. The lake received National recognition in 2001 during a bass tournament. An experienced angler snagged a 108-pound trophy bass, breaking the B.A.S.S tournament record. 
Lake Toho went through extensive rehabilitation during the spring of 2004. 8.4 million yards of vegetation and material were removed from over 3500 acres of the lake bottom. The restoration was done to enhance the shoreline habitat for the trophy bass and other wildlife. 
Lake Tohopekaliga came from the nearby Seminole Indians. It is said by the Florida Wildlife Commission that is every 10 acres of Lake Toho; there is one largemouth bass that weighs over 10-pounds. In the Bassmaster magazine, Lake Toho is dubbed "the most consistent lake in the country for producing both numbers and trophy bass."
Tips for fishing on Lake Tohopekaliga
A large portion of Lake Toho bass fishing is centered around hydrilla. Hydrilla is native to India and was introduced to bodies of water in Florida between 1950 and 1951. By the mid-1970s, it was throughout Florida waters. Hydrilla has stems that are up to 20-feet long and can grow to the water's surface as deep as 25-feet. Hydrilla can grow in a large variety of conditions; in almost all freshwater systems, lakes, marshes, springs, and ditches. 
Hydrilla is a prohibited plant, not recommended by UF/IFAS. It is on the USDA Noxious Weed List and the Florida Prohibited Plant List. Every year in Florida, millions of dollars are spent on herbicides and mechanical harvesters to place the hydrilla under 'maintenance control.' It is considered a category one invasive species. Hydrilla can displace native plant communities. It may make your bass fishing a little bit challenging, but it will not harm you in any way during your fishing excursions. 
Locating the bass among the hydrilla is a definite challenge. Anglers need to find a hydrilla that looks alive. There will be minnows and birds in the area. Anglers will want to use moving baits, such as; lipless crankbaits, swimbaits, jerk baits, and trolled shiners. These baits can cover large areas efficiently. 
Anglers will want to note the circumstance in which they catch their bass and recreate it each time. It may take you a while to divide the large areas of hydrilla, but I assure you, it will be well worth it. Because Lake Toho is shallow, the bass in the area is affected more by the water and weather conditions than in any other lake. December through April, the shiners catch the majority of the trophy bass. They do this using flukes, swimbaits, plastic crawfish, and lipless crankbaits by anchoring 1-4 feet of water. 
You stand a better chance of catching fish with topwater baits, swimbaits, jerk baits, and lipless crankbaits on Lake Toho in the early mornings. Use a worm or a crayfish-like bait in the hydrilla during mid-day. Baitfish may attract bass when you fish in areas of running water. During the summer months, you can do your fishing on Big Grassy Island, Lanier Point, or Browns Point. These are a couple of widespread grasslands on the north end of Lake Toho. 
The different areas at Lake Tohopekaliga
Lake Toho is one of the lakes in the Kissimmee Chain of Lakes. Being located next to Kissimmee, Florid, it is the second-largest lake in the chain. Below are a few of the hot spots on Lake Tohopekaliga that are home to largemouth bass. 
Area #1. Lake Runnymede Canal: it is said that largemouth bass can be found throughout the canal's entire length. The fishing is best in the late spring and early fall. If you fish along the banks, use jerk baits, vibrating lures, and topwater plugs due to the mass amount of hydrilla. 
Area #2. Boy Scout Camp: There is a deep hole just off of the camp where bass hides out. Cast a crankbait around the drop-off or troll a live shiner 30-yards behind a boat. Silver/black lures are the most popular in this area during the summer months. Use your live shiners close to the bottom, which is about 16-feet deep. 
Area #3. The Fells Cove: The entrance of this cove has bass at all times of the year. Anglers fish this area with lipless crankbaits in the open water or plastic worms by the weed line. Fishing is best when a current is coming in, continuing 25-50 yards into the canal.
Area #4. The Mouth of Lake Ajay: Here, it is best to catch bass after a spring or summer rain. Schools of bullhead catfish and bass are attracted to the running water. They respond best to live baits or artificials in this area. 
Area #5. The Lily Pads: This is along the shores of Fells Cove. You can find many basses hanging out in this area during the cooler months of the year. Anglers seem to have the best luck along the vegetation at 4-6 feet deep, using plastic worms. finding
Choosing a Fishing Guide
Bass fishing is challenging, exciting, and a load of fun. But, with a local fishing guide, your bass fishing experience will be 10x better. With so many fishing guides and charters listed, how do you know which one to choose? Below, you will find some tips on finding the best fishing guide for the area you are going to fish. There are things to consider and many questions to ask. 
Depending on your budget and the time of year you plan to take your fishing trip, you will want to book your fishing guide months in advance. Most of the charters are extremely busy at certain times of the year, so the sooner you book them, the better. The first thing you are going to want to look at is the price of their packages. Just because they are the most expensive doesn't mean they are the best. In the same terms, just because they are the cheapest doesn't mean they are a lousy fishing guide. Fishing guides are required to be licensed, insured, and bonded. Suppose the price seems too good to be true. Unfortunately, there are 'guides' out there who are doing it illegally, for the money, not to help visitors have a spectacular fishing experience. 
Never be afraid to check with the captain of a guide service or charter. Feel free to ask for their license, credentials, and insurance. If they are legitimate, then they will have no problem showing you these items. As with every vacation that you go on, you always do research on the area and the attractions available at your visit. It is the same when going on a fishing trip. You want to do extensive research on the location, what they have to offer, and check out all the area's fishing guides. Read the reviews that are on their websites. Look at the forums or chat rooms for the charter; people are always willing to share their experiences. 
When you are looking for a local fishing guide, you want to focus on the captain, not the boat! You want someone personable, friendly, and patient. The captain will make or break your fishing experience. If they do not have a good attitude, extensive knowledge, and do not seem helpful, you will probably have a bad experience. When you book your accommodations, ask if they have any recommendations regarding what fishing guide you should use. You can also call the marina or the local bait and tackle shops. 
You want to make sure you ask all the right questions before booking your fishing guide. If you are taking kids, you want to make sure they are kid-friendly. You should also ask what techniques they use, their main tackle options, and whether they catch and release or catch and keep. You need to figure out which approach (technique) you want to use and find a guide service that caters to that. Most reputable guide services do many styles. You want to have the best experience possible. Some charters will even clean and fillet the fish for you at the end of the trip. 
You will also want to make sure you find out what you need to bring with you. The majority of fishing guides provide rods, reels, tackle, life jackets, and drinks and ice. Beyond that, you will have to bring what you need (food or snacks). Ask them for items that are prohibited on their boat. Many of them do not want you to bring alcohol, but if you're going to bring your rod and reel, that is usually okay with the fishing guide. 
The quality of your bass fishing adventure is going to depend on the fishing guide that you choose. Do in-depth research on each charter in the area, call the fishing guide, talk to them on the phone, and ask for references when you call to make your accommodation reservations. 
Top 5 Lake Tohopekaliga Fishing Guides
Now that you know how to choose the best fishing guide let us give you the top 5 for the Lake Toho area. We will get you started on your research and help you pick the perfect captain to take you out for the experience of a lifetime. 
Florida Bass Charter – 407-821-6101
One of the top choices in the whole state of Florida is Captain Tim and his crew of very knowledgeable, friendly, and experienced anglers. Captain Tim is a United States Coast Guard certified Bass Charter. Fishing is Captain Tim's job and his passion. When he is not a guide, he is fishing at the professional level, all over Florida. Not only is Captain Tim one of the top fishing guides, but he also owns a well-known, popular bait and tackle shop, Get Hooked Magic Baits. 
Captain Tim and his team use top-of-the-line equipment and fishing gear at all times. He also guarantees that you will get your money back if you do not catch a fish with a wild shiner. Whether you want one boat, five boats, or 30 boats, Tim and his crew can accommodate. Captain Tim and his team specialize in live bait or artificial trips. With an abundance of five-star reviews, how can you go wrong with Florida Bass Charter? The whole crew is outstanding, extremely experienced, and spends at least 250 days a year on the water. 
Spending a day with Captain Tim and his co-workers is like spending a day with family. There are laughs, memories created, and a lot of basses that are caught. Every crew member is friendly, patient, and just wants you to have the ultimate bass fishing experience. 
Gators Big Bad Bass Guide Service
Captain Dean and his crew have a spectacular fishing guide service for the Kissimmee area. One big plus with Captain Dean; if you do not catch multiple basses during your trip, then the trip is free. For over 27 years, Gators has guided clients to thousands of trophy bass. They will take you to West Lake Toho, Lake Cypress, Butler Chain of Lakes, or Kissimmee, just to name a few.
Gators offer artificial trips or wild shiner fishing trips. Anyone is welcome on Gator's boat. They have worked with many first-time bass anglers, including women and children. Gators have also taken many seasoned anglers out on the Florida waters to catch trophy bass. Everyone on Captain Dean's crew is friendly, knowledgeable and will ensure that everyone has a grand time on the water. 
Rods and reels are free to use when you book a trip with Captain Dean. Gators also offer free ice & drinks, a photo of your catch, a big fish prize pack, and more. 
AJs Bass Guides
The guides at AJs fish Lake Toho and surrounding areas on a full-time basis; they all enjoy fishing, even when they are not on the clock as a guide. Their trips start at just $195; they specialize in trophy bass, holding the record for the two most prominent basses ever caught. One of the bass weighed in at 16 pounds 10 ounces, and the other bass was 15 pounds 8 ounces. James Jackson is the leader of AJs Bass Guides. They have been in the businesses since 1970. James is a Coast Guard licensed Captain, as are most of the fishing guides in the area. 
AJs Bass Guides recommend fishing with shiners, even if you usually use artificials. They prefer to go out in the early mornings, when fishing is prime, especially during the summer months. Depending on which package you choose, certain things are included. All packages include; kids 12 and under are free, all gear, gas, and tackle are included in your package's price. James recommends bringing anything you would like to eat during the excursion. They provide ice and soda for the trip. If you prefer water or something else, you will need to bring it with you. 
PS Bass Guide Service
Captain Paul, a retired Sergeant Major from the United States Army, has been fishing since he was a young boy. When he retired in 2011, he did so in Florida and has helped vacationers catch trophy bass ever since. With his military background, a leader in Boy Scouts of America, and as a father, he has the patience that a guide needs to make the fishing trip enjoyable and memorable, especially for beginners. 
Captain Paul excels at taking anglers of all ages and stages and teaching them multiple ways to catch largemouth bass. It is safety first with Captain Paul, whether he is taking visitors on a nature ride, a basic cruise of the area, or fishing trips. You will take your guided trip on his 2013 FX20 Skeeter Bot. He ensures you will have a fun-filled, memorable fishing experience. He offers ½ day, ¾ day, for full-day fishing trips. Included in the package price; drinks, digital photos, lured, rods, reels & free pick-up and drop-off. 
Led by Professional bass angler Art Ferguson, he has been a fishing guide since 1991. Mr. Ferguson offers guided trips on Lake Toho, Orlando/Kissimmee, Butler Chain of Lakes, Harris Chain of Lakes, and other locations. Art guides in Florida during the winter months and in Michigan during the spring and summer months. While Art was fishing in the 1990 Bassmasters Classic, he was offered a job at Roland Martin's Marina.
Art provides everything for your guided fishing trip, except for lunch and drinks. He does have a built-in cooler on his Tritan that will hold several sandwiches and beverages. Art provides Shimono reels, Kistler Custom Rods, and Sunline fishing line. You are more than welcome to bring your rod and reel—some other items you may wish to obtain; sunglasses, hat, sunscreen, and your camera. Art is fully licensed, insured, and bonded. He is even willing to pick out your vacation accommodations; all you have to do is ask when you call and book your trip. 
Final Thoughts
Bass fishing is exhilarating, fun, and challenging no matter where you go. But, if you will be staying and fishing around the Kissimmee area, then definitely contact one of the fantastic fishing guides above to make your bass fishing experience even more enjoyable and memorable. Chock-full of experience, expertise, and kindness; you can not go wrong with any of the above.