Are you a saltwater striped bass angler? If so the fisheries in the north east are probably the best bet for you if you want to catch the big game fish. If you live on the west coast fisheries around San Francisco bay or the Sacramento River or others that branch off of it, where water temperatures are about 66 degrees are a good bet for you to pick up some stripers.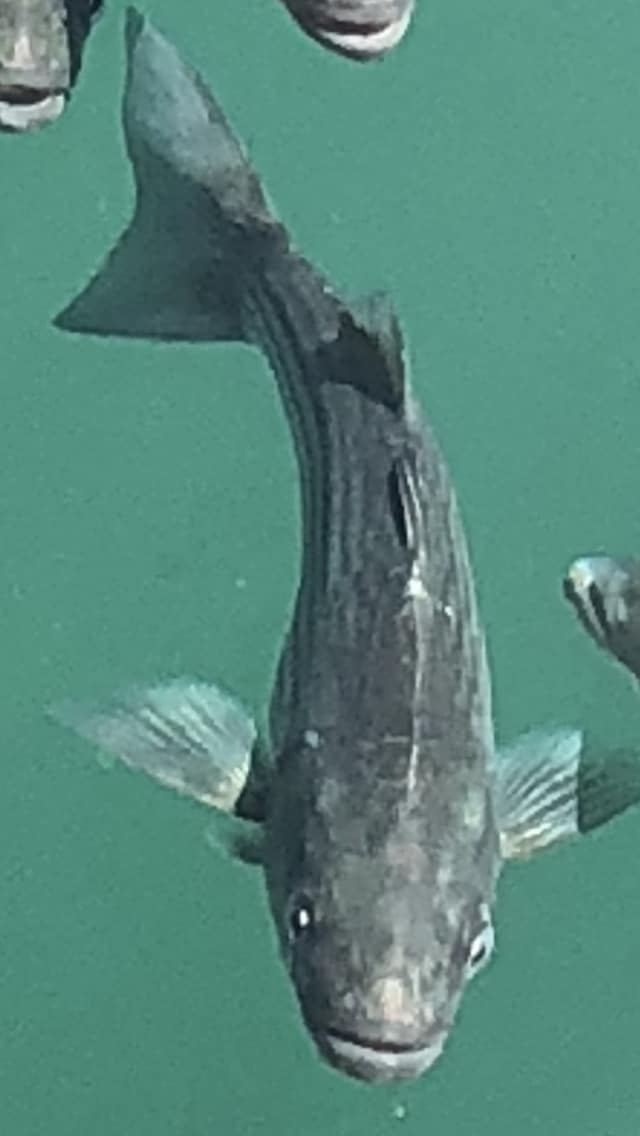 Inland Lakes in Summertime
If you are on an inland lake, catching landlocked stripers in the summertime, you may want to try deeper water where the water temperatures are cooler. Of course on some of these lakes you can catch white bass, crappy, smallmouth bass, largemouth bass and many other species.So fish on partner. Fishing for striped bass with rod and reel and using live bait such as Herring, Shad, bunker, minnows, eels, clams, mackerel, soft shell crabs, worms, gizzard shad, menhaden, or any other bait fish to catch large fish is a great place to start. If you know how to fish, you can also catch large fish in these marine fisheries and in tributaries as stripers are a migratory, anadromous fish, meaning that they can survive in salt water and freshwater alike.
Use live natural baitfish
fish deeper in the summer when water is warm
fish topwater baits when fish are feeding off of the surface
in the hot summer, consider fishing at night with green LED submersible lights
if water is shallow chum with cut bait and fish with cut bait.
Consider hiring a charter boat
If you are new to rockbass or stripedbass fishing, you could take a charter boat where they will teach you the ins and outs and where to go to find large fish. One of the things you will learn as you travel on a charter boat is that as you are trolling trying to catch stripers, if you do not know what you are doing you may end up with a bluefish as striped bass and bluefish are commonly after the same meal, and bluefish tend to be quicker. Do not fret however your captain will show you how to up your chances of catching a striper instead of a bluefish.

Fishing for striper on a lake
How to catch striped bass in a lake is not the same on every lake that you fish. We can however, up your chances of catching the elusive striped bass by practicing a few commonsense techniques that all of the good anglers use.
If you are fishing in the summertime, chances are the water temperatures are warmer and the days are longer. Since striped bass do not have eyelids, they are sensitive to the bright sunlight and they will seek deeper water when the sun is out. You can guarantee that they will also seek the deeper water because of it being cooler. The different layers of water temperature will determine where the striped bass like to hang out throughout the year. They may hang out at the surface during some parts of the year and they may seek more comfortable conditions and better food sources during other times of the year.

FREE Printable tackle box checklist HERE
In the summertime the surface water is hotter and the bass's food sources are also seeking deeper water. The striped bass may seek the deepest water possible but in most lakes in the summertime, you will most likely find them in the thermocline or center section of the water in the lake. This is because it is deeper and cooler water, it also may carry more food sources for the stripers, and if they go to deep then they tend to have less oxygenated water which they require. So in the summertime it's a good bet that they will not be too shallow or too deep but right in the middle. In the lake near where I live, Lake Meade, the fish are at about 18 feet depth.

The harsh conditions of Lake Meade in the summertime make it difficult for anglers to fish for stripers because of the high heat conditions. This makes for terrific night fishing though, and many fishermen will fish when the sun starts to go down and into the night or all night. Many times we use a green LED light that is specifically made to be submerged in the water. This attracts the bait fish which in tern attracts the large striped bass and gives anglers a better chance of catching lots of stripers all night long.

Hey FISHMONGER – make sure to check out my FISHING RESOURCES page.
Many anglers go out in the evening and go home at night with hundreds of striped bass. Our lake is overpopulated with bass because there is not enough small bait fish for them to eat so there is no limit on striped bass unless they are over 20 inches and in that case the limit is 20 fish per person. So on a night when the fish are biting, you can catch fish to your hearts content.

Trolling a lake for striped bass
If you happen to be fishing during the day it's a good bet that you will be trolling. Again it is a good idea in the summer time to keep your baits in the thermocline or the center section of water where it is cooler because this is where the bass will probably be congregating. If you have a fishfinder and a boat, you will be much better off and up your chances of catching the big ones. Use your fishfinder to find the schools and then it's just a matter of finding what they will bite. Once you nail these two things down, you will have a good time catching fish and making memories.

Winter Striper fishing on lakes
Winter tactics for catching striped bass on lakes can change drastically from that of summer time tactics. Depending on your knowledge of the lake you are fishing you may want to get some expert local advice on where to fish and on what lakes. The locals definitely know what is going on and if you hook into the right crowd and get some good expert local knowledge to draw from, you will be light years ahead. In general however, using live bait is the best bet for starters. In my lake where I live, shad are the common delicacy for the striped bass. Most anglers fishing on the lake will use a throw net to catch live shad and then use that as bait for their fishing adventure. Once you have your bait, you will want to start trolling and using your fishfinder to try to find where the fish are hanging out. Once you find a school of fish you can take your shad and hook them through the nose, and drop them all the way to the bottom and then slowly reel them up. Keep a close eye on where you are getting your Strikes because that will tell you the depth that they are at.

Using a spoon for striped bass on the lake
You could try jigging a spoon in their faces. Sometimes this works to get stubborn and non feeding fish to bite.
Drop your spoon all the way to the bottom. And then crank it up by pulling your rod tip up two or three feet and then reeling up the slack and then up again and then reel up the slack.
Of course you need to do this where the fish are in at the depth they are at, you can cover all deapths with this technique and again keep track of where the bike comes from because then you will know the depth of the fish. If this works rinse and repeat.

Spring and fall Boiling Striped Bass
In the spring and fall, you will  often times catch the bass feeding off of the surface. At my home lake we call it a boil. If you see white water being splashed around it is because the stripers are feeding off of the shad from underneath. This is really the best time to fish because the temperatures are not too bad and because it's easier to spot where the bass are hanging out. It's still best to have a fishfinder but if you don't have one another trick of the trade is to watch for the diving seabirds. They too are trying to dine on the bait fish and they will give away where the stripers are. If you mimic the bait fish that the striped bass are trying to feed on with your lure, youre in! Sometimes you can follow these boils around for hours or if you lose one you might pick up another one somewhere else close by. This makes fishing fun because you know you're on them and you just have to find out what they will take.

If you get to choose when you are fishing stripers i believe you are best to choose spring and fall.
Follow the boils and fish topwater baits that mimic the baitfish the stripers are after and you will have a blast!

So where are you going to fish this year?